Welcome back to GET OUT THERE, a brand-spankin'-new miniseries in which you and I (and all your friends) are gonna explore the heck out of the places we live. (And then put a bunch of collectable downloadable stamps into a tiny book to prove it all actually happened.) We're gonna find new places to eat, drink, be merry, escape, and breathe fresh air — together. We're a little more than halfway done – that gives you plenty of time to catch up!
---
My Last Two Weeks
In the past two weeks, I went on a search to find a local sporting event, which led me down a storage facility and to an abandoned-looking warehouse with the a giant mural of a ping pong player on it. No lies.
The warehouse is home to the Austin Table Tennis Association, a prominent fixture in the city for the past 20 years! And, unlike Football, the Lone Star State's dearly beloved sport that causes many players to have brain injuries, ping pong is a mental sport that rivals speed chess in its fast-paced problem solving.
I got a chance to talk to an international coach, Clayton, who toured all around Asia and is only back home in Texas to be with family.
I asked him to show me a few tricks of the table tennis trade and I got to work on my terribly weak forehand. Seriously I look like a baby bird with a broken wing. But no matter! After a few rallies with Clayton I was working up a sweat and wondering how I could get a ping pong table in my very tiny studio apartment.
Directly afterwards, I put on my mini golfing game face and went out to Peter Pan Mini Golf to meet with avid Autostraddler Savannah!
She and her significant other, Ash, have been completing the GET OUT THERE travel challenges with me after we connected on Instagram! So awesome, y'all. By meeting up with each other, we completed challenge six of the series: connecting with a new friend via social media using the hashtag #GotOutThere.
Peter Pan Mini Golf has been in the city since 1946! It's been on my list to hit up forever, especially since this fun place is BYOB. Savannah, Ash and I had one for our Autostraddle homies and proceeded to talk about gay things until I, surprisingly, lost on the back nine. Those sneaky, sneaky golf sharks.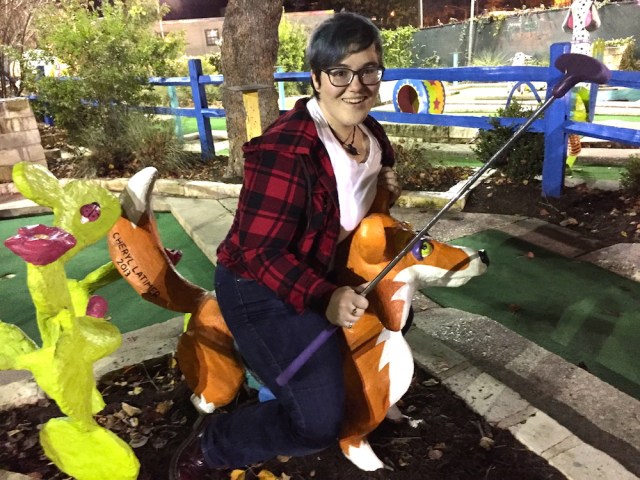 ---
Social Media Spotlight
Shout out to all of you who are posting awesome pictures and getting out there! Here's some highlights from the adventures of your fellow 'straddlers during the last two weeks. To be included, just tag @autostraddle and @lezbackpack on Instagram and use the tag #GotOutThere!
---
How to Participate
GET OUT THERE. Go see your city! Do the thing! Feel free to adventure solo, form a rag-tag group of adventurers, or even host meet-ups around the challenges and get 'em done in a group! However you wanna see your homespace is up to you. People living in extremely rural places might want to cast an even wider net and include neighboring cities and towns. So many options!
Post pictures and updates from your adventures on Instagram with the hashtag #GotOutThere and tag @autostraddle and @lezbackpack. Users who share their stories on social with us could be featured in posts and every one of y'all will earn bragging rights in the process. (You'll notice the hashtag is a little different from the title of this very series — just roll with it! We're excited for your posts to show how you actually went and did things, how you seriously got out there and saw new places and faces.)
Download, print, and collect our custom passport stamps for each challenge in a DIY passport in order to cherish your memories and remind yourself how badass you are.
That's it! Easy peasy lemon squeezy.
I'm doing the challenges in the order listed below, but you can do them in whatever order you want. Feel free to follow my lead so that you can get tips and inspiration every two weeks, or plot out your own course like the brave soul you are and go for it on your own terms. There's also a Choose Your Own Adventure stamp for those of y'all who wanna think up a different way to see the sights in town!
The Challenges
10/22 – 11/5: Visit a Historic Site, Explore Local Nature
11/5 – 11/19: Take Local Transit, Try Local Cuisine
11/19 – 12/3: Connect and Explore with Someone Else on Social Media Who #GotOutThere, Go To a Sporting Event
12/3 – 12/17: Find a Queer Space, Visit Local Coffee Shops (and pick a fave!)
12/17 – 12/31: Go To a Museum, Attend a Free Event
CHOOSE-YOUR-OWN ADVENTURE: Go way off the beaten path and take on a challenge I haven't even thought of – find a vegan joint, check out all the ice cream shops in town, shop at local thrift stores. Whatever you dream up!
Resources for This Week's Challenges