There are a ton of worst parts about having a cold, but the best part is getting to drink all sorts of insanely hot beverages spiked with ginger and lemon and honey and whatever else makes you feel better.
Sometimes, though, you need actual food that doesn't really feel like actual food. That's where this soup comes in. It's hot, fragrant and totally void of scratchy textures or sharp edges. It's also simple enough to make when you don't feel like moving and complicated enough to give you a sense of accomplishment anyway.
The recipe below makes one serving using a "here are some ingredients, follow your heart" methodology. It's best with fresher broth — either homemade if you're fancy or in cartons as opposed to cans if you're not. To make more than one serving, double the ingredients and do everything the same, but poach the eggs separately.
Poached Egg Soup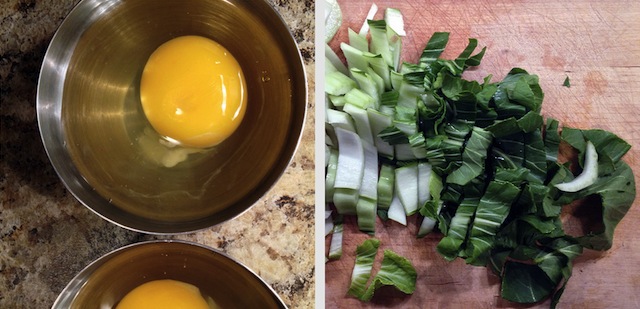 Ingredients
2 cups low-sodium chicken or vegetable broth
1 cup water
1 shallot, thinly sliced
several handfuls of spinach or arugula
3 cloves garlic, sliced, plus 1 clove for garlic bread
1 slice thick bread
olive oil
drop of vinegar
1 egg
small handful of fresh basil
a few fresh mint leaves
fresh lemon juice
soy sauce
shrimp, cooked and peeled (optional)
sriracha
freshly ground black pepper
Directions
1. Start defrosting the shrimp. Heat the broth, water and shallot in a medium-sized saucepan over medium-high heat. When it boils, reduce the heat and add the garlic slices. Simmer for about 10 minutes.
2. While you wait for the broth to boil and simmer, make a piece of toast. When it's done, rub it with a garlic clove, and drizzle it with some olive oil. Get the bowl you intend to eat out of, and put your greens on the bottom and the toast on top.
3. In a small saucepan or frying pan, poach the egg. Heat some water and add a drop of vinegar to help keep things together later. Aim to get the water just below the simmering point — definitely not boiling, and not quite simmering, with bubbles forming on the bottom of the pan but not breaking the surface. Break your egg into a small bowl. Stir the water in the pan so it swirls around, and slide the egg into the centre of the pan. Things will look really weird at first, but the whirlpool will help the egg stay together. It will be ready in a few minutes, and will jiggle but stay together if you nudge it in the pan. (Don't cook it for longer or the yolk will harden.) Scoop it out with a slotted spoon and set it on top of the toast in the bowl.
4. Add the shrimp to the bowl. Gently ladle the broth over the toast. Sprinkle a few fresh basil and mint leaves on top. Season with soy sauce, sriracha and freshly ground black pepper. Serve.