The first time my mother made me this lasagne recipe was in 2011 when I visited her home in Dubai; she declared it to be the "world's best!" and although I recall rolling my eyes, it was truthfully the best I've ever eaten. This lasagne is really fancy. "Restaurant quality," my mother calls it. I believe she means the kind of restaurant that has linen tablecloths and silver cutlery, not the paper and plastic combo that I am more accustomed to.
My mother is visiting Sydney and saw an opportunity to school me in the ways of the world's best lasagne. She's standing in my kitchen as I type, which is why this is a Get Baked Live-Blog. The actual cooking will be done by my girlfriend; earlier today they talked and decided that I don't have the patience for such a complex, multi-component dish. They're probably right. This recipe takes about two hours, from chopping to serving. It also uses some ingredients that might be difficult to find, depending where you live. I've listed substitutes for less common ingredients- using them might not result in a world's best lasagne but it'll still be darn delicious.
Ingredients (serves 6 – 8)
9 – 12 lasagne sheets (fresh or instant sheets – about 300g or 11oz is good)
30g parmesan, grated (to sprinkle on top)
300 – 500g buffalo mozzarella**, drained, pat dry and torn into small pieces.
Lasagne Filling/Sauce
1 tbsp extra virgin olive oil
1 onion, finely chopped
3-6 garlic cloves, finely chopped
300g (10.5oz) pork mince*
300g (10.5oz) veal mince*
2 tsp plain flour
2 tbsp balsamic vinegar
Salt and pepper
Pinch of white sugar
700ml bottle of passata (tomato puree)
400g (14oz) tin of diced tomatoes
1 large handful of fresh basil, coarsely chopped
* The veal and pork combination is amazing but if it's not available or you don't eat veal or pork then it's totally fine to use 600g (21oz) of ground beef instead, that'll work.
Bechamel Sauce
50g unsalted butter
4 Tbsp plain flour
500ml (18oz) whole / full cream milk
Salt and pepper to season
**A little note about buffalo mozzarella:
Sam Anderson from the New York Times once called buffalo mozzarella "the Great White Whale of American cheesemaking: a dream so exotic and powerful that it drives otherwise sensible people into ruinous monomaniacal quests." So if you're in the US and can't find it, save your sanity and just use grated cow mozzarella, the kind that's available in most supermarkets.
The last thing you'll need is a rectangular baking dish/pan that's approximately 23cm (9 in) x 29cm (12 in) x 7cm (3 in). If you need help selecting your bakeware then this article is remarkably thorough.
Part One: The Filling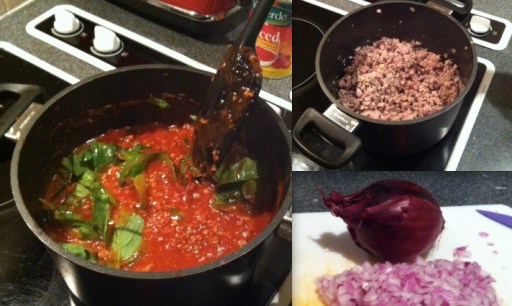 The first job is to cook the lasagne meat filling. My mother says that it's best to cook this filling the day before so that the flavours have time to develop or meld or something. I can't personally imagine planning a meal that far in advance but maybe you can! Being such a highly organised superstar will pay off- cooking this in advance really will make your lasagne taste better.
1. Heat the oil in a medium saucepan, on a medium heat. Add your onion and stir occasionally until they're soft but not browned. Add the garlic and cook it until you can smell garlic cooking. Now increase the heat to medium-high and add your meat/s. Break the mince up into little pieces with your wooden spoon or preferred stirring instrument and cook it for about 4 minutes, until that raw meat look has disappeared.
2. Next up, add the 2 tsp of flour and stir it through the meat mix. Keep stirring for 2 minutes. Add the balsamic vinegar and stir occasionally until the majority of it has evaporated. Now add the sugar, tinned tomatoes, passata and then simmer for 10 minutes or until the sauce has thickened slightly.
Check the taste. Could it use some salt or pepper? Go on then, add some.
Mum's pro-tip: don't get too heavy handed when adding salt to your filling because later on you'll be adding a whole heap of cheese to this dish and that'll be salty too.
Stir through some fresh basil and this meat filling is done! Put it aside and prepare to get your bechamel on.
Part Two: The Bechamel
Okay, this is serious: You can't multitask when cooking the bechamel sauce. The sauce needs to be stirred continuously for up to 15 minutes in order to achieve a thick, lump-free consistency. So don't start this job if Bomb Girls is screening in a few minutes, is what I'm saying.
1. First, melt the butter in a small saucepan, over a medium-low heat. Right now my mother's insisting that I take photos of my saucepan so that y'all can see what size it is because apparently it's the perfect size and she actually sounds really proud of me for this? Good job, Silvester. Top notch saucepan purchasing skills.
2. Once the butter has melted, add the 4 tbsp of flour and stir continuously for 2 minutes, until it binds and turns into a paste.
"Let your American readers know that they're just making a light roux. I don't know how to spell roux but trust me, okay? They'll know what it means." – my mother
If the paste starts going a little brown then don't stress because apparently that's totally fine and it just means the flour is cooking. Okay now REMOVE FROM HEAT. My mother wrote this in all caps on the recipe card and so it must be important. I don't know what happens if you keep it on the heat but I don't think I wanna find out.
3. Next, add the milk and get whisking. Don't stop whisking. Are you using full cream milk? Mum says that reduced fat milk won't work in this sauce, she seriously told me this at least six times while we were out buying the ingredients and so I think we should all listen. As you're whisking periodically check that there are no lumps hiding out in the grove of the saucepan. [I just made up a little song about checking for lumps, to the tune of TLC's "No Scrubs" and it's definitely making this bechamel process more enjoyable. You can have that idea, take it.]
4. When the milk looks fully blended into the sauce and lump free, return it to the heat and keep whisking continuously until the bechamel boils and thickens. Anticipate that this part of the process will take forever, or at least 10 minutes. Pro tip: Don't give the whisking job to someone with a limited attention span. [My mother keeps yelling "DON'T STOP! KEEP WHISKING!" at my girlfriend every time she loses focus and forgets to whisk which is approximately every 30 seconds and it would be hilarious if my girlfriend didn't look so terrified]. Keep whisking!
"Maybe the headline for your article should be "it requires patience, but it's worth it" – my mother, the non-writer.
5. Once your bechamel sauce has reached the pouring custard consistency that we desire, you have my mother's permission to stop whisking. Does the sauce need salt and pepper? Check that. Now pour the bechamel into a glass jug or bowl, and lay a piece of cling wrap / plastic film on the surface of the sauce- this is to prevent it from forming a skin as it cools.
6. Set the oven to 190 degrees celsius or 375 fahrenheit and let it heat up while we assemble this thing.
Part Three: Assemble and Bake
1. Put a thin layer of meat filling on the bottom of your baking dish first, followed by a layer of pasta and then some mozzarella cheese. Here's an idea of that your layers should look like, but obviously you'll complete yours:
2. Now you're gonna create another two layers, so there's three in total. So it goes: meat, pasta, cheese, meat, pasta, cheese, meat, pasta, cheese. Cool? Now top that last layer of cheese with a generous amount of bechamel sauce, like this: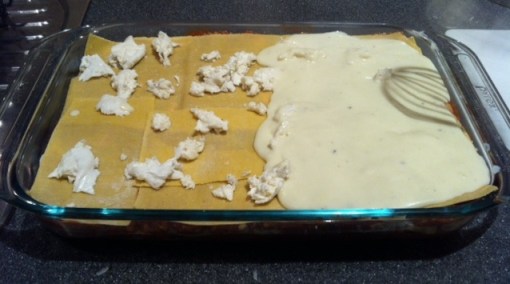 3. Sprinkle some parmasen on top of the bechamel and put the pan in the oven for 30 minutes. Once it's baked, let the lasagne rest for about 10 minutes before slicing and serving. We ate ours with a green salad mix and some sourdough, but you just follow your heart.