In some parts of the world, avocados are called butterfruit. The good thing about this name is that it provides a sneaky way to name your cookies without people realizing that there's avocado in them until after they've eaten one and fallen in love with it.
Because let's get real: some people are grossed out by the idea of sweet avocados. They love their guacamole and avocado toast but HEAVEN FORBID their avocado appear in any form other than savory.
The thing is, though, that avocados are really just nature's butter . So when I read that you could substitute avocado for butter when you bake, I was all up on it. (A word to the wise: it doesn't melt quite like butter, so if you want to do a 1:1 swap, you'll need to mess around with the recipe a little more).
This recipe from Heather Homemade  seemed like the perfect dry run for avocado cookies. Everyone already knows that avocado and lime are delicious together and using avocado in the icing gives it a natural green tint. And if you're wondering: yes, the cookies are also slightly green on the first day. After a night in a tupperwear container, the avocado had oxidized and  the cookies had faded to a normal brown color. The icing – I'm happy to report – stayed nice and green. The acid in the lime juice prevents avocados from oxidizing as quickly.
Margarita Butterfruit Cookies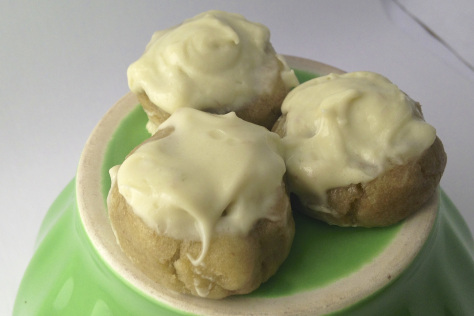 Ingredients
Cookie Dough
2 1/2 cups flour
2 tsp arrowroot powder (or cornstarch, if you like)
1 1/2 tsp baking powder
1/4 tsp salt
1/2 cup avocado, mashed
1/4 cup butter (1/2 stick), room temperature
1 cup sugar
1 egg
1 egg white
2 tsp vanilla extract
1/2 tsp of almond extract
Icing
1 Tbsp avocado, mashed
1 oz cream cheese, room temperature
1 cup powdered sugar
1 Tbsp lime juice
Zest of 1 lime
Directions
In a medium sized bowl, combine the flour, arrowroot powder, baking powder, and salt. In a separate, larger bowl, cream the avocado, butter, and sugar. "Cream" is a fancy work for "beat it for 3 to 4 minutes until it's nice and airy." Now add the egg, egg white, and extracts to the sugar/fats mixture. Beat them until they're well combined. About half a cup at a time, add the flour mixture. The resulting dough should be fairly wet. Cover and refrigerate the dough for at least an hour.
In the meantime, make the icing! Cream together the avocado and cream cheese before adding the powdered sugar, lime juice, and zest. This ensures that you don't end up with a really avocado-y bite of icing followed by a really cream-cheesy bite.
After the dough has refrigerated, you can either roll it out and use cookie cutters or roll little balls and flatten them before putting them in the oven. This dough won't spread like chocolate chip cookie dough, so expect the cookies to pretty much hold their shape while they cook.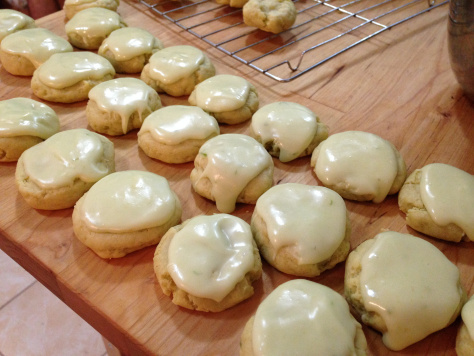 Bake at 375ºF for 7-9 minutes.
Allow the cookies to cool to room temperate before icing them. The icing should go on pretty wet, but it'll dry in twenty minutes or so. You can either use the thumbprint method (dip your thumb in the icing and smear it on the cookie) or ice them properly.