At its best, eggplant is a creamy, earthy and addicting nightshade. At its worst, it's a bitter rubbery grey sponge that you'll never eat again, which is sadly many people's experience. I'm here to defend eggplant's honor and prove it can be damn delicious when done right.
What I love about eggplant parmigiana, aside from its rich tomatoey gooey cheesy goodness, is that it pairs perfectly with so many things. Chicken breast, crusty bread, a leafy salad, pasta, white fish, anchovies, quinoa, broccoli, roast cauliflower… it's the Thelma to whatever's in your fridge or pantry right now. It's also the perfect meal on its own.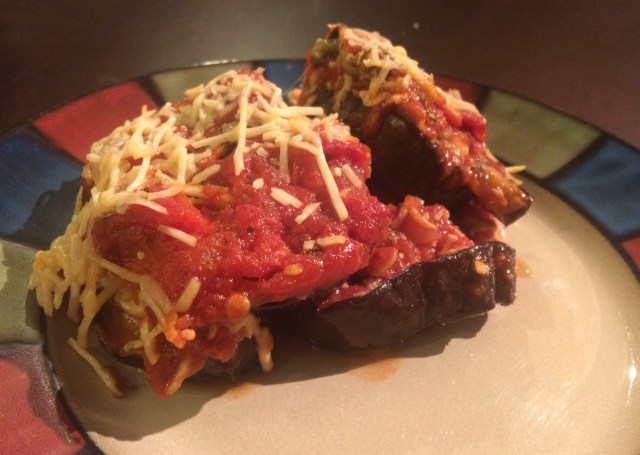 This particular parmigiana recipe requires you make your own tomato sauce. I've chosen Mario Batali's recipe. If you've never done this before, get ready because you're about to up your whole cooking game.
For tomato sauce to realize its full flavor potential, you should cook it one day in advance. If you choose not to do this then absolutely nothing bad will happen to it or to you. Your saucepan won't explode. You will not go to cooking jail. Your sauce will still be heads and shoulders above store-bought. But it will not be The Best and that's what we're striving for here. I somewhat regret that it took entering my thirties to finally start listening to my mother on this 'day before' rule.
Tomato sauce ingredients
4 Tbsp olive oil
1 red onion, finely diced
4 garlic cloves, very finely sliced
½ cup carrot (loosely packed), finely grated
1 Tbsp dried thyme or 4 Tbsp of fresh thyme
2x 28 oz cans of whole peeled tomatoes, ideally imported from Italy*. Remove the top stem part of each tomato and crush by hand. Keep the juices.
* Italian-grown tomatoes are typically more flavorful than American-grown, and mind-blowing in recipes like this where tomato is the MVP. I used kinda pricey brands in this post however my go-to are Divella tomatoes, which are amazing and only $1 per can at my local store.
Eggplant parmigiana ingredients
3 large eggplants, cut in round slices half-inch thick
Grated mozzarella, 1-2 cups
Grated parmesan, 1-2 cups
Pre-cooked tomato sauce
Salt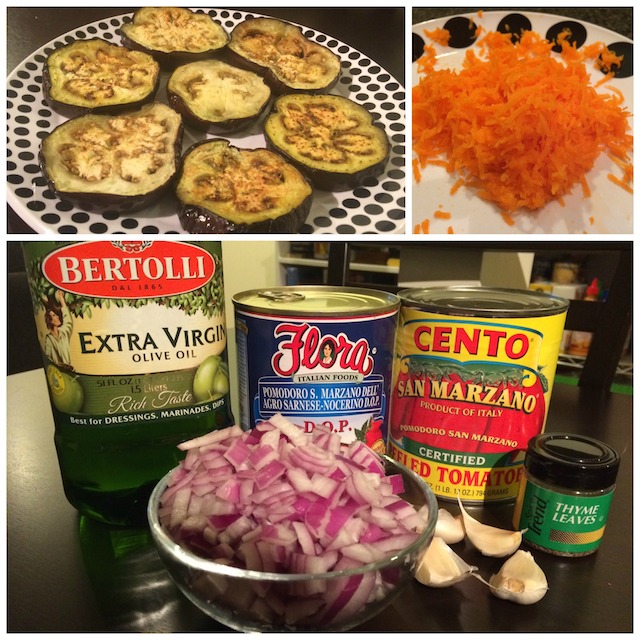 Day One: Cook the Tomato Sauce
(Watch a video demonstration here)
Put a large saucepan on a medium heat.
Add the olive oil to the pan and once it's almost smoking, toss in the onion and garlic. Let it cook for 8-10 minutes, stirring frequently. That's a long time to stare at a saucepan but resist the urge to rush this step. Only move on once the garlic and onion has gained a light brown caramelised color and glossy sheen.
Throw in the grated carrot and thyme. Let it cook for another 5 minutes, stirring occasionally.
Add in the tomatoes and juices. Brace yourself for splatter. Turn up the heat to high and bring the sauce to the boil. Reduce it to a low simmer and let it cook for about 20 minutes, or until the sauce thickens to an oatmeal-esq consistency.
Let the sauce cool and store it in the fridge overnight or for at least 8 hours.
Day Two: Make the Parmigiana
I've always believed that the (non-)secret to soft creamy eggplant is sprinkling salt over the flesh and letting it sit for 30 minutes. However, there are people in this world who swear that salting eggplant is a waste of time. Take a moment to decide what kind of person you're going to be. If you've chosen to be right, here's a video on how to salt eggplant.
Pre-heat the oven to 220 Celsius / 430 Fahrenheit. Line two baking dishes with foil and spray/brush olive oil on the surface.
Lay down eggplant slices and bake for 15 minutes. Watch the undersides like a HAWK because eggplant burns FAST.
Once 15 minutes is up, flip the slices and return to the oven for another 10 minutes. If some of the slices turn a darker color than desired, don't stress! They're gonna get coated in cheese and sauce anyway.
Once the eggplant is ready, start assembling the parmigiana in an oven-friendly dish (9×13 inch or so).
We're striving for two layers here, with ingredients laid down in this specific order:
Sauce, parmesan, eggplant, mozzarella, sauce, parmesan, eggplant, mozzarella, sauce, parmesan.
First up, scoop some tomato sauce into the dish and spread it to cover the surface. Only use a thin layer; you don't want to drown the eggplant. Sprinkle some parmesan on top.
Next, lay down some eggplant. You don't need to create a solid layer; leave about an inch or so of space in between the slices. Follow with a sprinkle of mozzarella, then repeat the process.
Pop it in the oven and 25 minutes later you are DONE.