Feature image via shutterstock.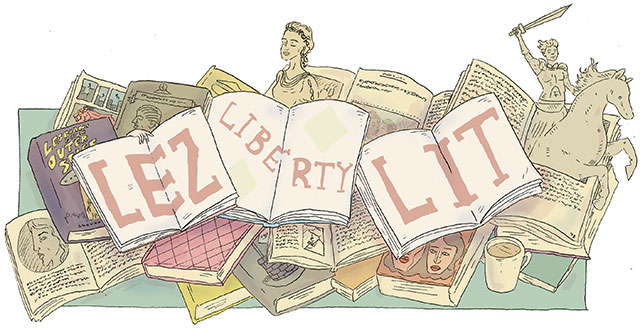 Hi and welcome to this week's Lez Liberty Lit! Why not go read that book you really want to read but just can't make time for. Here, take those three hours later you've been eying. They're on me.
Things About Queer Books (And Other Books Relevant To Your Interests)
Room, Canada's oldest feminist literary journal, is celebrating 40 years with a forthcoming anthology. Preorder on its indiegogo page to help realize it.
Collections of books can help to illuminate what life was like during their time, which is why even though lesbian pulp fiction is ridiculous, preserving it is important. Meg Raven, a Mount Saint Vincent University librarian, notes:
"[Lesbian pulp fiction] has become an important record of the ideas and conventions swirling around lesbianism during the pulp fiction heyday, allowing a new understanding of what it was like to be alive (and like girls!) during that time.

'People thought of it as holiday beach reading,' Raven explains, saying the genre's cheap, pulpy paper and sometimes-generic plot lines gave these books a disposable feeling. But, the genre's affordability made these works find their way into the lives of many lesbian readers, meaning they were actually quite impactful.
Looking for something to read? Our massive queer feminist fall books preview is a great place to start. Also try these seven small-press books that came out in August. Or 13 translated books by women.
At LitHub, Adriana E. Ramírez writes about black bodies, poetry, what happens when bodies are and are not made into metaphors and more: "Which is to say, I don't know how to look at bodies any more without seeing the metaphor instead of the person. Which is to say, I don't know how to reconcile my own body. Which is to say, I'm not sure I can say anymore."
"Writing a book is like riding a bike: you shouldn't do either."
Handwriting doesn't matter: "Ballpoint pens replaced quill pens; typewriters improved on pens; and computers go faster than typewriters. Why go back?"
On the new National Museum of African American History and Culture: "The meaning of a museum is determined by acts of interpretation."
If you like Miranda July's work, you'll like this profile of her in AnOther, which follows her from 90s Portland through books and apps and art: "July throws caution to the wind in her approach to the creative process, inviting all who encounter her work in whatever form it appears to ask themselves: Why master one form and risk growing complacent when we could challenge ourselves to find a new, more precise, or more interesting methods of self-expression?"
Punk and magic can meet in art, and the juxtaposition — punk's "passion over virtuosity," magic's formal training — and resulting narrative dissonance can lead to interesting places:
"Someone stepping out of a basement show and waving a wand can feel like a wrong note or a righteous character beat depending on how a writer pulls it off. Magic, as a concept, has accrued certain narrative expectations over the years; so has punk. But in both forms, finding the right balance between tradition and something more personal is essential—and finding a new way to combine two ostensibly conflicting elements can lead to a more rewarding outcome than anyone might expect. It needn't break the spell."
Sometimes you just need to break up with a book.
How do you organize your bookshelf?
What makes a great sentence?
The Last Bookstore, "a potent symbol of the resurgent literary fortunes of Los Angeles," has risen as an independent bookstore even though it seems like it should be a paradox: "Like it was breaking rules of space and time to exist. It's massive, in the heart of downtown LA, and it's always extremely busy."
Children's books have a secret queer history, including queer writers and editors as well as queer content.
Are anarchist ebooks killing anarchist bookstores?
Honestly this doesn't have anything to do with literature but I'm just really into this history of neon.
Book Things To Do In Person
4 September, Melbourne: As part of the Melbourne 2016 Writers Festival there will be a queer literary salon (Bella Union), 5:30 p.m.
Know of a queer event with literary merit? Send it to us! The Liberty Lit is bi-weekly.