Teevee
+ The Carmilla season three sneak peek thrashed its way across my Twitter timeline yesterday, and I no joke thought I was getting played by a very impressive fan photo manip. But no, children! It is REAL! The final episodes kick off on September 15.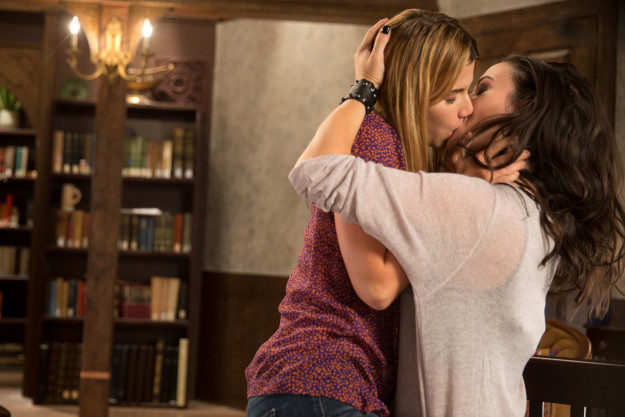 + All good things must come to an end, which is why Pretty Little Liars should have called it quits after season five, but hey, season seven is going to be the last one for real. No, for real. I haven't watched much this season, but I do hear Paige is back and Ali is in love with Emily (and maybe pregnant with Emily's babies???) and also Sabrina is in love with her too. A lot too late? Maybe too little? I'll catch up in the off season. Also: Marlene King answers your burning questions. (Not mine, though; my burning PLL questions remain unaddressed.)
+ TVLand released some promos for Younger, but none have Maggie in them, so I refuse to enjoy them.
+ Kerry Washington is teaming up with ABC to create an all-lady cop drama! It is called Patrol! It is all ladies!
+ Slate goes behind the scenes of Trans Scripts, "a theatrical exploration of the trans experience through verbatim text." You should pair that read with Jen Richards' tweet thread earlier this week about cis male actors playing trans women. (Click the original tweet to read the whole, very important thing.)
I've made this point in a few interviews, but never on Twitter, so let me lay it out. Reasons not to have cis men play trans women:

— Jen Richards (@SmartAssJen) August 28, 2016
+ Ellen's producing another sitcom.
+ SQUIRREL GIRL IS COMING TO TELEVISION (Get me Hellcat next!)
+ A headline for you: Tig Notaro at Amazon Series 'One Mississippi' Premiere: 'If You Don't Like It, You're Wrong'
+ Mary J. Blige will guest star to How to Get Away With Murder!
+ Stranger Things season two bleep bloop.
Movies
+ Jezebel chatted a little chat with Clea DuVall about The Intervention.
A lot of my friends are straight. And when it's a bunch of couples, it's a bunch of straight couples, and then me and my girlfriend. But it's not a thing. It's not like, Ugh. The gays are here. You know? It's just, we're all friends and it's normal. I think that as much as there are more LGBTQ characters represented on television, it is still a lot of times a thing. Attention is called to it. It is, on some level, about that. And I wanted it to not be a thing. I don't see that as much, the normalizing of it onscreen.
Queer Humans, Out and About
Demi Lovato riding around town being an undercover Lyft driver is pretty amazing. I would pay a thousand dollars to be in the car with Mey Rude if this ever happened to her.
Also.Also.Also.
The best thing happening on Facebook this week is not me yelling at people from my high school about Colin Kapernick's first amendment rights; it's this video of Supergirl stuntwoman Jessie Graff on American Ninja Warrior.