Cauliflower and pasta together seems weird and possibly gross, but turns out to be delicious. It also makes a ton — I halved the original recipe below, and it still made enough for four meals and change. Which is good, because it is even better as leftovers.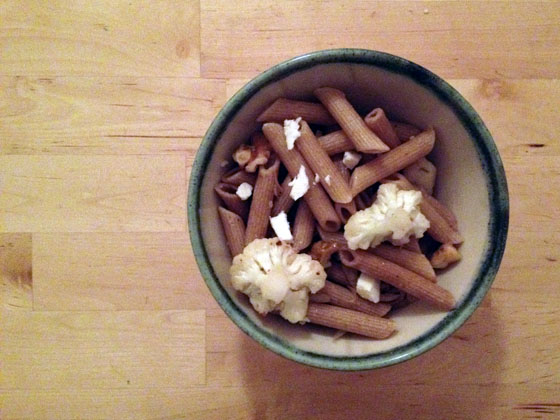 Cauliflower and Pasta
Ingredients
1 head cauliflower
1 small onion
2-3 cloves garlic
1/2 pound whole wheat pasta
Olive oil
Salt and pepper to taste
Pinch of red pepper flakes
Rice wine vinegar
1/4 lemon
1/2 cup walnuts (or 1/4 cup if you don't like walnuts as much)
2 ounces feta cheese (possibly optional, but better with)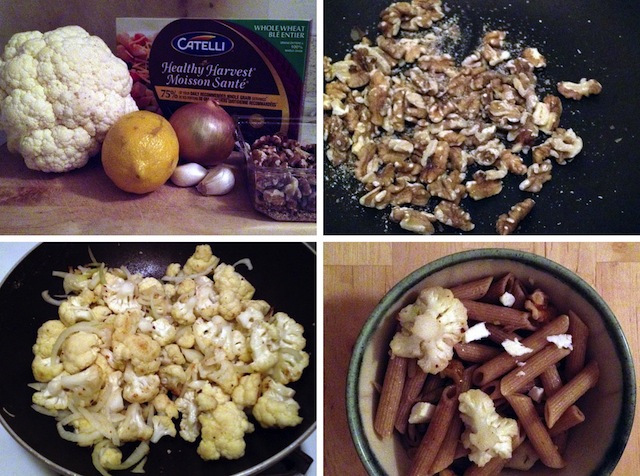 Instructions
1. Toast the walnuts in a dry pan (you will know they are done when they start to smell "toasty") and put them aside.
2. Put a salted pot of water on to boil.
3. While you wait for the water, cut the cauliflower into smallish flowerets, peel and finely slice the onion, and peel and finely chop the garlic. When the water boils, put the pasta on. You may not normally like whole wheat pasta, but use it anyway — in context, it's more flavourful, and the other ingredients cancel out the denser whole-wheat taste. Set a timer for the length of time the package tells you to.
4. While the pasta cooks, sauté the cauliflower in olive oil in a large pan. When it begins to soften, season it with salt and pepper to taste, and add the onion and red pepper flakes. Keep cooking until the vegetables are brown and tender, but the cauliflower is still a little firm and crunchy. Add the garlic and immediately remove from heat, stirring so the garlic doesn't start to turn brown (if it does, add a small splash of water). Season with lemon and vinegar, and add the walnuts.
5. When the pasta is done cooking, drain it. Combine it with the cauliflower in whichever pot/pan can hold everything. Add enough olive oil to fully coat the pasta and toss.
6. Serve with cheese crumbled on top. (If you can't/don't eat cheese, nutritional yeast flakes might also work.)
Adapted from Smitten Kitchen.