I'm your stereotypical lesbian farmer. I live down a dirt road in Vermont in a wood-heated cabin with my girlfriend and pet rabbit. We don't have hot water. You'd have to drive at least 30 minutes away to find a real grocery store or movie theater. We don't get out much.
Fortunately, we don't really need to go anywhere because we have a LOT of food. The best thing about farming is that you don't need to buy a lot of things to put in your mouth. You grow them, or you trade the things you did grow for things that you didn't grow at the farmers' market. Bartering still exists, you guys! It is a beautiful system.
Sometimes you get a little carried away with your crop plan, however, and you end up with a million pounds of butternut squash, like we did this year. Too many to trade, too many to sell…too many squashies.
Oops.
Don't get me wrong, squash is delicious. That's why we grew it in the first place. Also it lasts forever. But after a while you just get bored of butternut squash pancakes, butternut squash pie, butternut squash soup, stuffed butternut squash and roasted butternut squash seeds (just kidding I never EVER get tired of those).
Luckily, during one of these moments of cucurbit-induced melancholy, The Smitten Kitchen Cookbook arrived. I had pre-ordered it in April for its release in late October – that's how obsessed I am with Deb Perelman and her blog. If you like food and you don't know about Smitten Kitchen, then you must be living under a rock without internet access. If that's the case, I don't know why you'd be reading Autostraddle. So you have no excuse!
In the "Sandwiches, Tarts, and Pizzas" section of this glorious book, I found a recipe for a Butternut Squash and Caramelized Onion Galette. A galette is not, as it sounds, a type of dance that is performed in pointy leather shoes and some kind of fancy hat. It is a free-form tart! That you can fill with whatever you want! In summer, I layer slices of tomatoes and zucchini on a bed of ricotta and parmesan. In fall, you can put apples in it. But in winter, when there's nothing else to eat but squash, put squash in it.
Don't be intimidated by this recipe! Yes, it has a pastry crust, but this particular crust is incredibly forgiving. You can't mess it up; it comes out flaky and rich every time. This recipe actually feeds 8 people, so feel free to cut it in half. However, if you're going through the trouble of making a galette, you might as well make extra because it's awesome reheated or even cold.
Butternut Squash and Caramelized Onion Galette
Adapted slightly from The Smitten Kitchen Cookbook by Deb Perelmen
For the pastry, you will need:
2.5 cups all-purpose flour (including ½ cup whole-wheat flour if you'd like), plus more for dusting your work surface
½ teaspoon table salt
16 tablespoons (2 sticks) unsalted butter
½ cup sour cream or full-fat Greek yogurt
1 tablespoon white wine vinegar (I used apple cider vinegar because it's what I had on hand)
½ cup ice water
To make the pastry:
Combine the flour and salt in a medium bowl. Add the whole sticks of butter and, with a pastry blender, two forks, or (my chosen kitchen implement) your hands, incorporate the butter into the flour until the texture is grainy, with some bits the size of peas. In a small bowl, whisk the sour cream or yogurt, the vinegar and the water, and pour it into the butter/flour mixture. Stir until a dough forms, and then knead with your hands a couple times to bring it all together. Pat into a ball and wrap in plastic to chill for at least an hour or up to 2 days.
For the filling, you will need:
2 small or 1 large butternut squash (about 2.5 lbs)
3 tablespoons olive oil
1 ½ teaspoons of table salt
Freshly ground black pepper
1 tablespoon butter
2 large sweet onions, such as Spanish or Vidalia, halved, sliced thinly into half moons. (We didn't grow sweet onions this year, so I used regular yellow onions. It was still delicious!)
¼ teaspoon sugar
¼ teaspoon cayenne pepper (optional)
2 cups grated Italian fontina cheese (I didn't have fontina. Substitute any cheese you like that melts!)
1 teaspoon chopped fresh thyme or 2 teaspoons chopped fresh sage
1 egg yolk beaten with 1 teaspoon of water, for an egg wash. This makes the tart look like a yumtastic shiny croissant, but you can skip it if you want.
To make the filling:
Preheat the oven to 400 degrees. Peel the squash, halve it, and remove the seeds (but keep them! Roast them!). Please do not cut off your fingers! I will be so mad if you do this. Cut into ½- ¾ inch chunks. Rub 2 tablespoons of the olive oil on one large or two small baking sheets and lay the squash on in one layer, sprinkle with ½ teaspoon of the salt and some pepper and roast for 30 minutes or until tender. You can turn them a couple times so that they brown evenly, or you can totally ignore that step like I did. Let the squash cool a bit and leave the oven on. Caramelize the onions while the squash is roasting. Melt the butter and remaining tablespoon of olive oil in a skillet and cook the onions on low with the sugar and remaining teaspoon of salt, forever (25 minutes). Stir in cayenne, if you like a little spice. Mix the squash, onions, cheese, and herbs together in a bowl.
Assemble the galette!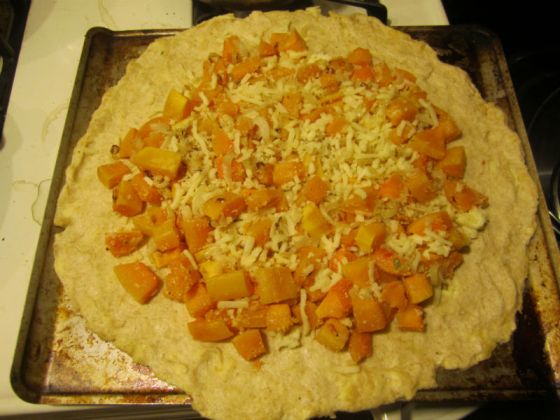 Roll our your dough on a floured surface until it's a 16-17 inch round. Transfer it to a baking sheet lined with parchment paper, if you have parchment paper. (I didn't and it was totally fine.) Spread squash/cheese/onion/herb mixture over the dough, leaving a 2-2 ½ inch border. Fold the border over the squash stuff, pleating the edge to make it fit. The center will be open. Brush the crust with egg wash, if you're using it.
Bake until golden brown and completely impressive-looking, 30 – 40 minutes. Remove it from the oven and let it sit for 5 minutes (this will be THE LONGEST 5 MINUTES OF ALL TIME). Cut into wedges and serve!