I promise that this is an excellent thing to a) bring to parties or b) make when you are having people over or c) eat when you are having a TV and wine night all on your own. It is easy and fast and yummy and people like it. Also it uses a lot of cilantro!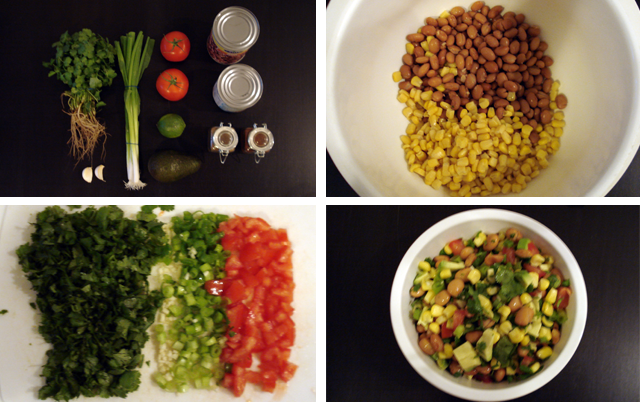 Bean Salad Dip
Ingredients
1 can pinto beans (pink beans work well, too)
1/2 can corn (you can use the whole thing, but it's better with just half)
2 tomatoes, chopped into small chunks
3-4 green onions, depending on how onion-y you like things and how big they are – chopped into thin rounds
1-2 medium cloves of garlic, minced
1 avocado
1 bunch cilantro (to taste, possibly 1-2 handfulls, chopped into bitty bits)
1 lime
salt (to taste)
cumin (1 tsp or to taste)
cayenne pepper (to taste)
Directions
1. Dump the corn and the beans into a bowl after you've rinsed them off. Add the minced garlic, chopped tomatoes, chopped green onions, and really finely chopped cilantro.
2. Cut the lime in half and squeeze the juice out of half into the bowl. Save the other half for later — you may taste it at the end and decide it needs more lime juice. Mix everything around. Sprinkle your salt and cumin and cayenne pepper on top and mix together. Less is more, because you can always add more. Taste! Is it yummy? Does it need more lime juice/cumin/cayenne/salt? If so, add them!
3. Right before serving, cut up the avocado into chunks and add it. Mix it around. If you are only serving part of it for some reason/will not be eating it immediately, the avocado will go brown and mushy and gross, even with the lime juice, so maybe factor that into your prep time/leftover storage plans.
4. Serve with scoops corn chips. Or normal tortilla chips and lots of napkins.