by Carolyn, Carrie, Morgan, and Jill
Today at camp, all the geeks are meeting and greeting and talking about Firefly. Here are some obscure geeky things that you might not already know about but that are awesome.
"I don't think you can truly call yourself a geek until you've traveled across the country, climbed a mountain, and slept in bear infested woods just to sit in a room and talk to other people about video games."
-Bren

Jill Houk, Super Heroine
Do you enjoy space operas? Blowing things up? Romancing the ladies? If your answer is yes, then you will love Mass Effect! Mass Effect is a role playing video game available on X-Box and PC where you assume direct control of a space marine named Commander Shepard. You, the player, get to determine your Shepard's history, personality, and destiny. This includes who you wish to romance. When Mass Effect was released in 2007, it elicited a small amount of controversy due to "graphic" love scenes and nudity, culminating in a critical segment on FOX News. Honestly, I've seen more "graphic" love scenes in a PG-13 movie, but whatever. The real reason for the controversy was the player's ability to engage in a queer relationship with a hot lady alien. Couple this with a compelling story, loveable and memorable characters, and the theme of 'unity in diversity,' and you've got what some have arguably called the most important science fiction franchise since Star Wars or Star Trek. The first game was followed by two sequels, both of which increased the number and variety of queer relationships for your philandering Shepard to partake in. And you get to shoot bigger monsters.

The brainchild of Felicia Day (also known for Buffy and Dr. Horrible), The Guild is an adorable web series about a group of online gamers forced to become friends in real life. Codex (real name Syd Sherman) is dumped by her therapist the morning Zaboo, a fellow member of the Knights of Good, appears on her doorstep and starts stalking her from her living room. Codex gets the rest of the guild to meet up in person for the fist time to help her get rid of Zaboo, and various nerdy adventures ensue. The show has Felicia Day in pyjamas, geeky humor, regular humor, awesome guest appearances, and a Community-esque focus on interpersonal relationships.  It's also on Netflix!
Scott Westerfeld's Leviathan series takes place during an alternate World War One, in which Britain and its allies use  hybrid creatures based on Darwin's manipulations of DNA, while Germany and Austria use steam-powered war machines. Deryn Sharp is a girl dressed as a boy in order to join the British Air Service, and becomes a midshipman on Leviathan, a gigantic airship (floating whale slash ecosystem slash boat). Alek would-be heir of Archduke Franz Ferdinand, and escapes to the Alps in the middle of the night after Ferdinand's murder. This series has: steampunkery, hostage taking, a few queer undertones (in Behemoth especially), political intrigue, and a creature named Marmite.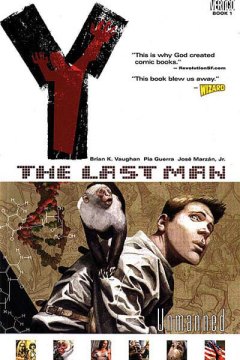 Y: The Last Man by Brian K. Vaughan and Pia Guerra is a comic book series set in a post-apocalyptic future run by women. Here's the deal: Yorick Brown is the only man to survive a plague that killed every male on earth. The crazy addictive 60-issue series follows him around the world as he navigates a dystopian future in search of an explanation of how the hell he is still alive. Though told through Yorick's perspective, Y features plenty of badass, multi-faceted females (one of the primary characters is a geneticist and Yorick's mom is a Senator) and plenty of lesbian storylines for good measure.

Purporting itself as a "guide to geek girl culture" the Mary Sue will fulfill your every nerdy need. I mean, even the website's name is rooted in feminist geekery! The Mary Sue covers science and tech news as well as pop culture, gaming, sci-fi/fantasy and comics. It's a great place to stay updated on the latest geekery and one of the few female-dominated corners of the internet covering those topics. They also have a super twitter feed.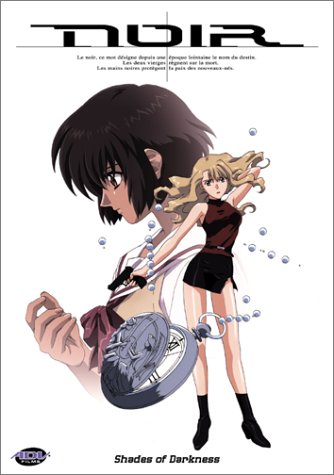 So gay chicas with pretty legs and lots of shootouts, yes yes. But so much moah. A rare show is one that has an all female central cast, but a rarer show still is one that has no significant male characters at all. Noir is about two assassins that hang a shingle in the underworld and call their killing pair, well, Noir. The story it tells is one of the prettiest, saddest, strangest single things that has ever been a part of my life. Carried by a musical score so sumptuous it could bring about world peace, you follow blonde bombshell Mireille and shy butterfly Kirika as they try to uncover the truth behind the tragedies of their past. It's feminist without being pandering, it's dramatic without being melo and it's complex without getting Lost. And while often awash in a sea of death and amorality, hope always buoys to the surface.
A stranded on a desert island show if ever there was one, no two pilgrimages to this series are quite alike. I hope you'll consider taking the journey someday.
WW: Who leaves a palindrome?
MM: Typical supervillain horse feathers. Can't wait to hear this guy's monologue. "I am the Palindrome, feel my power! Power my feel, PALINDROME THE AM I!" Peter-pipin' weirdos.
Pushing Daisies. Doctor Who. Men In Black. What do these things have in common? The threesome that gave birth to this boundlessly quirktastic show by Javier Grillo-Marxuach. Wendy "Dubbie" Watson is a struggling, disaffected comic book loving art school graduate who finds a job at the Jolly Fats Wehawkin Employment Agency, a cover for the the Middleman. MM is protector of the world from threats both intra- and extra-terrestrial, and sees in Wendy his successor of the (wo)mantle, partnering up with her to teach her the world of space gadgetry and general mania that is every peter-pipin' episode. Contained in this series are enough geeky references to make anyone's hours of investment in nerddom feel totally justified, all while telling a story with a lot of heart and gusto. While it was cut tragically short after 12 episodes, it displays the kind of writing that knows not to waste your time, packing every fast-talking minute with sterling gems like:
"Seriously, Dubbie, since you and I met, I've been writing like a song-nado."
"A tornado made of songs?"
"You know it."
"I'm as serious as a Hefty bag full of Rottweilers."
"Is there any chance you might be pregnant?"
"Only with anticipation."
By the end you'll miss it like you miss Firefly, and as Al once said, "'Tis better to have Firefly and lost, then never to have Firefly at all."

You probably have some favorite geek things that not enough people know about, because doesn't everyone? Tell us what they are! We love to watch/play/read/do/download lists.