Look down right now. Is that a MacBook in your lap? What kind of iPod do you own? OH MY GOD IS THAT AN IPAD?! YOU FLASHY BITCH. Now look back up and listen to me: Apple did something recently that will upset you, then redeemed themselves, and now are victims of the 24/7 news cycle.
A few days ago, an app was accepted at the app store that "cures gays." The app was developed by Exodus International, a religious group into the teaching of "freedom from homosexuality." They do this, of course, because being gay is "one of many conditions that beset fallen humanity,wp_postsand they want to help you!, through prayer and the Internet. The app even got a rating that indicated it was not offensive to anyone, ever. So, what the fuck?
Well, gay activists reigned in on Apple and demanded they go back to the day of their rainbow logo, when they didn't care what God had to say: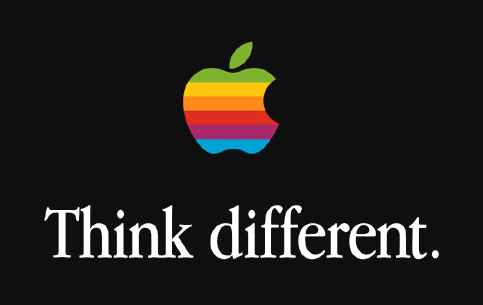 And hence, a petition circulated….and circulated… demanding Apple remove the app because of how offensive it was to LGBTQ people. It blew up  to over 140,000 signatures pretty much overnight and here are the results:
Exodus International's president, Alan Chambers, confirmed through Twitter that his group's app had been removed on Tuesday night: "It's official. The @ExodusInl App is no longer in the @AppleStore. Incredibly disappointing. Watch out, it could happen to you."
Apple pulled the app from the store and apparently, they didn't even send a follow-up text. Exodus said they had no idea why, and claimed the app would help people "struggling" with their sexualities. Apple re-evaluated the decision to provide the app after the petition was brought to their attention, and surprise! Apple realized that something of this app's caliber was really fucked up:
The app, launched in mid-February, initially received a 4+ approval rating from Apple, meaning it did not contain any "objectionable material."
However, upon review, it seems Apple decided the app did not in fact meet its editorial guidelines.
"We removed the Exodus International app from the app store because it violates the developer guidelines by being offensive to large groups of people,wp_postsApple spokesperson Tom Neumayr told FoxNews.com.
Thank a higher being for that! If you're not a part of the iTunes format, you're probably not on any Apple products. It would involve an incredible amount of tech work to make a non-Apple app work on any Apple device. So, this means the app is now gone never to be seen again for a while hopefully. And you thought getting a flu shot was hard!
The app was specifically targeted at younger people, aka people going through their sexuality crises and falling in love with their best friends and stuff. You've been there. So this adds another layer to the whole thing: if people capitalizing on mobile technology are young people and this is what they see in the Apple store, WHERE IS THERE HOPE FOR GAY PEOPLE EVER? Exodus' insistence that it is their "right" under the Constitution to market their "opinion" on equality this way is bullshit, and nobody should pretend it isn't bullshit. Unfortunately this is another example of people misinterpreting their constitutional rights — freedom of speech protects you from imprisonment or other government actions regardless of what you say/do. But it doesn't mean a store has to carry your product or that nobody can boycott your business, that has nothing to do with it. What is wrong with people.
Shame on Apple for ever approving the app in the first place and shame on Exodus for trying to target newgays on their turf with such a stupid message.
In closing, the app is not for sale. Thank God. But unfortunately, Exodus still exists.