Lots of people have been studying us lately, probably because they want to sell us something.
A. OkCupid studies self-reported dating/mating habits of homos
OKCupid mined through their 3.2 million members to extract crucial information related to the mating habits and overall personalities of gays on the prowl and their results will not surprise a single homogay but might surprise Maggie Gallagher. Actually probs not.
Here's the rundown:
1. Gay people aren't interested in seducing straight people.
(I think the reason homogays visit dating sites is because they are sick of crushing on straight people, amirite? I mean, wouldn't life be a lot easier if people had to wear "interested in" signs in your women's studies class?)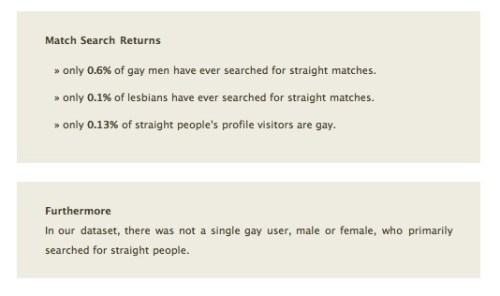 2. Gay people aren't sex-crazed nymphomaniacs

3. Gay people aren't social deviants, weird, gross, should not be burned at the stake (at least are not any weirder than Indian people, who are awesome and not at all weird or deviant)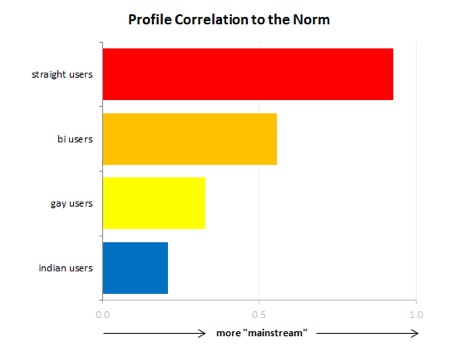 4. Turns out we are pretty predictable, though! Have you seen that show with Kate Moennig in it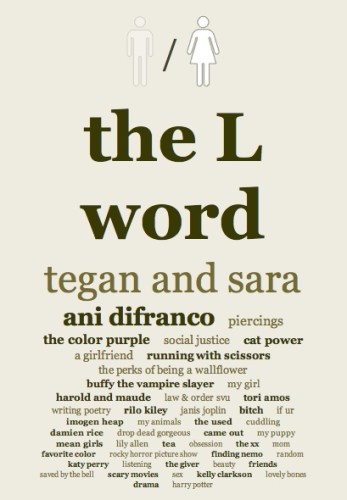 B. National Sex Survey
Also, the National Survey of Sexual Health and Behavior came out last week! Some highlights:
Oral sex with a female partner in the past 90 days was rarely reported. The age group with the highest proportion of women who reported oral sex with another woman was the 18- to 24-year- old cohort of which 3.4% (N = 7) reported receiving from and 4.1% (N = 8 ) reported giving oral sex to a woman.
Among men ages 18 to 59, 4.8% to 8.4% reported having received oral sex from another man in the previous year. However, 13.8% of men ages 40–49 years and 14.9% ages 50–59 years reported such lifetime behavior.

C. Studying Footballer's Attitudes Towards Sexuality Etc
And hey, uh, have you been curious about rugby players at all lately? Male ones? That's good, because someone studied those too. I know right? Anyways it turns out the future is bright, i.e. traditionally hypermasculine sports are perhaps not as misogynistic and homophobic as one might imagine! (@jezebel)
+ "While there was plenty of banter about which women the players thought were hot and who they hooked up with on the weekend, put downs like "bitch", "slut" and "fag" were rare – and when they were used, were met with reproach rather than "you go boy" backslapping."
+ "All the players interviewed – even the two who had been observed using homophobic and sexist language – insisted they'd be totally comfortable playing alongside gay teammates, and several were critical of their coaches' use of sexist and homophobic slurs."
+ "It also seems significant that the study was conducted at Cambridge, a university that attracts some of the world's brightest students, who might be more likely to think critically about gender roles. It's not clear whether the results signal a generational shift in male sporting culture, or just the views of the next generation of left-leaning intellectuals. It also could just be a British thing – a similar study of American students in 2005 found homophobic discourse was rife amongst college athletes."
The more you know, eh? THE MORE YOU KNOW.