Dharun Ravi, the Rutgers roommate who allegedly broadcast Tyler Clementi's love life over the internet for the purposes of mocking him, has been indicted on 15 different charges and if convicted, faces 5 to 10 years in prison.
In particular, just some of the 15 counts against Mr. Ravi included "invasion of privacy, witness and evidence tampering, and other charges stemming from the suicide of 18-year-old Tyler Clementi in September." The charges do not explicitly link Mr. Ravi's actions with Clementi's suicide, but the charges do include the language "hate crime." Molly Wei, the friend who was accused of invasion of privacy along with Mr. Ravi back in September, does not appear to have been indicted for anything.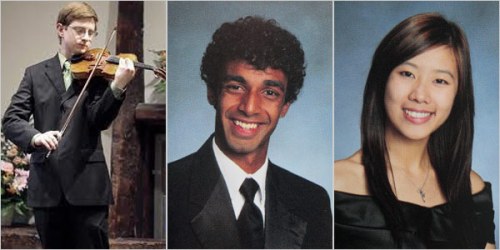 Although the charges are ostensibly about privacy and tampering of evidence (ex. deleting tweets that implied he had invaded Clementi's privacy), it's generally understood that this is really about the epidemic of gay bullying and its connections to teen suicide; about whether or not we're going to commit to a level of accountability for that. Here's the statement of Garden State Equality, the group largely behind New Jersey's new anti-bullying law:
Garden State Equality commends Middlesex County Prosecutor Bruce Kaplan and the grand jury for its 15-count indictment of Dharun Ravi. Without question, the indictment is in the best interests of justice and in the best interests of students across New Jersey, for their potential bullies will now think harder before demolishing another student's life.
As Garden State Equality has said all along, Mr. Ravi's grotesque violation of Tyler Clementi's invasion of privacy, based on Mr. Ravi's perception of Tyler's sexual orientation, presents the clearest-cut violation of New Jersey law. You could not ask for a clearer case.
To those who say that Mr. Ravi's conduct was merely a prank that students are apt to pull – and that somehow he should not receive a tough sentence – we say that's nonsense. That heinous philosophy has tragically done so much to create a bullying epidemic in our state and nation in the first place.
Today's indictment, when combined with the recently enacted anti-bullying law which Garden State Equality steered to enactment – widely considered the strongest anti-bullying law in the country – will have an appropriate chilling effect on bullies everywhere.
We continue to mourn the loss of Tyler Clementi deeply. Today is a day of justice.
Of course, this ruling is particularly timely in light of the study published this week on the scientifically confirmed correlation between inhospitable and anti-gay environments and teen suicide. It felt more than coincidental: a legal confirmation that making life worse for gay people is tantamount to encouraging them to leave it, the same week that the scientific community made a similar statement. If he's convicted of the most serious of these charges, Dharun Ravi may end up being the first, most public person to live with the consequences of those conclusions. Whether this is the best way to respond to the findings of that study is something to be determined over time. For more on the findings of the Oregon study in question, here's an expert talking about it on MSNBC:
Nothing that Dharun Ravi ever does or has done to him will ever bring Tyler Clementi back. No amount of punishment can make this okay. But it can signify a step in our culture's slowly coming to understand that gay kids and teens are in danger, and that they are responsible for and accountable for both that danger and its solution. Hopefully that is what happened today, and will keep happening every day after that.