Starting tonight, downtown Manhattan will be packed with a mix of independent filmmakers, A-list actors and New York cinephiles psyched for the 10th anniversary of our very own mini-Sundance. Robert DeNiro founded the Tribeca Film Festival in 2001 in an effort to bring vibrancy and celebration to the downtown community after the neighborhood was abandoned during 9/11. The festival runs from April 20 – May 1 and will feature the debut of 93 films (both indie and studio), live concerts, free panel discussions, Q&As with actors and filmmakers, street festivals and even re-create the drive-in movie experience with outdoor screenings of Fame and Muppets Take Manhattan at the World Financial Center Plaza.
Among the films making their world premiere is The Perfect Family, co-written by Paula Goldberg and Claire V. Riley and directed by Anne Renton. You might recognize Paula for screenwriting the supercute lesbian romantic comedy Out at the Wedding, starring Cathy DeBuono, . [FYI, Julie Goldman and Jill Bennett also make cameos, so you should probs watch that online today.]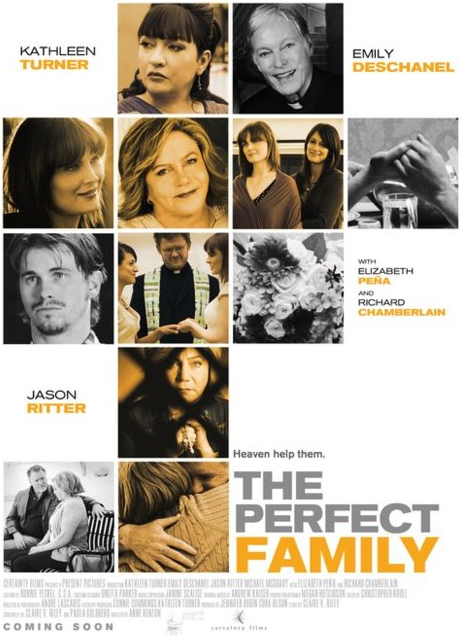 Anyway, The Perfect Family is a dramedy revolving around a devoutly Catholic wife and mother (played by Kathleen Turner) who has been nominated for "Catholic Woman of the Year." Emily Deschanel plays her daughter, a successful lawyer who is five months pregnant and about to marry her girlfriend played by Angelique Cabral. As Deschanel's character struggles to come out to her mom, the son (Jason Ritter) has just left his wife for an older woman while her husband is a recovering alcoholic. Through all this, Turner goes about trying to prove she has the "perfect" family for the board's final approval.
The Perfect Family will play four times over the next week [April 24, 26, 27 and 29] in hopes of finding a distributor and theatrical release.