Remember that time we went on a very important mission to Las Vegas Pride? In um, *COUGH*, September? Well, we finally recovered from our hangovers enough to write this post. If we learned anything from that weekend, it's that you can't chase vodka with more vodka. Who knew?! Also, everyone in our hotel room got sick with colds the week after. Probably because we all made out. The point is, we're all better now and we really want to tell you how f*cking awesome Vegas Pride was!
If it were any other weekend of the year, it would be hard to digest the aggressive heterosexuality that is the city of Las Vegas. But not Pride weekend, girl! Two words: Lesbians. Everywhere.
When we realized we could attend the Vegas Pride weekend on the count of the very awesome Lisa Pittman and Pandora Events Crew were throwing a lesbo-takeover called Shedonism, we were on board immediately.
Let's move onto our photo adventure/Shedonism recap (and video!) by re-introducing the cast of Autostraddle characters present in the city of sin for Shedonism:
Riese and Marni were staying at Marni's friend's house, and the rest of us were staying at The Rumor Hotel, where we checked in Friday night to collect our super special Shedonism passes. The hotel is gorgeous, and there's even a statue of a pig in the lobby. Yay, pigs! If there's anything lesbians love, it's bacon (unless you're one of the 98% of us who are vegan). Also, there are hammocks near the pool area which Alex used to take her many drunk naps in! I really don't know what more you could want.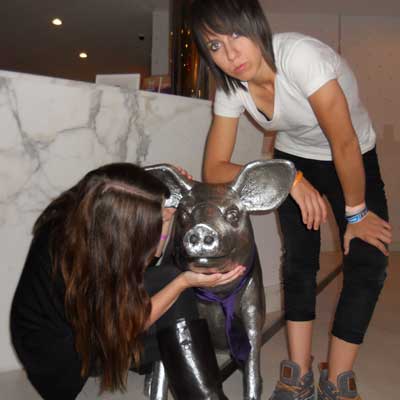 VIP, bitches.
DAY 1: The first stop was the Vegas Pride celebration happening, um, I don't know where. But it was happening. We played games and won prizes, ate snow cones, and Marni double-fisted a beer and Jack+Coke bottled beverage. Who knows what else she double-fisted that day; she's quite talented.
The Las Vegas gays really bring it.
"There's one thing Pride festivals are good for — getting new chapstick."
-Sarah Croce
After this we all had nap time, obviously. But then it was UP AND AT 'EM for the celebrity poker tournament. Don't worry, I have a photo collage of this too, in which you can see Cathy Debuono, Jill Bennett, and Gloria Bigelow contemplating some serious moves while Alex and Sarah Croce (not pictured) contemplated their drinking options. Does Jack Daniels beat Jose Cuervo or vice versa ? Life is so hard.
During this time we also met Babs, a Sweet Travel representative, who I aspire to be when I grow up. We love Sweet! Yay Babs!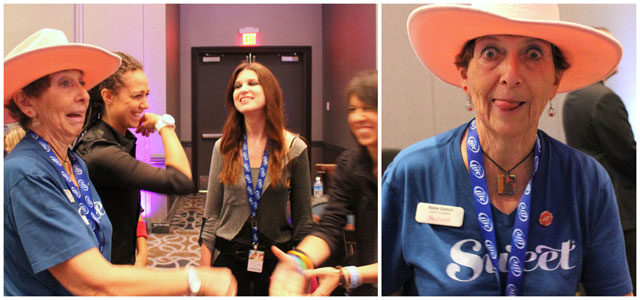 The best part about these events where you agree to get a hotel room so that you can surround yourself with hot lesbians all weekend is that there are usually hot lesbians in your hotel room all weekend.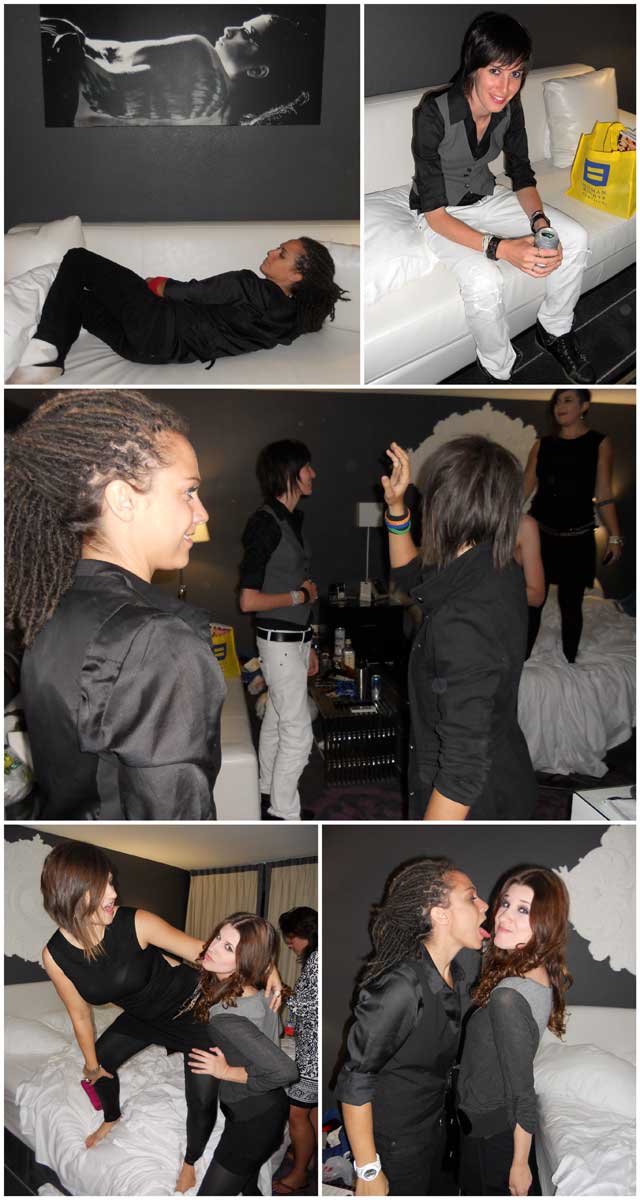 "Why is everyone dressed like Snooki?"
-Riese
It was this night that we all stumbled out of our hotel rooms and into the party at Booty Bar. This was so much fun and we danced our little faces off! Afterwards, our friend Jocelyn went streaking through the hotel and I'm pretty sure some really hot girls went down the water slide naked. Unfortunately, I have no pictures of this. Please forgive me.
DAY 2: There was a pool party! And a huge slide! I think this is an appropriate time to show you our little Shedonism video, edited by Sarah Croce:
It was a good day. Great weather, good vibe, hula-hooping, chicken fighting, a giant slip-n-slide…
The following night was also fun. We danced our tushies off at the closing party that night and at some point we were running around the streets of Las Vegas looking like this: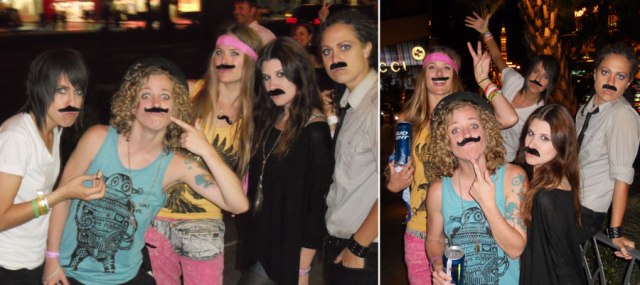 Lots of guys roaming the strip even stopped us to take pictures with them, probably because we looked so utterly gorgeous. They also wanted to take us back to their hotel rooms, but we respectfully declined (by saying "NO, SILLY BITCHES. WE'RE GAY OMG SORZ"). Word to the wise: Guys love cool chicks with facial hair, apparently.
After this experience, we decided to make every Sunday "Moustache Sunday" but then we forgot about it. Now that I've remembered, don't be surprised if you catch a group of lesbians wearing moustaches at the Abbey this Sunday Funday. Just sayin'.
On the headache-filled drive home Monday morning, we decided to stop at this place for coffee and foods. We didn't get offered chewing tobacco by anyone wearing a camouflage trucker hat or murdered even, most likely because we were in the daylight.
Our one regret is that we didn't go to any of the strip clubs that double as steakhouses. Next time, Las Vegas. Next time.