Whoa, hey! Get a load of this: Orange Is the New Black is back, y'all! Netflix dropped the third season several hours early, and I could. not. be. more. excited! How excited? Oh, I don't know. A little bit like this: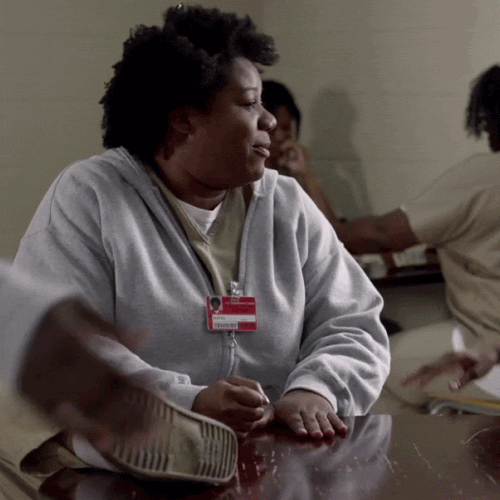 And a little bit like that:
And a whole bunch of this right here: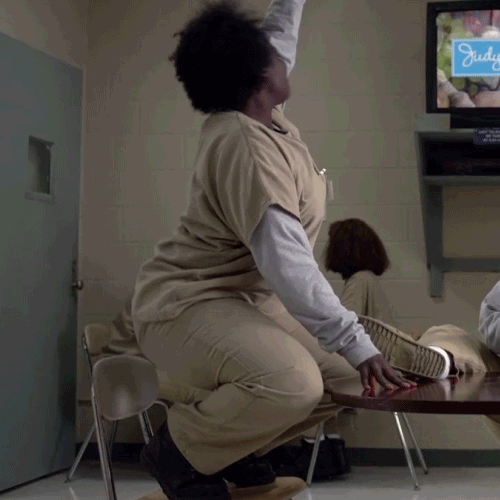 I won't start watching until Saturday, when my buddies Tammy and Valerie come over to marathon the shit out of it with Stacy and I, while we drink some of Ali's Litchfield-themed cocktails! Hopefully, I'll finish before the weekend is up so that I can get back onto the internet because my job requires me to live on the internet, but I can't get on the internet if I haven't seen all the episodes or it will be the Great Vee Debacle of 2014 all over again!
The things I'm most excited about this season are: 1) More Sophia. I'm still not over how underused she was last season. 2) The Piper/Alex/Ruby Rose love triangle. So toxic, so damn sexy. 3) Suzanne's foray into erotic fan fiction. 4) Taystee and Poussey's super bestfriendship.  And 5) Black Cindy everything.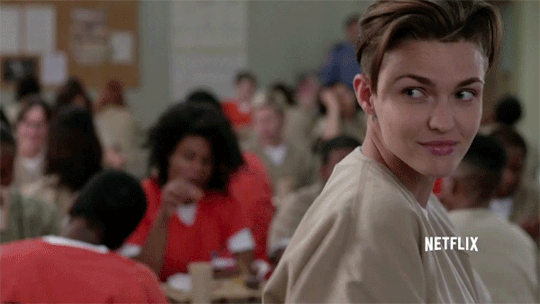 We don't have any hard and fast rules about spoilers in the comments, so let's just adopt Brittani's suggestions from last season's FRIDAY OPEN THREAD: "I don't really know what to say about spoilers other than don't be an asshole but if you're hanging around on this thread, you gotta know something is bound to pop up. We won't be deleting stuff all willy nilly so enter at your own risk and seriously, don't be mean."
S0:
+ Who are you watching with? And when? And how much?
+ What are you most excited about?
+ Alex and Piper vs. Ruby Rose and Piper vs. Red and the Magic Chicken. Discuss!
---
How To Post A Photo In The Comments:
1. Find a photo! This is the easy part. Find a photo on the web, right click (on a Mac, control+click), hit "Copy Image URL" and then…
2. Code it in to your comment! Use the following code, and use a DIRECT LINK to the image. Your image link should end in .JPG or .GIF or .PNG or .CallMeWhateverYouWant even. I don't care, but it should be an image suffix! KINDA LIKE THIS:
If you need to upload the photo you love from your computer, try using imgur. To learn more about posting photos, check out Ali's step-by-step guide.
How To Post A Video In The Comments, Too:
1. Find a video on YouTube or Vimeo or WHATEVER and click "embed." Copy that code, but first make sure it's for 640 px wide or less. If your player is too large, it will not display properly.
2. Copy the code and paste it directly into your comment.
3. Go forth and jam.