In this week's Supergirl, Nia came out to Kara as trans in the car at the beginning of a road trip, and it made me think of my decision to come out to my parents while we were in my mom's minivan going 70 mph on the highway, about two hours into a four-hour ride from Boston to New York. It retrospect, not my brightest plan.
Remembering this lead me to thinking about all the other places I've come out. Because as you all know, despite the way we often pick one of the times we came out as the date we "came out" officially, as queer and/or trans people, we're coming out all the time. Movies and TV usually depicts all the planned or serious or dramatic ways we come out, the upsetting outings or the heartfelt acceptances. And while those types of scenes are usually true to life for some people, sometimes when we come out, especially after that first time…it's kind of hilarious.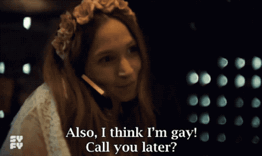 For example, once after spending the day playing field day games in a park in the mud, my friends and I all went to the closest bar that didn't mind that we were filthy and took over the jukebox. At one point I took a break from dancing and sat with my friend who was also gay and we talked about coming out to our parents, because it was pretty fresh for both of us at the time. When I got back on the dance floor, my friend Jess asked me what we had been talking about and I said, "Oh we were bonding about coming out." And she said, "Well bonding usually means you have something in common." I looked at her, confused. "Yes. We are both gay, therefore, we bonded." She stopped dancing. Her eyebrows furrowed. "No, you're not gay, you're dating Dennis." Laughter ensued, because I am most certainly gay, and I was most certainly not dating Dennis. It was one of the first times I came out without having decided first (mostly because I genuinely thought she already knew…most of our conversations up to that point had been about Pretty Little Liars) and it was pretty hilarious.
There was also the time I was at a work retreat on a YMCA campground drinking contraband liquor in a cabin and the girls I was standing with were talking about whether or not they wanted to get married in a church. I made some joke about how probably I wasn't gonna do that since I'm a lesbian, and just then, the song that was playing ended, and in the moment of silence before the next one began, one girl turned to me and said, quite loudly, "You're a lesbian?!" And everyone laughed and was chill about it, the timing amusing us all. One girl even came FLYING out of the cabin's bedroom with a towel in her hair, fresh from the shower, yelling, "WHO'S A LESBIAN?"
So a dive bar covered in mud while Journey played on the jukebox and a cabin on a lake with coworkers are two of my most random places I've ever come out. I want to hear your stories!
Tell me about the silly, funny, did-that-just-happen coming out stories we don't see enough of on TV. Times people found out in a random and hilarious way, not in a cruel or non-consensual way. Did you get your memory wiped then tell your best friend, "I think I'm kinda gay?" Did you find yourself in a burning barn in an alternate universe and call your fiance and say, "I think I'm gay, call you later!"? Did you get so excited that the person you were into was also queer that you blurted, "Gay! Me gay!"?
Spill!
---
How To Post A Photo In The Comments:
Find a photo on the web, right click (on a Mac, control+click), hit "Copy Image URL" and then…
code it in to your comment like so:
If you need to upload the photo you love from your computer, try using imgur. To learn more about posting photos, check out A. E.'s step-by-step guide.
How To Post A Video In The Comments, Too:
Find a video on YouTube, copy the URL, and paste the link on its own separate line in your comment. You no longer need to use the "embed" code!