Hello, veggie skewers, and welcome to this week's Friday Open Thread! This is a space in which we practice for standardized tests and pass notes to each other on expensive calculators. JK! It's a space in which we share pictures, stories, and GIFs with each other and basically forge relationships and love affairs to last a lifetime, in a platonic way. Like this!
This week's FOT comes at a special time, because we're all about to embark on this wild and crazy #AutoBabeBQ weekend together and thus I assume we're all spending tonight in our kitchens tenderizing meat or veggie crumbles or something. I mean, I know that I, for one, have a massive amount of potato salad to make and also a Party City run to complete, and all by tomorrow afternoon! But it'll be worth it, because at the end we'll all gaze into each other's eyes around the fire of a charcoal grill and wonder, is something burning? Like, not burning because it's a grill, but burning burning? 
Also, I assume there will be mosquitos tomorrow so I need to figure some shit out because I have like a zillion mosquito bites already. Actually it's 32, I counted.
Either way, I'm super excited for all of us to throw our chef hats and tacky aprons on and grill up a storm in the name of queer BFF-dom!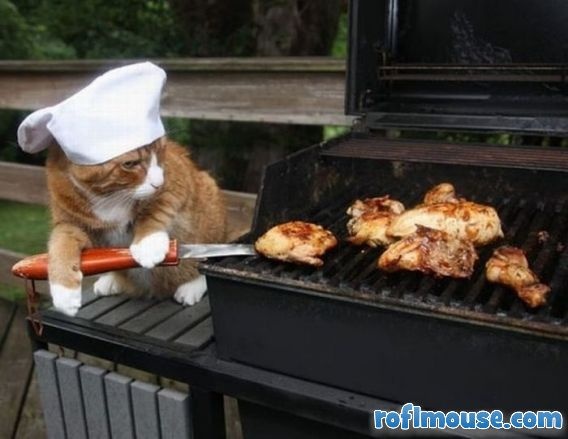 So, tell me: what are your plans for the weekend? Are you going to a Babe-B-Q? What are you bringing. Actually, also, what are you wearing, is it okay that I wanna wear pants? I probably shouldn't wear pants. What are you cooking? WHAT'S GOIN' ON. Tell me everything.
And if you aren't hosting or attending a Babe-B-Q this weekend, I still love you! So much! So go ahead and jump right in and tell me all about your life: your lovers, your friends, your family, your projects, your pets, your new sunglasses, your colleagues at work, EVERYTHING GUYS, EVERYTHING. No holds barred. No chicken wing left unturned. Also, do you wanna see a picture of Eli in his new summer hat? Just let me know. We can do an informal poll.
Let's get fired up in here!
---
How To Post A Photo In The Comments:
1. Find a photo! This is the easy part. Find a photo on the web, right click (on a Mac, control+click), hit "Copy Image URL" and then…
2. Code it in to your comment! Use the following code, and use a DIRECT LINK to the image. Your image link should end in .JPG or .GIF or .PNG or .CallMeWhateverYouWant even. I don't care, but it should be an image suffix! KINDA LIKE THIS:
If you need to upload the photo you love from your computer, try using imgur. To learn more about posting photos, check out Ali's step-by-step guide.
How To Post A Video In The Comments, Too:
1. Find a video on YouTube or Vimeo or WHATEVER and click "embed." Copy that code, but first make sure it's for 640 px wide or less. If your player is too large, it will not display properly.
2. Copy the code and paste it directly into your comment.
3. Go forth and jam.