Hey there, crunchy snap pea crisps! Welcome to Friday Open Thread, a virtual vegan potluck with scrumptious mac and chreeze, a veritable buffet of protein options, and where absolutely no one brings store-bought chips and salsa! Also, a little thing where we all share what is happening life-wise and weep and laugh together and hold each other because community is exactly what we need right now!
How is your face? Is it good? My face is fine. I'm trying to find new glasses right now because I've been wearing the same specs for a gazillion years. 5 years, I think? Maybe 6 or 7? Either way, they are on the precipice of becoming nerd glasses held together with duct tape.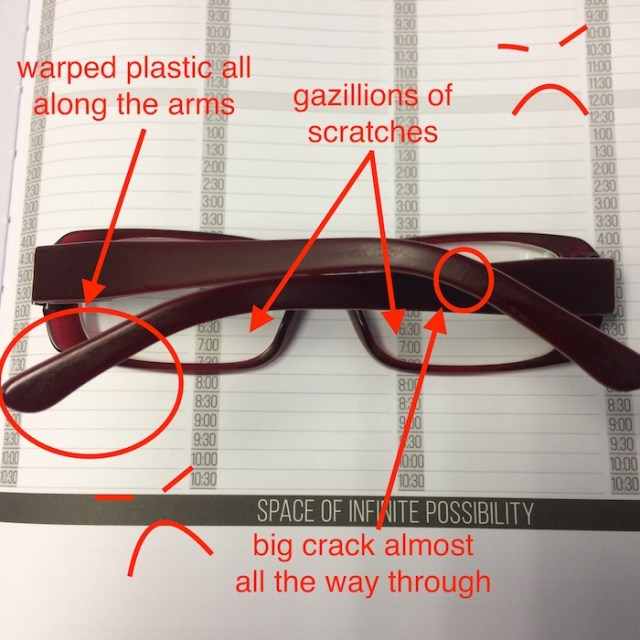 Also, they don't totally fit my face, but I only recently learned that "Asian fit" or "low bridge fit" glasses are a thing and my world has been exploded!
No thanks to the mansplainy glasses salesdude guy at my optometrist's office who told me my glasses (that I'd been proudly rocking for 5/6 years) didn't fit my face well in a very rude way and then tried to pressure-sell me this one pair he had that was from Japan that he recommended for my face shape that was $450. "How much did you pay for your cell phone? Why wouldn't you invest just as much in your vision?" "Think of it this way: it's only $# cents per day if you wear these glasses for two years."
Problem: I didn't like the style of the glasses, which he only had in one color and also I just didn't like them and he was presenting me with one option. I might have considered it for $50 glasses, but not $450! OK, dude. He's the reason I'm still wearing my apparently-ill-fitting glasses a year later because he made me so uncomfortable that I mumbled my way out of there without committing to anything.
Asshole salesguy made me realize I had more options now than those wire-rimmed glasses with the non-slip nose pads I used to wear as a kid that hurt my face. I can have cute gay-looking glasses that also sit properly on my face?! Introduce: LOW BRIDGE FIT.
Glasses not made just for white people noses and faces. Into it. Unfortunately, no one near me sells them or specializes in them, so I'm stuck with looking online. I did the Warby Parker home try-on thing and I've narrowed it to these three. Your thoughts?
I have a very wide face, FYI. Here iny my face with my current (apparently hideously-fitting) glasses.
And here are the top three glasses frames I'm considering. Obviously, I'm leaning towards a tortoiseshell color. After having bold red glasses, I'm ready for something more neutral. I did purple for a few years, then black, then red, and now tortoiseshell. Maybe I'll get two pairs—one neutral and one funky. ANYWAY, I need your opinions on these frame shapes! Vote 1, 2, or 3.
Thanks a million! Now it's your turn! What's going on with you? What do you need help with? Have you seen the sun lately? Did you get your free trial of Hulu to watch The Handmaid's Tale? What is stressin' you out or giving you life or both? How much is that doggie in the window? I'm here, so hang out with me and tell me what's up. Share pics. Raise a glass because it's FRIDAY. Let's go!
---
How To Post A Photo In The Comments:
Find a photo on the web, right click (on a Mac, control+click), hit "Copy Image URL" and then…
code it in to your comment like so:
If you need to upload the photo you love from your computer, try using imgur. To learn more about posting photos, check out Ali's step-by-step guide.
How To Post A Video In The Comments, Too:
Find a video on YouTube or Vimeo or WHATEVER and click "embed." Copy that code, paste it, you're good to go!