Yo! I am late to the Open Thread party. This was my ONE job for the day, y'all and I was late! And I don't even have an excuse. I woke up at 11am and had breakfast. I got my best homeboi to shape me up. I was chillin.
Didn't even remember that I had things to do. Like responsibilities. I know I'm not alone. I know I'm not the only one who's had that "oh fuck" moment where the realization of that thing you had to do appears all of a sudden from the fog of your over-stimulated brain and strikes an immediate clutch-your-chest wave of fear that ripples throughout your body. Tell me I'm not the only one. This is why the thread is late, y'all, 'cause today I had that moment.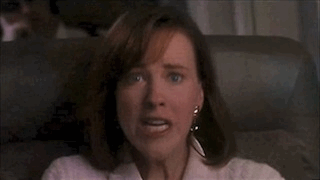 I was going to ask about your dreams because I have the most epic dreams, like dreams where I'm in a black and white movie and everyone is speaking Japanese and no one can point me the way to the Bronx — those types of endless dreams. But maybe today's not the day, maybe today's the day where all of you commiserate with me on your biggest "oh fuck" day. Tell me about the day you forgot to pick up your friend's kid from day care or the day you left a birthday cake inside of the oven and it turned into birthday burnt af brisket. What have you forgotten to do? And how did you recover?
I recovered from this by sitting my round ass down exactly where I was and typing this up for all of you and for me and for the sake of my relationship with the beautiful people who run this site. Hallo! I set myself up with some Missy Elliot radio, a cup of hot beautiful coffee and a laptop that's telling me I might have 45 mins left to finish this.
And of course, share whatever you feel in the comments. Is there something you just have to share? Did you find the most beautiful lime green tutu at the thrift shop? Did you finally learn how to pop an endo on your Kawasaki? Or perhaps… was this week the week where you made the best grilled cheese sandwich of your life? Share the things!
Also, I'm dropping some selfies of me looking terrified and apologetic into the comments. Feel free to join me. Let me see your beautiful faces.
PS: Here's some Destiny's Child because maybe you forgot to pay your bills on top of everything else, maybe I did too.
How To Post A Photo In The Comments:
1. Find a photo! This is the easy part. Find a photo on the web, right click (on a Mac, control+click), hit "Copy Image URLwp_postsand then…
2. Code it in to your comment! Use the following code, and use a DIRECT LINK to the image. Your image link should end in .JPG or .GIF or .PNG or .CallMeWhateverYouWant even. I don't care, but it should be an image suffix! KINDA LIKE THIS:
If you need to upload the photo you love from your computer, try using imgur. To learn more about posting photos, check out Ali's step-by-step guide.
How To Post A Video In The Comments, Too:
1. Find a video on YouTube or Vimeo or WHATEVER and click "embed.wp_postsCopy that code, but first make sure it's for 640 px wide or less. If your player is too large, it will not display properly.
2. Copy the code and paste it directly into your comment.
3. Go forth and jam.