Find Your Fit is a style advice column helping real queer people find the masculine, butch, and tomboy styles that make them look and feel hot.
From reader Marissa:
Me and you have been good friends for a year now and seeing your masc style become fully realized has been one of the best things on the internet. I'm wondering if you could help me out and give me some tips? I'm a 5'3 masc of center Taurus whose style is all about cozy comfortable textures and showing off my jiu jitsu biceps. I wear mostly skinny jeans and recently got into knit polos. I'm a graduate student in speech pathology at the University of Houston and I'm working on a thesis at MD Anderson Cancer Center. As part of my studies, I see clients every week where I have to dress business casual. It can be difficult as a butch woman to find something professional that doesn't make me look like I'm about to officiate a wedding.

I'm a medium in women's shirts and a small in men's. I usually shop at ASOS and Zara where I fit into the men's 30" jeans. I wear a women's size 8.5 in shoes.

Style icons: you (of course), Tan France, Sara Ramirez, America Chavez, Troye Sivan
---
We can definitely do business casual without doing formal. Tan, Sara and Troye are good inspiration for looks that will have you covered for work and also more casual plans — and of course we'll make sure your biceps get their moment.
Sunday Brunch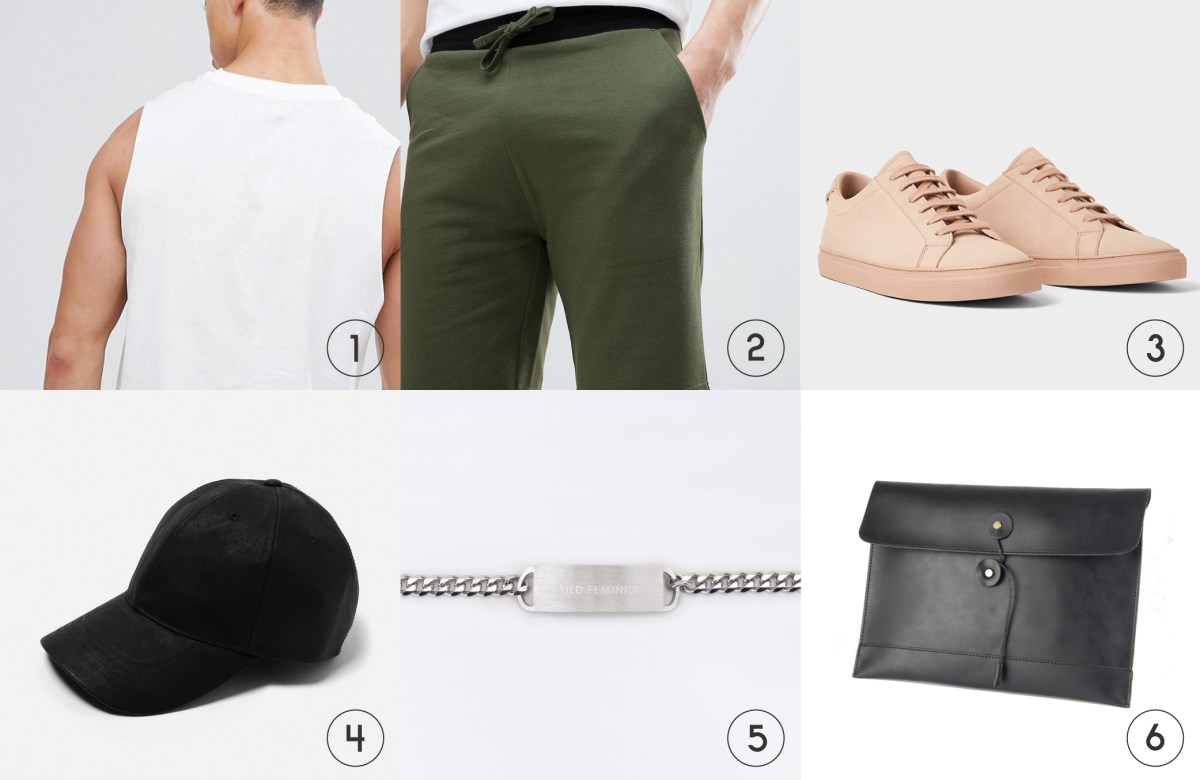 Tank // Shorts // Trainers // Hat // Bracelet // Clutch
Inspo:
Something Tan often does (and does very well) is playing neutral hues against each other. In a lot of his fits, he puts together blush tones that run similar in hue and saturation (but different in color) and black and white to create balance.
For this first look I wanted to put together something that was extremely casual and comfy for your Taurus self but sustaining the sophistication and simplicity so many of Tan's looks have.
Styling:
Pastels and blush tones are very much in fashion at the moment. The key to picking the perfect palette for you is to make sure you're taking your skin undertones and hair color into account, and choosing tones that complement them.
Since summer is hella hot in Texas and you wanna show off your jiu jitsu biceps, I picked a simple cutoff for this fit. ASOS has tons of these, they're often very affordable and come in many cuts and sizes. You can style it tucked in or out, oversized or fitted; it's all about your comfort.
Finally, the key for this fit is accessorizing properly, starting with the way you wear the shirt. For example, if you tuck in the shirt just a bit, maybe consider wearing the hat facing forward and tuck your hair into it for a cleaner look. If the shirt is tucked out, wearing the hat backwards and swapping the clutch for a small backpack might be the way to go.
Business Casual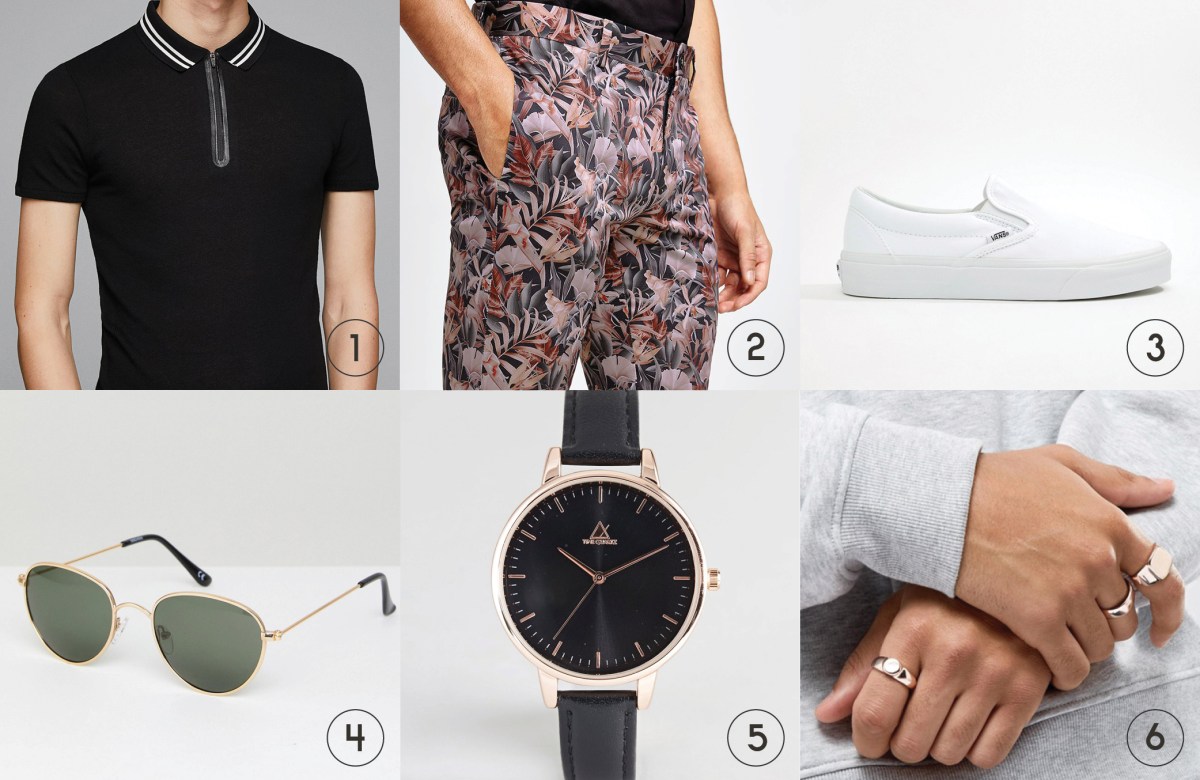 Knit Polo // Trousers // Sneakers // Shades // Watch // Rings
Inspo:
For this fit I took inspiration from Sara Elena of the House Ramirez, First of Her Name, The Unburnt, Queen of The Butches and Leather Boots, Khaleesi of Dapper Fashion, Breaker of Hearts, and Mother of Gays.
I wanted to put together a look that had a younger and more casual twist on traditional dapper fashion. The goal is that you can look put-together and professional, yet youthful and comfortable.
Styling:
The most important item in this look is the pants. Any sort of trouser will give you dapper, but to keep it young a skinny fit is your best bet.
For the top I would go a lot more basic to create the right balance. You can play with how you style it, as always, however for this fit if you tuck your top in, I'd recommend not wearing a belt since it keeps it current.
Wearing trainers with trousers is very much the look right now; I picked some simple slip-on white vans, but any sort of white or neutral-colored trainer will do.
Sara is all about patterns but also accessories; depending on your color palette a leather watch is a safe bet to add that extra pop to the fit. ASOS has tons of ring packs for really cheap and they come in lots of sizes and shapes. If you do both (rings and watch) make sure to always match your metals!
Night Out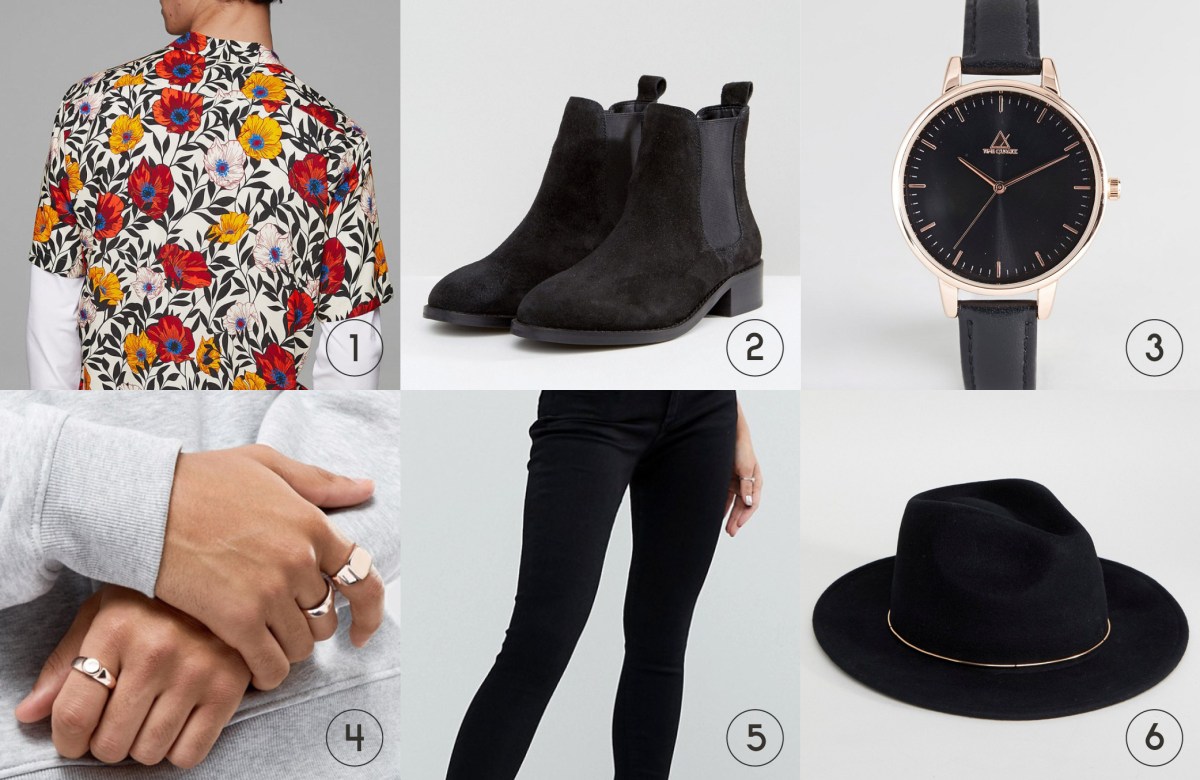 Shirt // Boots // Watch // Rings // Jeans // Hat
Inspo:
Troye has mastered looking stylish yet like he barely tried. He does this by creating contrast with either his tops or his jackets, and keeping the rest as neutral and simple as possible.
This fit is for a night out dancing, a more casual day at work, or a cute date.
Styling:
The key to this fit is texture. If you match various pieces of the same color together, pay special attention to textures and slight differences in saturation. The suede in the black boots will visually break from the black of the skinny jeans; it makes everything go together and merge but also contrast just enough that it doesn't seem flat.
Since summer is around the corner and you also live in Texas I opted out of the jacket and instead picked a bright viscose shirt as the center focus. When you shop for these make sure you check sizes since they tend to shrink after washing; I usually go a size up.
You can style it partially tucked in or not; if you close all the buttons make sure to roll up the sleeves and if you leave the top 2 or 3 buttons open, try not rolling them, see how that looks. A belt is optional.
And finally, for accessories you can use the same watch and rings — if you want to add something extra a structured hat always goes well with these very thin fabric shirts.
---
For help finding your fit, write to mika [at] autostraddle [dot] com with a little about yourself, your personal style icons, and three or four selfies in your current favorite outfit(s)!