Find Your Fit is a style advice column helping real queer people find the masculine, butch, and tomboy styles that make them look and feel hot.
Today's fit is for Anaiel!
Hello Mika,

I'm writing now to see if you would consider helping me out. I'm a Taurus sun, Sagittarius moon non-binary person from France, who recently discovered that they feel much more at home in the men's section of the stores. I have one problem with this otherwise awesome discovery about myself: I feel (and look) like a teenager again. I'm wearing mostly jeans and t shirts in a very varied combination of denim and black.

I recently quit my job as a teacher and I am going back to school at the end of the year to study computer programming. I recently spent some time in my new school, and boy, I blended right in with the majority of 18 to 20 year old nerdy guys in there (and was actually mistaken for a 17 year old), which I find appalling as a 26 year old queer person.

My favorite styles right now belong to @straydaze, @sarahfruehling, and to various people who have a more outdoorsy/flannely style (maybe because fall is approaching) (sorry I wasn't able to find a clear last choice).

I think I'd really like to start playing around with colors (I'm even considering soft pinks now, which I felt really weird about before), but I must be a little scared or overwhelmed because I haven't managed to find my fit.

Making new queer friends and discussing the psychology of fashion choices and thinking about my own insecurities (like… I know nothing about accessorizing? because of years of internalized misogyny and misguided assumptions that accessories are feminine?) has made me really eager to finally try and feel confident in what I wear. I really hope you can help me up my game.

In terms of size, I'm a pretty skinny person (a size XS/S for tops in menswear, and probably a size 30/30 for pants), which I don't particularly like as I feel it's making me look very feminine. I don't mind skinny bottoms, but shopping for tops that is much more difficult. As the previous hottie (have your writers got a better name ?), I am not in the US but mostly shop online and could probably make do with what you find :)

Here are some pictures I just took (sorry about the horrendous Ikea mirror).

Thank you so much for what you do to help the helpless,

Love from Paris,

Anaiel
Thank you so much for writing in! I did some intensive research on your style icons (thanks for introducing me to them!) and I think I can definitely come up with some tips for you. Accessorizing is super fun, so I'm happy to help in that department as well.
Monday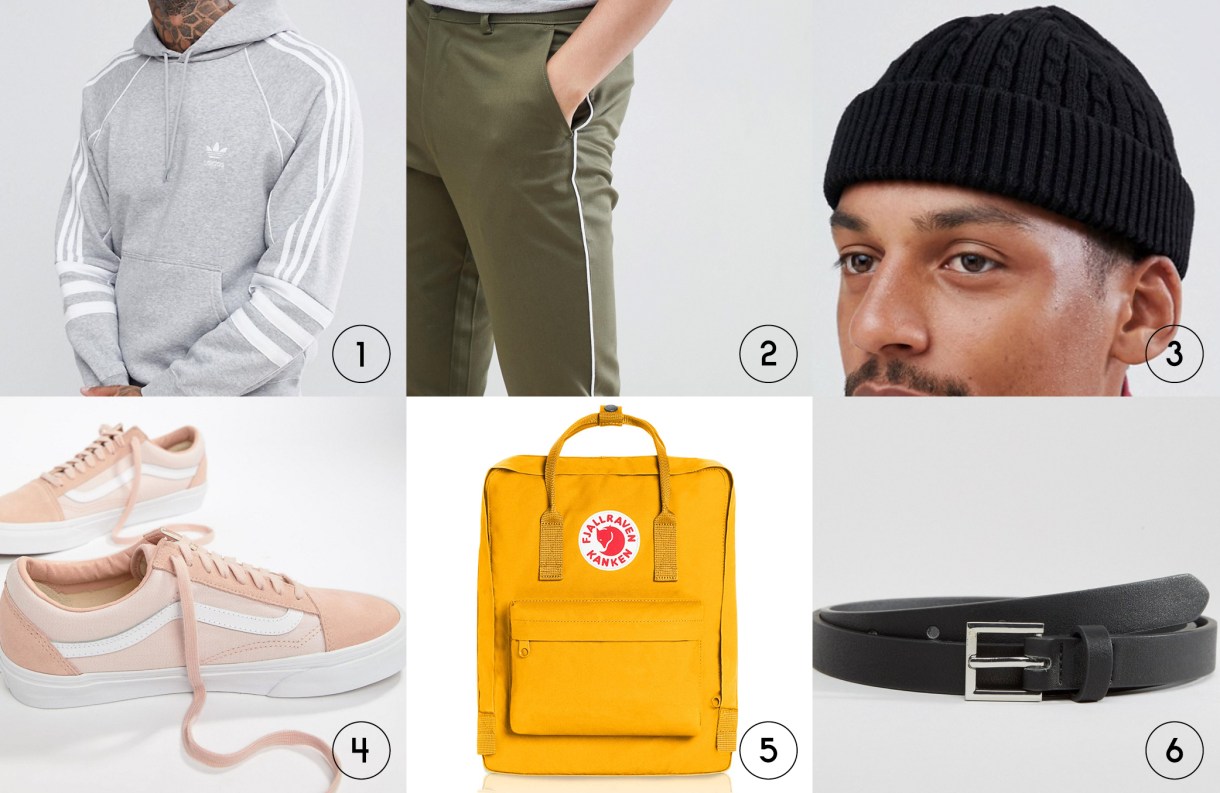 1 / Hoodie
2 / Pants
3 / Beanie
4 / Vans
5 / Backpack
6 / Belt
Inspo:
After stalking Sarah on Instagram I came to the conclusion that a lot of what they do is around sportswear and more casual streetwear attire. They definitely have that outdoorsy, youthful style you're into, but their use of sportswear without necessarily crossing over to being a jock, or really normie, really gives them an edge.
Styling:
For this fit I want to start with the hoodie. When you're shopping products from big sport brands it's always good to try to get some unique pieces; because these brand are so embedded in our culture and are so accessible, a lot of people will own the same pieces you do, so buying pieces that have additional little gestures or special treatments keeps you looking fresh and original. I picked this grey hoodie because all the detailing in the sleeves really makes it stand out in a subtle, intentional way.
Next, I went with these khaki chinos from ASOS. The side stripe detailing adds that little touch that will elevate the pant without sacrificing the casual vibe. Even though technically this is a very 'typical' fit (hoodie, chinos, sneakers) it's the attention to detail of the individual pieces and the way we combine them together that will help you stand out a bit more and not look flat.
I picked these light pink vans for you because I noticed you already have a classic black and white pair of these, and owning a lighter color sneaker can be useful if you wear a lot of darker bottoms. Since you are just getting started to experiment with pinks, I figured shoes is a safe bet.
For accessories since you're going back to school I figured you'd definitely need a backpack. I picked this one from fjallraven because they're an iconic brand, their backpacks last for a long time, and they come in a lot of fun colors. I think this mustard tone will look very good with pretty much everything.
Accessorizing doesn't need to be too complicated; just pair this fit with a beanie or a hat and experiment with a thin belt. If you like to roll your sleeves a bit then try adding a watch or a bracelet!
Presentation Day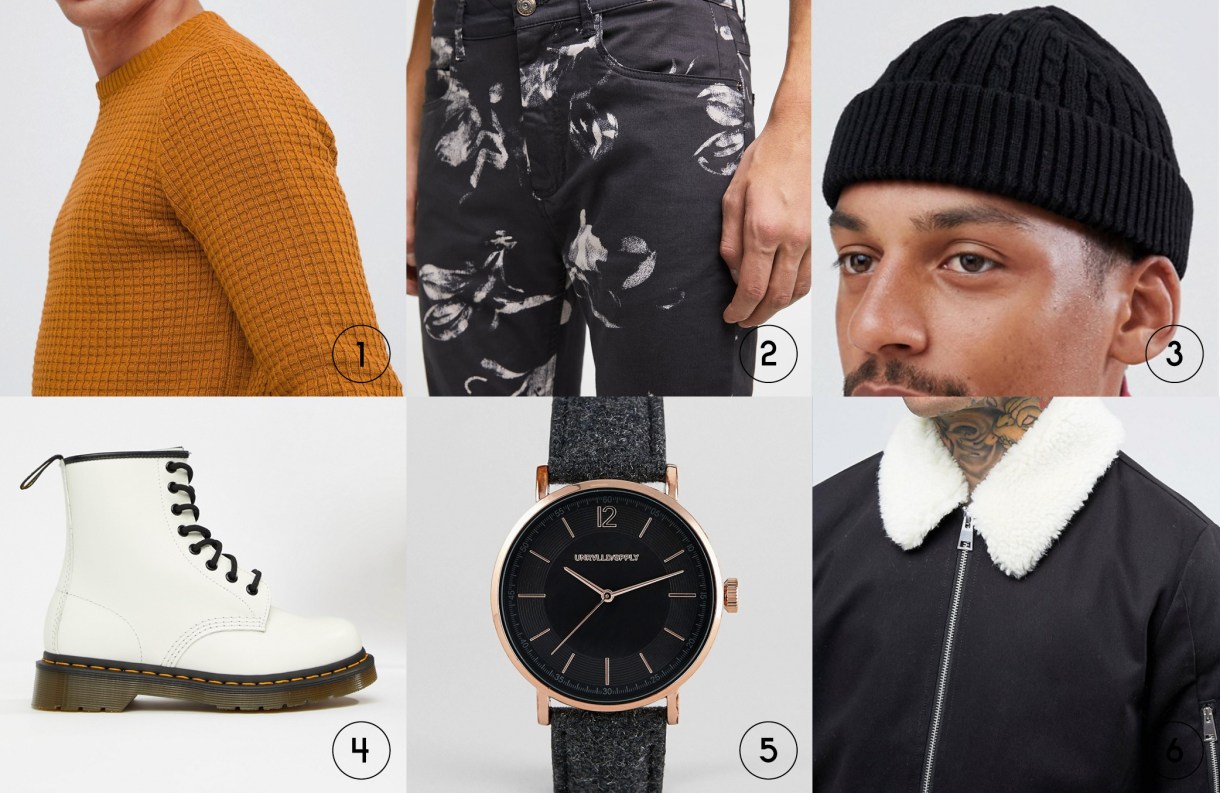 1 / Sweater
2 / Jeans
3 / Beanie
4 / Docs
5 / Watch
6 / Bomber Jacket
Inspo:
Thank you for introducing me to Stray, I love their feed and fits; they're a perfect icon for the fall. I'm going to use them twice because I think there's a lot to work with. For this first fit I want to cover layering!
Styling:
I want to start this fit with the sweater. I picked this one for you from ASOS because I think it will look great on you! However If you don't particularly like the color, still experiment with getting a knit sweater in a more saturated tone. Because it's dark and cold out, everyone including you will start to roll out a lot of darker fits — but just because the summer is gone doesn't mean all the color has to go with it! Knit sweaters are a good way to bring out color and give you a bit more formality than just a t-shirt.
Stray loves a statement pant, so I picked these jeans from Zara for you. Since it's fall you're going to need some boots so I went ahead and picked these white docs because they'll work great with darker bottoms/jackets. Pair them with a beanie if you're cold!
A tip for future shopping is that if you're picking a jacket in a style or color that's very popular at the moment (bomber jackets definitely are) look for one that has one or two things that make it stand out from the rest. This one from ASOS has a really cool faux sherpa neck.
Finally, a watch like this one from ASOS is a safe start if you want to start accessorizing. Roll the sleeve a bit just to show enough of it when you're getting dressed.
Behind the bleachers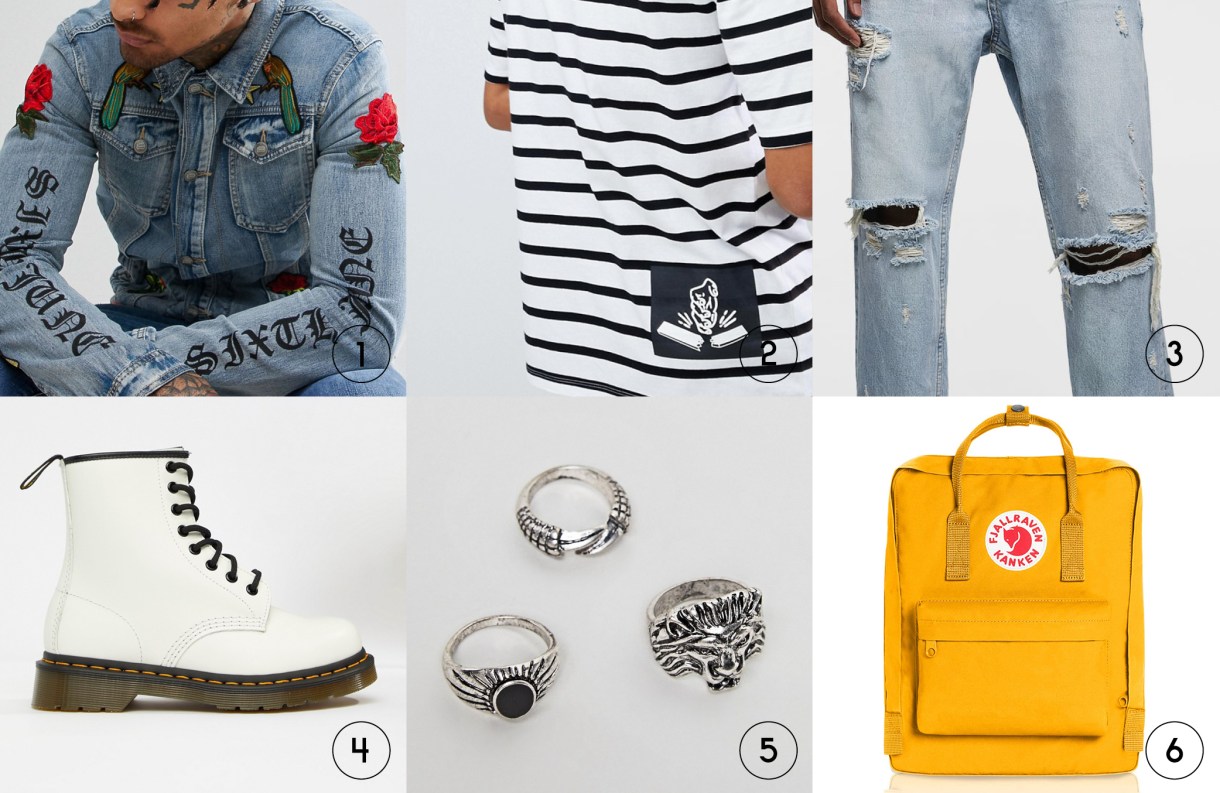 1 / Jacket
2 / Tee
3 / Jeans
4 / Docs
5 / Rings
6 / Backpack
Styling:
This final fit is all about themes. I'm not sure if Stray thinks this way, but it definitely comes across like they do.
Thinking thematically through fits is key if you want to keep your style really flexible and unique. When you wake up and are getting dressed think about your mood, what colors do you feel like? What fit did you see recently that you want to make your own? Starting somewhere concrete can shape up a whole outfit. What's the vibe today? Do you want to be nerdy guy at school, or casual dad? Bad boy behind the bleachers? If you were them, how would they dress?
For this specific fit, I wanted to give you a casual Friday fit, something you'd wear because right after school you're gonna go meet up some friends and start your weekend.
I started with the jacket, and since it's clearly a statement piece everything needed to be worked around it. I paired it with this striped shirt from ASOS, again going back to the 'common' item theory — even though everyone owns a striped shirt, this one has a bunch of patches and little details that make it stand out.
Pair it with some light distressed denim if you want to keep up the bad boy look, or switch it up for black chinos or jeans if you want to reel it back in a bit.
For a fit like this, where the theme feels a bit more edgy, maybe swap your watch for some rings. ASOS has tons of ring packs in both the mens and women's section. Pair this with docs or a sneaker and you're good to go!
---
For help finding your fit, write to mika [at] autostraddle [dot] com with a little about yourself, your personal style icons, and three or four selfies in your current favorite outfit(s)!