The world is on fire and I am at New York Comic Con asking every person I meet how gay their shit is.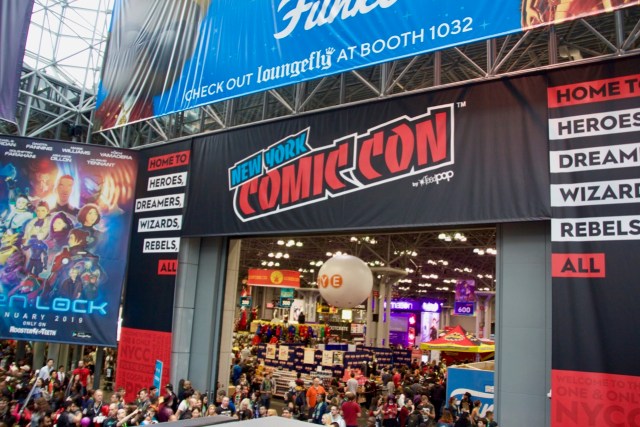 I have always done this. Every NYCC or, really, any con, the sheer amount of new things to interface with is, frankly, overwhelming. It doesn't matter if you're a professional nerd or how many years you've spent as such — when faced with an entire Javits Center full of content, there's absolutely no way any one single human has heard of everything. And I have a memory like a whiffle ball, so sometimes I don't remember that I know something because that memory has fallen out. I spend the first day of every con just getting my bearings. And my shining North Star, the thing I use to narrow down where my eyes need to land, has always been how gay something is. I have always walked up to booths and brazenly asked to be pointed toward their most homosexual of books.
This past year has been a long decade for me. I came out as trans about a year ago, now, and it has not always been a pleasant experience. Plus, you know, the everything. The everything in the whole world is really bumming me out. I need to be really honest with myself about where I am in my reading for pleasure right now and, given the everything, I need to fully embrace the idea that I simply do not have time for any fun-reading that isn't queer. So, given that I'm laser-focused and, frankly, very filled with rage, this question has gone from sort of my compass to Very Aggressive.
Here are the responses I have received to this question in this, the year of our Lord 2018. They ran the gamut.
First up is Tee Franklin, who I found in Artist's Alley. You might remember her as the writer behind Bingo Love, which we talked about last year. I am happy to report that, in the year since we last spoke, Franklin's Bingo Love has gotten picked up by Image Comics. She's now doing a five-part horror series called Jook Joint, also with Image. When I asked her how gay it was, she opened the comic to the first page to show me the story begins with a graphic lesbian sex scene. "We've got all sorts of scissoring up in here," she said. Alas, there is a lot of blood and gore in this comic, so it's not for me. But given how much the everything sucks right now, it might be for you! Because Jook Joint appears to be about killing people who deserve it. Enjoy this rich fantasy that has absolutely nothing to do with how the world currently works.
The Adventure Zone — Travis McElroy, Clint McElroy and Carey Pietsch
Then I stopped by the First Second booth to talk to Travis McElroy, Clint McElroy and Carey Pietsch about The Adventure Zone graphic novel. For those who don't know, The Adventure Zone is a part of one my favorite media zeitgeists: recorded Dungeons and Dragons games. The comic is an adaption of that D&D game, and it's artfully and whimsically done. It acknowledges the game by inserting Griffin, the Dungeon Master, speaking directly to the player characters. While getting a copy of the first arc, Here There be Gerblins, signed, I asked a slightly different question but one that got at the spirit of the thing.
Since I was already aware of how gay their content was (and how gay the comic will become), I asked Travis how often people ask the group about trans player characters, since the introduction of their first trans non-player character (a character played by the DM) went so very well. I'm trans, so. This question was relevant to my interests. Travis McElroy said they get the question of if any of the existing player characters are trans all the time, and said that the most popular request is a non-binary PC. Because I have run out of fucks, I stood in the middle of the aisle listening to this answer while snapping my finger in the air in praise, because I am non-binary. Then I talked to a person on their PR team whose name I didn't write down because I'm an asshole about how good Tom Hanks looks as Mr. Rodgers and also about how the McElroys were announcing the second graphic novel, Murder on the Rockport Limited, the following day.
On to the DC Vertigo panel, where I chatted up Zoë Quinn and Tina Horn, both extremely talented and extremely gay, about their new books. Horn's book, Safe Sex, "couldn't be gayer," says she. She asserts that even though the main characters are in what appears to be a heterosexual relationship, they're both bi. Horn also had a lot to say about the themes in her book directly resisting the queer community's impulse do "the work of the oppressors by fighting ourselves." Given the released art, I can't wait to see this serial come out in 2019.
Goddess Mode — Zoë Quinn
Quinn, who writes Goddess Mode, which will be out in December of this year, described the comic as "pretty gay," with its genre being a cross between magical girl and cyberpunk. Quinn teased that one character, called Antimone, will be the character that "makes all the gay ladies say, 'step on me,'" and another character has entirely opted out of consuming the misery of marginalized populations and has magical headphones that phase them out from reality so no one can speak to them. It's a big mood, I'll tell y'all. I even got myself a poster that I am very excited about. Immediately after the show, I pre-ordered both these books with my local comics shop.
While walking the floor, a lot of folks running booths see my press badge and try to tell me about their comics. Even as confrontational as I was when two dudes whose comics could not have looked straighter were stunned into temporary silence as I asked my question, I still seemed to get positive responses out of them as they admitted that their comics were not very gay at all. I waved at them and thanked them and walked away, and I heard one of them turn to the other and say, "I think that might have been my favorite question so far."
Only at one of these booths that saw me and called me over did I get a "yes, this is very gay," and that was at Ringling College of Art and Design. They were handing out a compilation of student work and the representative looked me right in the eye and said, yes, there's a lesbian vampire story right in the middle. Being in higher education myself, I switched gears and asked how gay their program was, how they support their students and how easy it was for a student to transition and change their name while in the program. I'm happy to report that the representative had answers to all those questions, and that they have resources for LGBTQ students. This was the most unexpected answer I got from asking how gay shit was.
I happened upon the Oni Press booth — Oni published our very own Archie Bongiovanni's A Quick and Easy Guide to They/Them Pronouns, which you should buy and hand out to all human people, especially if you're cis. Given this, I asked to be steered toward their most homosexual content. Director of Operations Brad Rooks, beer in hand, lead me through all of the very queerest of his wares, including Kim Reaper, Dream Daddy (yes, like the game), Aquicorn Cove (which is going to have a board game associated with it!), Open Earth and Wet Moon which there is a lot of and somehow I have slept on something with that title and that fills me with shame. He loaded up an Oni Press tote bag so I could revel in the queer. So far I've gotten through the first trade of Kim Reaper and it's nigh near perfect and I added it to my pulls when I was at my local comics shop after the show. I highly recommend you go purchase it right now!
Some women and queers got uncomfortable when I asked this question, mostly because I feel like they were responding as though I was some sort of gotcha journalist on the right. Jokes on them; I'm not even a journalist! I'm just a writer with a lot of opinions about nerd culture!
Anyhow, I stopped by the IDW booth to talk to Shelly Bond and Paige Braddock about the anthology Femme Magnifique: 50 Magnificent Women Who Changed the World. They both reacted this way, preferring to talk about the structure of the book — but as I moved down the line to get copies signed and I talked to Alison Sampson, Megan Hutchison and Mags Visagio, all of whom worked on various stories in the book, they all crowed that the anthology was extremely gay. Sampson lead with, "I have detail shots of Beth Ditto's bum!" It was very cute.
Braddock did circle around to tell me about her book, Love Letters to Jane's World, which is the writer-artist's favorite strips from Jane's World. Beginning in 1995, this strip was the first mainstream comic to feature a queer protagonist. "It's like the show Friends if half the cast were gay," Braddock said.
What's in these last two books? Well, my wife stole them from me immediately upon re-entry to my apartment, so I actually have no clue; I'll have to wait my turn. All in all, a gay ole time at New York Comic Con 2018. Can't wait to pester folks about their most homosexual content next year.