Our Lesbian Stereotypes Survey asked y'all about your affiliations to witchery, as there has been an association between lesbians and witchcraft for many moons. This includes, most legendarily, Pat Robertson's famous assertion that "the feminist agenda is not about equal rights for women. It is about a socialist, anti-family political movement that encourages women to leave their husbands, kill their children, practice witchcraft, destroy capitalism and become lesbians."
Although we don't know the international rates of witchdom, it does seem like a whole lot of you are indeed witches: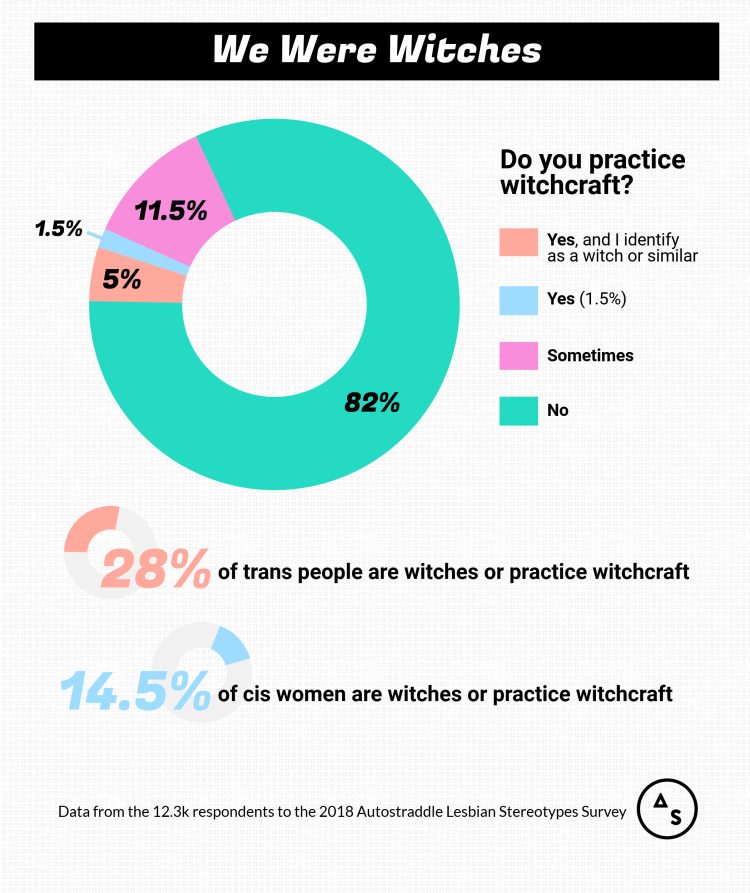 In addition to answering the question, 562 used the "comments" section to share various emotions about the question itself and your own experiences with witchery. We'll talk a little more about the witchcraft you talked about in a serious way in an upcoming post.
Below is a listling of your commentary on the witchcraft question, ripped mercilessly out of context and pasted here for your spiritual enjoyment.
1. I just burned my ex's left-behind Tarot cards while chanting "I will not set myself on fire to keep someone else warm"
2. i just made some pasta and it was witchcraft
3. Geez as a lesbian drummer in a doom metal band I get asked this question all the bloody time…
4. Willow from Buffy changed my liiiife
5. Very rarely I'm like "hmm… but what if I did do witchcraft"
but then…
I don't
6. I WAS A TEENAGE GOTH. IT'S BASICALLY A REQUIREMENT
7. Well, there was a Buffy/Charmed phase
8. I have seen The Craft several times
9. I had a phase when I was 17… which coincides with when The Craft came out
10. I was Wiccan for a year of high school, like any lesbian
11. Show me a person who hasn't used the evil eye at least once and I will show you a person who clearly has never lived or loved
12. …I don't practice witchcraft unless you count the time when I read tarot cards to a Russian friend as a pastime, until I realized she took what I dead seriously and called me a "white witch"
13. My abuela decided I am a pussy and didn't pass the magic to me
14. I light candles and learn herbs and practice good intentions and once officiated a cat baptism so…. sure.
15. I believe that witchcraft is real but I think it's not a good idea for my white ass to involve forces I don't understand or have family connection to into my life like that's literally the plot of every horror movie
16. Gosh, this is why people think lesbians are awful.
17. SECOND WORST LESBIAN STEREOTYPE
18. Witches are hot AF. Don't want to be one, do want to date one.
19. I mean… I lived right near Salem Massachusetts for 3 years. These things happen!
20. One day I will end up a witch on the corner with thirteen black cats cursing the prime minister
21. I'm totally cool with burning effigies of conservative politicians
22. I don't do witchcraft, with the exception of the night before the 2016 election. I looked up a practical magic-esque "how to make a bad thing not happen" spell. Clearly that didn't work.
23. I have lit a candle in the hopes of getting a research assistant job in the past (it didn't work)
24. I'm not a witch, but I decorate like one.
25. I burn sage and get my tarot read every once in a while because I live in Los Angeles okay????
26. Lord knows I was casting spells and waiting for my Hogwarts letter when I was a kid.
27. I mean, we all wish we were Hermione, but no.
28. Hogwarts forgot to send me my letter
29. A girl (who in hindsight I definitely had a crush on) did convince me I was a witch in third grade
30. I genuinely don't understand how someone can practice something that isn't real, but then I guess I think that describes all religions so… you do you, witches.
31. I wrote an essay about lesbian witches one time.
32. DONT BUY WITCH KITS FROM SEPHORA OKAY?? Just… don't.
33. I've just bought a book about it soooo… tbd