Find Your Fit is a style advice column helping real queer people find the masculine, butch, and tomboy styles that make them look and feel hot.
Dear Mika,

I really enjoy reading your column, and you clearly take a great deal of care in your recommendations, so I hope you can work your magic on me. My girlfriend has described my style as 'country club grandpa', but seeing as she broke up with me last week, I think now would be a good time to play around with some fresh looks.

I'm a short (5'2") slim built Brit in my (very) late twenties, and I work as a research scientist for a pharmaceutical company. I predominantly dress for comfort at the lab bench, but also I need to look presentable. My gender presentation is squarely masculine-of-centre, and my signature look is a button down under a jumper with either chinos or dark wash slim-fit jeans, which covers both work and weekends. I love classical tailoring but I worry that maybe it comes across as a bit stuffy and boring? Sometimes I wear simple jewellery, like leather bracelets or a necklace, to add a bit of interest and look a bit less formal. Now that we're supposedly coming into summer in England, I'd like to find outfits that strike a balance between well put together but also a little edgier. I love colour, I'm not afraid of patterns, and I suit slim cut (but not skin tight) clothes. Anything oversized or boxy just makes me look like I'm playing dress up! For this reason, I tend to shop in the women's section (UK size 8-10), but go for masculine looking pieces. I wear Chelsea boots in the winter, tennis shoes or espadrilles in the summer, and I have a pair of tasseled suede loafers for special occasions.

My style icons are Eddie Redmayne, Waris Ahluwalia and Danielle from 'She's a Gent'.

I want to convince myself, and ideally other people, that I'm hot and I've got a lot to offer. I hope you can help me with that!

Maya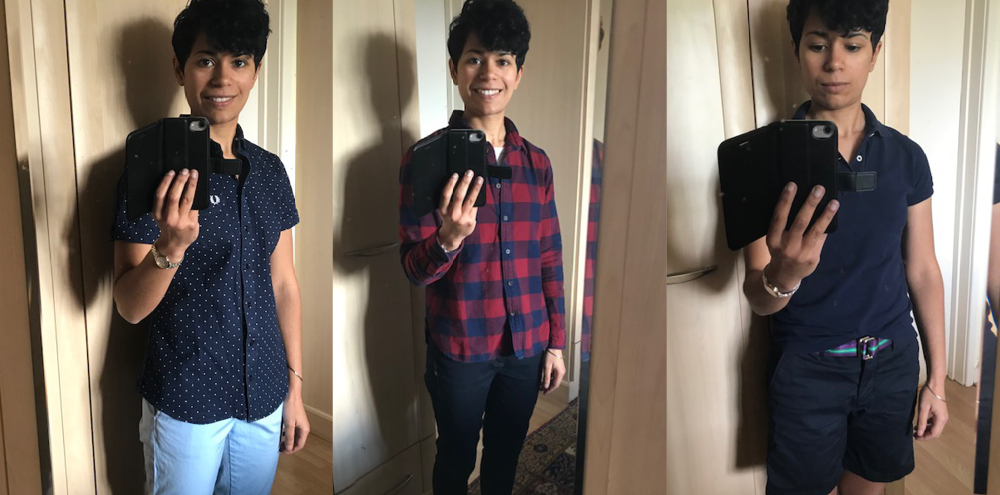 I'm sorry about your recent love woes! That's always hard. However regardless of where that's at! You're already hot! Always! Everything is really about confidence, and I feel really honored that you want my help in getting you even closer to the way you'd like to carry yourself with clothes! All those icons are really cool and cohesive so I think we can develop a pretty consistent yet interesting wardrobe for you (particularly for the summer)
Light Colors
1 Polo // 2 Trousers // 3 Shoes // 4 Watch // 5 Bag // 6 Sunglasses
Inspo:
For this very first fit I wanted to pull in a bit of Eddie's style, but incorporating some of the things that you're looking for (tailoring) and covering a little bit of tone play!
Styling:
I wanted to create a breathable, summery monotone outfit for you. I think your skin tones and hair work great with pastels, creams and light colors, so in the summer using light colors is a great way to be able to pull off tailoring without feeling suffocated or too warm all the time. I picked this polo from Mango Men because they tend to run smaller; the color of the top is similar to these Uniqlo trousers. These are from the women's section, so hopefully they should fit pretty good on you! Uniqlo does have a lot of small sizes in both departments so you should be able to find yourself covered. Something I used to do before I started T was buy all my bottoms from the women's sections of stores that had pretty neutral basics, and get my tops from the men's since those were generally easier to fit into. Besides, if you happen to have your trousers a little more tight to the body, your top then can fit a little flowy without you necessarily looking like a kid playing dress up. This is not me telling you that you shouldn't buy your size, but if the top is a little flowy in the torso that's usually totally fine, as long as everything you get from the men's fits you okay in the shoulders (shoulders are key!).
I didn't want you looking too much like a sailor, which is always a risk with all white or ivory, so I went for a contemporary brown leather Chelsea boot from New Republic for you. (They tend to run small.) Pair this fit with a nice watch if you wanna dress it up a bit more, or a more casual backpack to dress it down!
Night Out
1 Shirt // 2 Pants // 3 Sneakers // 4 Bracelets // 5 Necklace // 6 Sunglasses
Inspo:
This fit is a little more inspired by Danielle. I wanted to start with a blush tone/semi-pastel that would work well with your skin undertones; the idea with this fit is that you should be able to wear it at night/ for a date/ or even a workday
Styling:
This fit is similar to the previous outfit: a nice pair of fitted trousers (these ones are a little baggier in the right places, also from Uniqlo) and a casual top. Wear this shirt tucked out, and maybe don't roll the sleeves if you wear the necklaces. In order to bring it down since we're wearing a more structured shirt, a pair of nice leather sneakers is always an easy way to casual down a tailored fit without losing the sophistication. I picked these from Zara for you. If you're going out maybe use some of your leather bracelets you mentioned you had with the necklace, if you want I also linked you to this three-pack from ASOS. If you're just going to work you could lose the necklace, roll the sleeves and wear a nice watch similar to the one from the previous fit!
Casual Friday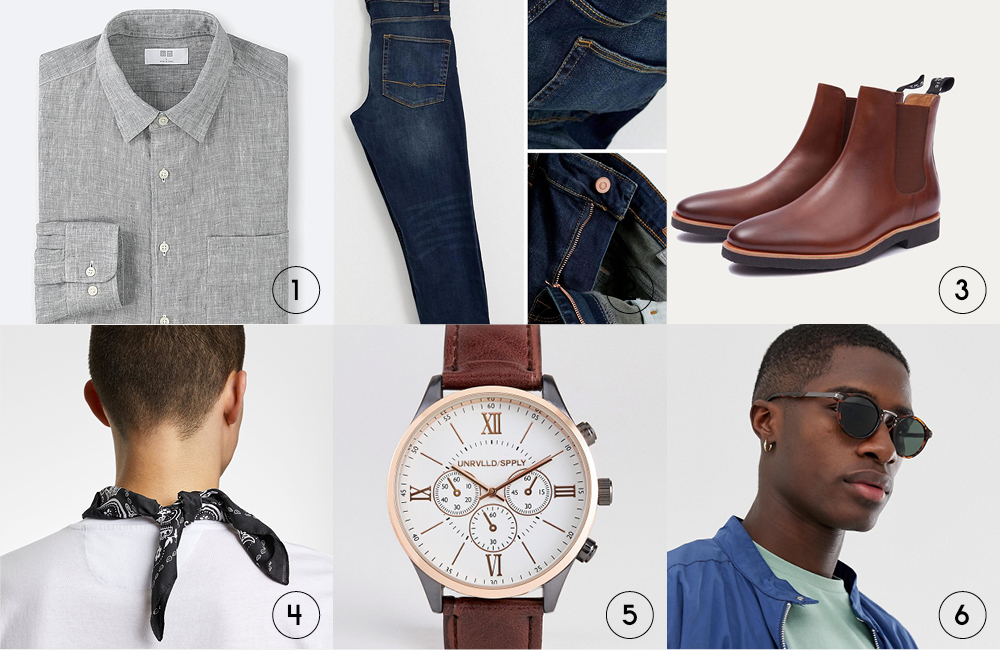 1 Shirt // 2 Jeans // 3 Boots // 4 Bandana // 5 Watch // 6 Sunglasses
Inspo:
For this final fit I was more inspired by Waris Ahluwalia. He tends to wear a lot of casual button ups and some very nice dark wash jeans so I wanted to create a fit with my own little spin of this by using some relevant summer trends as well!
Styling:
You could use easily use some of the dark wash jeans you already have if you don't feel or need to buy a new pair. I picked this casual shirt from Uniqlo because again they do tend to run in smaller sizes. Do a little french tuck with your jeans and cuff the bottoms of the jeans and the sleeves of the shirt. Right now neckerchiefs are really in, so I picked this one from Zara. It's a little extra detail that can make your outfit pop just the right amount. You could tuck it in inside the neck of the shirt or play with it in whatever position you like it the best! I'd wear some nice boots with this fit to bring a little more sophistication and stay away from the sneakers. You could either do the boots from the first fit or some of the ones you already have. If boots are a no, wear some sort of leather shoe. Wear some nice shades and a watch or some bracelets and you should be good to go!
---
For help finding your fit, write to mika [at] autostraddle [dot] com with a little about yourself, your personal style icons, your size(s), and three or four selfies in your current favorite outfit(s)!