Over the last few years, sex toy companies and stores have asked us to review their toys in exchange for, you know, their toys. Today we're reviewing Number One Laboratory's geode dildo.
Material: Silicone
Texture: Textured
Color: Green or Purple or Blue
Length: 7 inches
Diameter: 1.5 inches
First of all, I just have to say: the geode dildo is one of the most obvious sex toys I've ever heard of; it should be the mascot of our people. I am not presently aware of any other gemstone-inspired dildos and can't believe it wasn't already a thing.
From pictures, I had imagined that the geode would feel like rocks scraping against the most tender parts of my body, and upon opening the box I was extremely relieved to find that the geode is in fact made of bendy silicone. I would say it's actually softer and more flexible than most other dildos I've tried, and it is genuinely beautiful. I was given the blue "Sapphire" option to try out, and although I had really been holding out for the soft lavender "Amethyst," this lil guy kinda grew on me. In person it looks more like irregularly melted wax than an actual rock formation, but that did not deter me. My partner and I imagined it was some kind of horrifying alien tentacle, and that made it all the more appealing.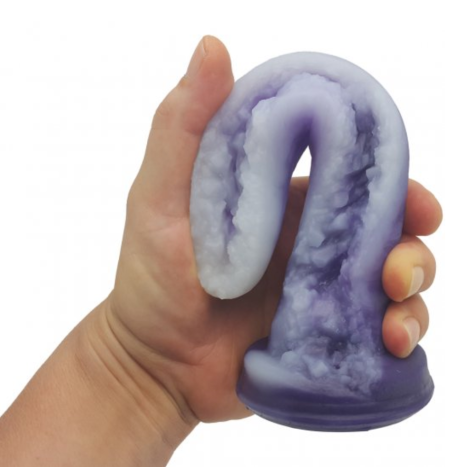 The geode is seven inches long and very harness-friendly; my partner and I tried it on one another both with and without. I can't say I was particularly aware of any particular G-spot stimulation as there is generally a cavern where the G-spot would be. It does not have a suction base, but the high quality silicone does sort of stick to a wooden shelf anyhow. The girth is hard to gauge because of the concavity; the squishy flexibility is certainly appreciated and makes it easier to use from a variety of positions. The geode is slightly wider as it approaches the base, but also… craggier, which I appreciated more than the hollowed-out areas of the dildo.
One thing I can tell you is that your body will be hyper-aware of the unusual shape. I couldn't immediately tell if the sensation was pleasant or unpleasant; I was just very mindful of the fact that something concave with irregular ridges was inside my body. The shape certainly allows for one to get creative with angles and positioning. After a while, I was able to adjust and enjoy myself the way I would any other penetrative device, but the peculiar sensation never entirely dissipated. Number One Laboratory's website recommends using a condom with this toy, which seems to defeat the entire purpose of using a geode as a dildo in this writer's opinion (I want to look at it!), but it is certainly possible that this could have helped enhance the experience.
One positive thing I can say about the geode is that my partner's period blood looked amazing on it, and perhaps it's best suited to proudly displaying bodily fluids. That leads me to my next concern, which is the cleaning of this device. You're going to want to be extremely thorough, as all these nooks and crannies can host a variety of nasty bacteria. Although their website recommends a thorough scrubbing with soap and water, I would recommend boiling whenever possible.
The geode is a gorgeous addition to my shelf, but it almost seems like it should live there as a conversation piece and not necessarily as an object I actually use. With a small lightbulb, you may be able to use it as a Himalayan salt lamp, which I hear is great for seasonal affective disorder.