Find Your Fit is a style advice column helping real queer people find the masculine, butch, and tomboy styles that make them look and feel hot.
This fit is for M!
Hi Mika,

First of all, your advice is always so awesome! I used to study fashion and your style advice is just impeccable — and very easy to apply :)

I've always been super femme and this kept me from seeing my own gayness for many years. I came out two years ago and at first I was adamant it wouldn't change my style, but then… I was invisible. I want to be SEEN by that hot dyke in the bus, yakno? And also to feel at home in this fat, queer body that I haven't felt good about for too long and that I love now but don't know how to show off?

Anyway, what I'm trying to say is. I'm short and curvy, and I used to dress pinup-style. I don't feel like that's really "me" anymore, but I can't seem to find a more minimal style that doesn't make me feel uninteresting. At the same time, I feel the sexiest (right now! it changes a lot) in trousers/slacks and a patterned shirt, sometimes a fitted turtleneck. I wear a size 16-18 UK.

I'm a student, work part-time, I'm busy, bike everywhere and have long days. And you can pry my red lipstick from my cold dead hands (Ruby Woo, please). I also favour winged gel eyeliner and red nails.

My style icons are Cate Blanchett (but less fancy and fatter), Kristen Stewart in her long hair and big dyke energy-phase, and Debbie Ocean (but more colourful).

Here's a couple pictures of my current fave outfits :)

Best,
M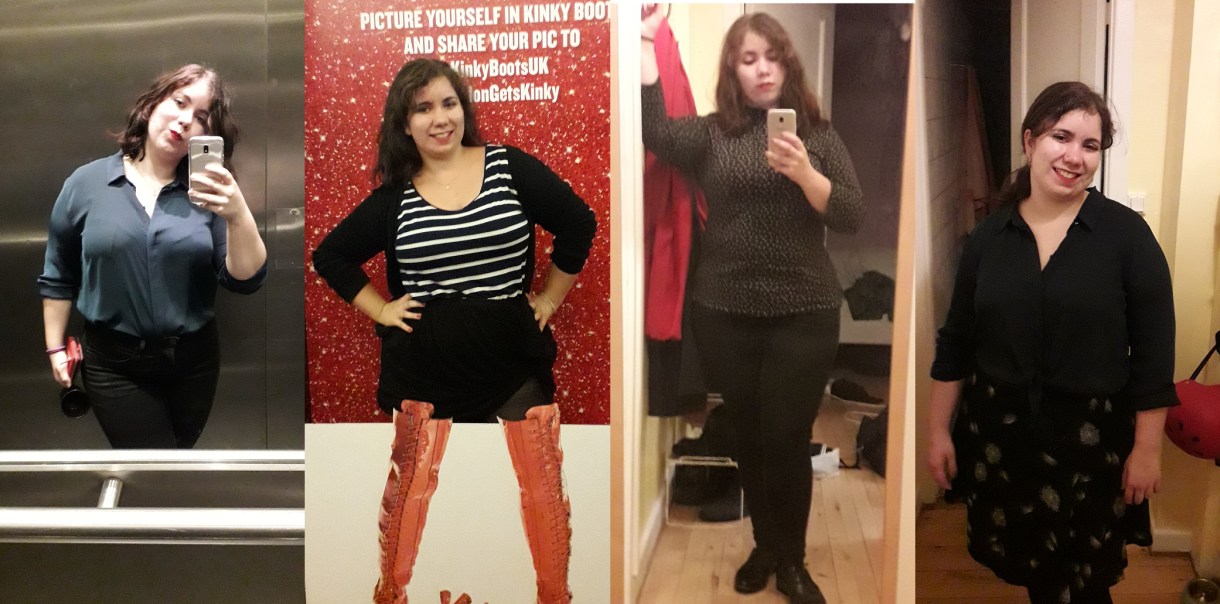 Hey! I feel you so much; what makes me feel sexy changes quite often; I switch up my style pretty regularly just to keep it fresh. The way I like to think about it is on a spectrum of sorts; if I try to embody all of those markers depending on the day, the mood, the situation, I feel the best. I think your style icons are really good to showcase a good range, so this is a great start.
Ocean's 8 But Make It Even Gayer

1 / Top
2 / Pants
3 / Blazer
4 / Boots
5 / Sunglasses
6 / Watch
Inspo:
I've been doing so much Ocean's 8-inspired stuff lately, I love it. I'm glad you picked Debbie Ocean because when I watched this film I actually thought she had better style than lesbian favorite Lou (don't @ me, this is just my personal opinion!). Debbie's style is more applicable to real life outside of a fictional film; her looks are sharp and practical without being boring. I think the key to her style is the way different cuts/colors of pieces overlay with each other.
Styling:
For this fit let's start with the trousers. I think a short trouser like this can be super flexible; you can go very formal with it or very casual. If you pair it with a tee or a tight turtleneck (like the ones you've been loving lately!) you can go to a nice dinner or a night dancing. If you pair it with a blouse or a shirt and a long coat, you can wear it for a formal or work occasion. Check/plaid is really in this year, and especially during the fall/winter season. Pair it with this black top from Universal Standard and tuck it in. Overlay it with any sort of neutral, solid-colored long coat or in this case, this long blazer from ASOS.
There's nothing gayer than a boot, but there's nothing GAYER than a chunky boot. Chunky boots say "I will walk all over you and you have to say thank you afterwards." I picked these ASOS ones because I love me a suede boot and I see you have a lot of black bottoms, so having something with texture will create dimension to your fits if you wear a black shoe with a black pant. Keep accessories simple; Debbie's always wearing her aviators but because you particularly requested something a little more colorful I picked these pink ones for you. If you don't have one I recommend a black watch; these are classy and a nice finishing touch for a multi-layer look like this.
So the Lion Fell in Love with the Lamb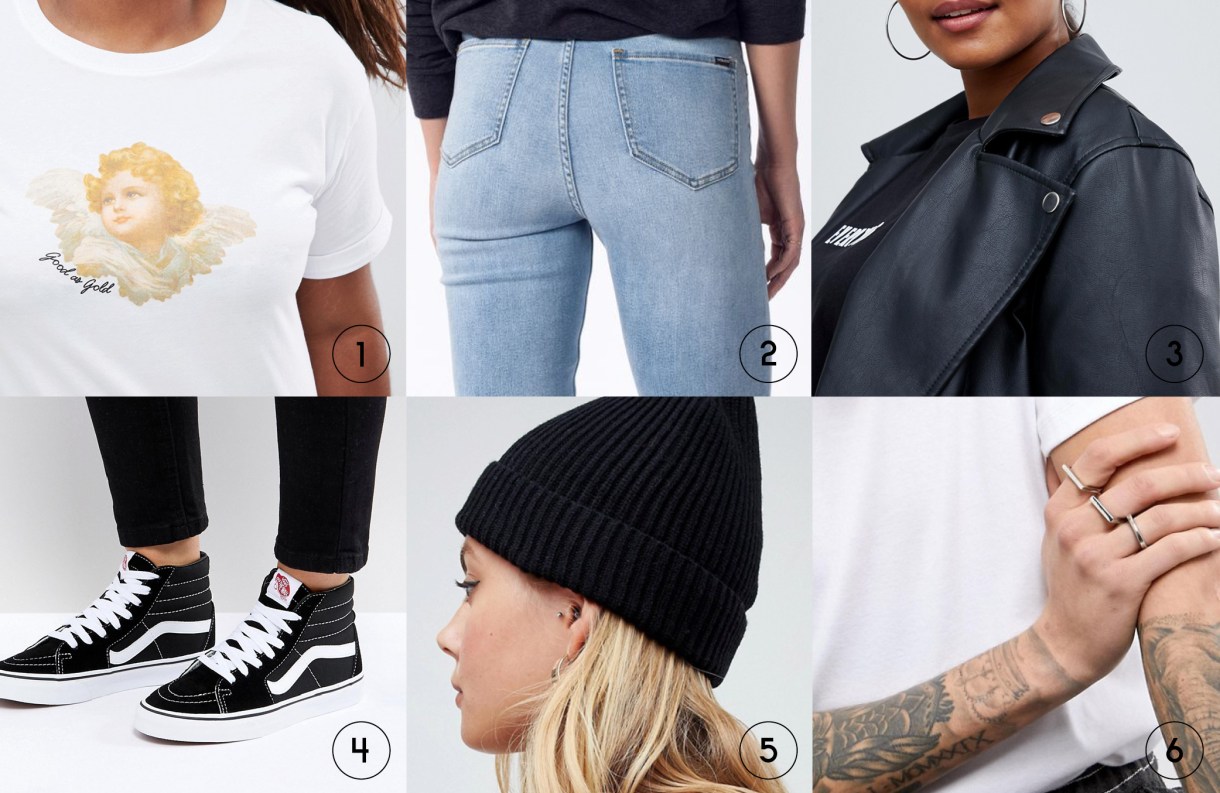 1 /  Tee
2 / Jeans
3 / Jacket
4 / Sneakers
5 / Beanie
6 / Rings
Inspo:
I am both ECSTATIC I'm finally doing KStew and HAUNTED by the fact that no one has submitted her before. This Aries sun just really don't give a fuck, which is quite a good look honestly. I get it, Twilight damaged us all. Kristen is very very very much about being comfortable, I would dare say even more so than Ellen Page. The difference here is that she's still very particular around the kind of comfy she likes (especially the era of KStew you requested). Kristen is the gay James Dean; she's very into merging a little bit of skater/LA themes to timeless bad boy basics
Styling:
This fit is really simple; I picture it on a lazy day or on a day you know you're gonna be biking around a lot or going from class to class. I think any sort of neutral soft white tee will do, but I wanted to pick something a little cuter for you so I went with this white tee from ASOS. Kristen LOVES jeans, so I picked these light denim from Wildfang for you. I would cuff the bottoms a bit and play with how you wear your tee, depending what you're feeling: untucked, tucked in all the way, or french tuck. Follow your gay duty and roll the sleeves up. This fit wouldn't be KStew if you didn't wear some sneakers. I picked these high-top Vans for you, but if you don't like high-tops (I personally don't because they make me look shorter than I already am) switch it up to low-cut. This part I debated because as a proper gay Kristen, is most likely wearing bed head, a beanie, or a snapback, but for the sake of fall/winter I went with the beanie. However please feel free to interchange between all of these!
Finally I picked this biker jacket because I'm going for the James Dean look; if it's not your style switch it up with the bomber jacket from the next fit. For accessories we gotta add gay sprinkles: RINGS. Now you're ready to go pick up $17 cold press with your model girlfriend!
Honestly, Just… Hot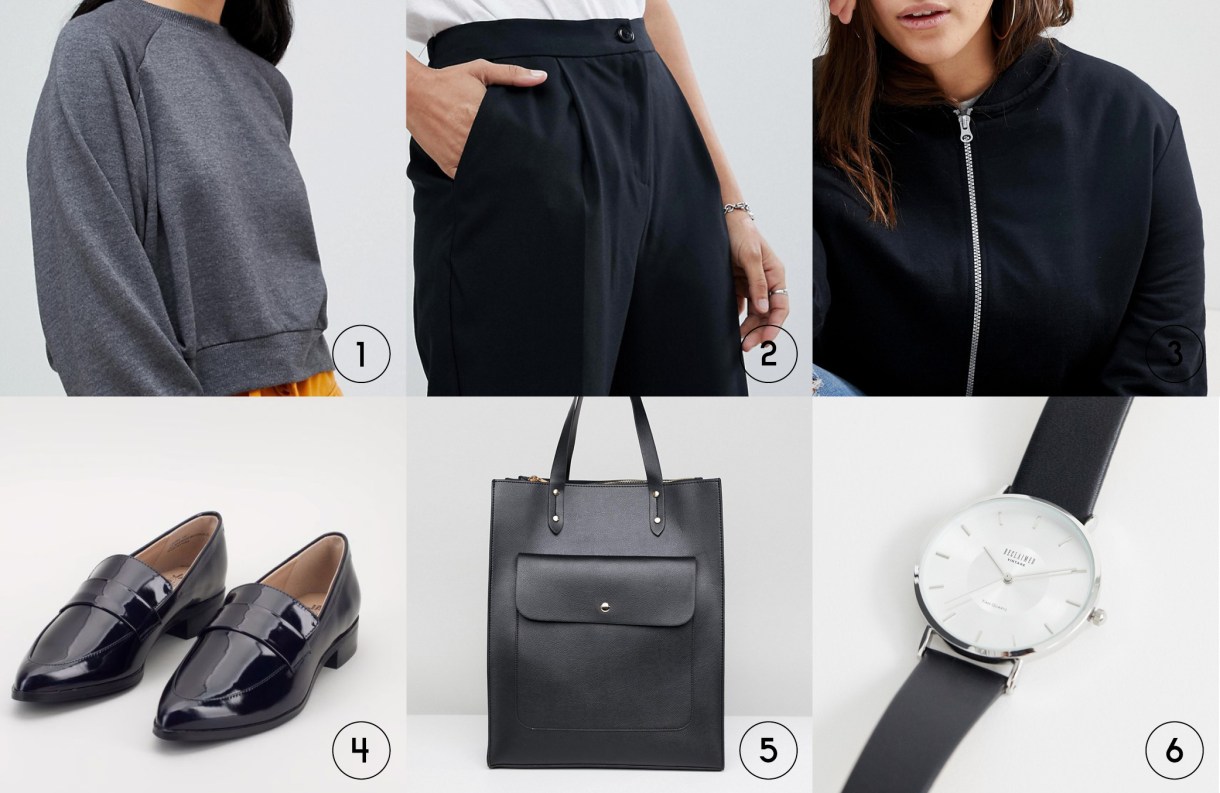 1 / Sweatshirt 
2 / Pants
3 / Bomber
4 / Shoes
5 / Bag
6 / Watch
Inspo:
I know I did Cate last week but that's not enough Cate, especially during Carol season. I stalked her "out for the day" outfits and I'm very happy to report she's still killing it fashionwise when like… taking a walk with her children, a true mommi icon. Cate's casual looks retain a lot of sophistication; she wears a lot of black and formal pieces but then adds texture and more casual pieces to balance it all out.
Styling:
This fit is honestly incredibly flexible; switching the top changes the whole purpose or tone of the look. Because I already did a dressy fit and a casual fit for you, I wanted to find something in the middle, which Cate is perfect for. This look starts with the the pants; even though they're pretty dressy you can dress them down with everything else you're wearing. I picked these loafers for you from Wildfang but you could also rock these pants with a nice solid-colored leather sneaker (white or black with a white sole) if you wanna be even more casual. This grey sweatshirt from ASOS adds a good break from all the black to this look, and also adds texture. As a piece a grey sweatshirt is so casual it balances out some of the more formal pieces. If it's still a little chilly, overlay it with a thin black bomber. Finally for accessories, a simple watch, or a bracelet or even some rings can do the trick as well as any sort of simple black bag or purse.
---
For help finding your fit, write to mika [at] autostraddle [dot] com with a little about yourself, your personal style icons, your size(s), and three or four selfies in your current favorite outfit(s)!