Find Your Fit is a style advice column helping real queer people find the masculine, butch, and tomboy styles that make them look and feel hot.
Hi Mika,

First off, I want to say how much I love your column (even if my bank account does sometimes take a serious hit when I read it!) I'm an ACE/ARO gal from the metropolitan Great White North, and as I've been coming into my understanding of my ACE-self, I've been feeling a serious shift in my style. My early 20s was all about 1950s vintage librarian looks (fit n' flare dresses, patterned tights, cardigans) but in the last year (legitimately writing this to you on my 30th birthday), I've found myself leaning towards a much more androgynous style, with even the dresses I do still wear being layered over pants or leather leggings.

I found an okay style place for the winter but with summer soon to be on us, I'm at a loss for what to do in the hot weather – especially for work. My three style icons are Michael Keaton as Beetlejuice (the striped suit is my dream wardrobe addition); Robert Sheehan as Klaus Hargreaves in the Umbrella Academy; and Jenny Walton (more femme than I'm inclined to go but I love the quirky details and lashings of red lipstick she incorporates into her outfits). I wear a 10/12 in pants, m (6/8) in tops and 8.5/9 in shoes.

Thanks so much!
Kat
I love this so much! I'm pretty sure I did some Beetlejuice-inspired fits once, but this is on another level. I can see the direct connection between Klaus and Beetlejuice also. I think using some current trends and merging those styles a bit while also thinking of summer and the workspace appropriate attire is pretty easy to achieve!
Hot Stripes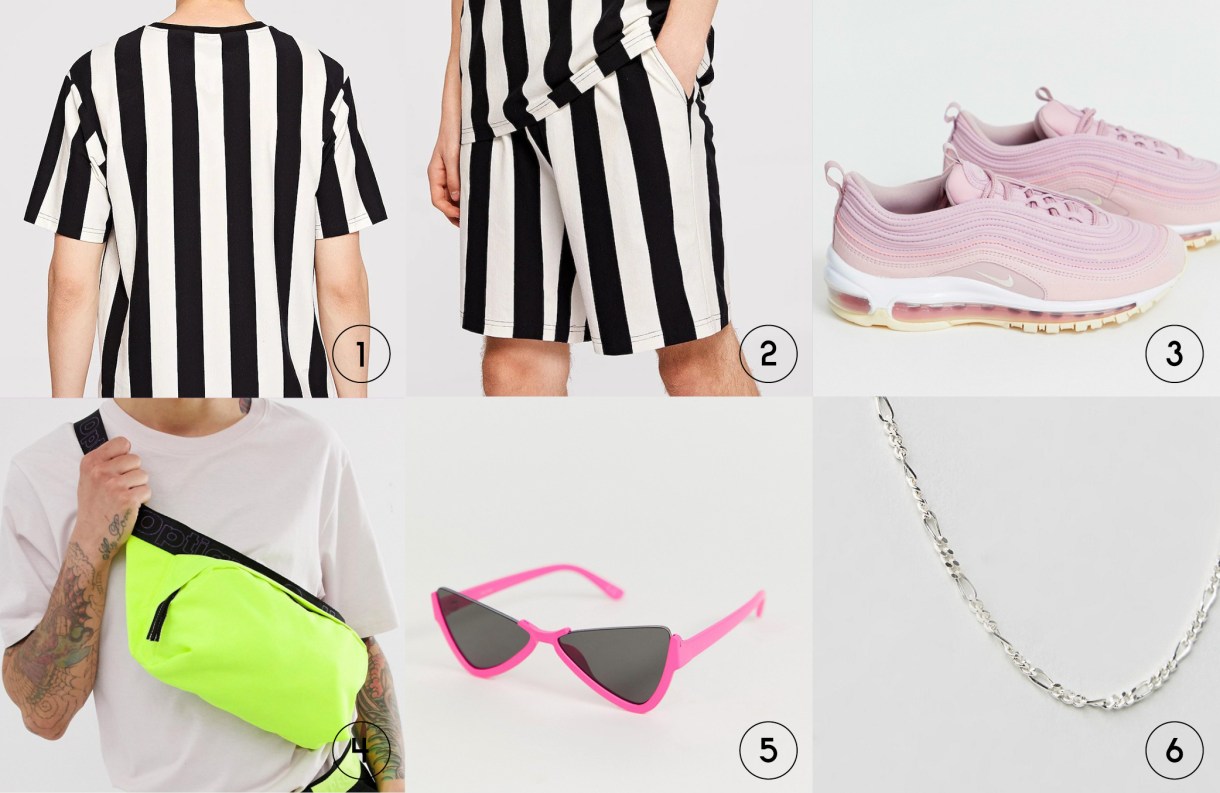 1, 2 // Tee and Shorts 3 // Sneakers 4 // Cross Body Bag 5 // Sunglasses 6 // Chain
Inspo:
Clearly I was inspired by the striped suit. I think recreating the basic look of that but adapting it to a more casual fit is the way to go in the summer. This fit maybe isn't for work but a busy day of errands, or maybe a fun brunch.
Styling:
I picked this two-piece striped set for you because it's super simple and comfortable for the hot weather. Since it's so monochrome and full of texture you can think about adding some color pops to make it stand out. Continuing with the Beetlejuice theme, I wanted to go with neon green and hot pink for the accessories. Neon is super in right now, you can see it everywhere from the runway to H&M, and it looks particularly good in the summer. I picked this crossbody bag from ASOS that kind of works half as a bag half as a utility harness, as well as these shades. If you don't like the shape, ASOS has a great selection of other sunglasses you can pick from as well. You can really wear this fit with any kind of shoe, but because I wanted to focus on the summer and because in the next two fits I give you more "real shoe" options I wanted something casual and adaptable to many outfits but unique enough for you to rock all through summer without feeling bored, so I picked these light pink Nike air maxes. If you don't feel like these are your vibe, you could try some black Docs or even some Vans or low cut sneakers and they'll also go great with this.
Pattern on Pattern
1 // Top 2 // Pants 3 // Sneakers 4 // Rings 5 // Sunglasses 6 // Bag
Inspo:
I wanted to work in a bit of Klaus in on this fit. Naturally, I kept going back to mesh or translucent fabric, but keeping in mind that the fit needed to be work appropriate I had to rethink my spin on it. Klaus wears a lot of black in the show and a lot of textured items; his style is like half bisexual auntie, half recently divorced bird, which is great but maybe doesn't track so well in the summer because you can't wear coats really. However, something Klaus does great that we can also play with is pattern on patterns!
Styling:
For this fit I wanted to start with the top. How do we add in a bit of 3D texture without having to go to coats or jackets or sweaters?Since this fit is meant for mostly a casual work environment, I still wanted to do something elegant and not distracting so I went for this ASOS oversized top with pearls all over (as you do). These will look like polka dots from afar, which is great and discreet enough for work. Next I wanted to go to a pant that had the right consistency to merge with the pattern from the top, so I picked these striped trousers from Wildfang. When you're clashing patterns, my rule of thumb is to have some sort of common language between both of them; in this case black and white are our shared territory. The pattern in the pants is so much more vivid visually that it allows the top to clash comfortably. For the shoe you can really wear any sort of black boot or Oxford if ugly sneakers aren't your thing, but similar to the last outfit I wanted to add color and fun with the accessories. I picked these iridescent sneakers from Zara because the light play with color is amazing and the white will help your fit pop. You can pair this fit with some rings or other jewelry to add a few more feminine touches, if you want!
Friday Night
1 // Shirt 2 // Jeans 3 // Boots 4 // Rings 5 // Chain 6 // Bag
Inspo:
For the final fit I wanted to finish off by going full Klaus. I'm thinking of this as an end-of-the-week outfit, meaning you could hit your happy hour/evening plans right after work without having to go to change.
Styling:
I wanted to stay in Klaus land but also make it work appropriate. He clearly wears a lot of black and I know that can be an issue in the summer, so the key here is to get breathable fabrics if you're going with dark colors. First I picked this shirt from ASOS because the shirt is viscose, so air should just go through it regardless of how dark it is. The fabric is delicate and has that divorced bird energy I was talking about; you could tuck it in and wear it with any sort of pants or leggings. For this fit I wanted to get you a pair of black washed jeans because those are great in the summer if you want to wear black pants but not die of heat. These ones from ASOS have a cool pattern that adds a visual element to break up the fit a bit more and create some texture. Pair them with some boots, or sneakers if it's really hot. You can cuff the bottom of the jeans if you want as well or add a belt since they're high waisted.
I picked these zebra patterned boots from ASOS because they're dope and have hella Klaus/Beetlejuice energy, but again if they're too much, pretty much any other shoe will do!
---
For help finding your fit, write to mika [at] autostraddle [dot] com with a little about yourself, your personal style icons, your size(s), and three or four selfies in your current favorite outfit(s)!