Finding inspiration for writing recipes, just like all writing, is a very unpredictable situation. Sometimes I've got ideas on ideas on ideas on ideas. My phone and the notebooks I keep scattered around my apartment are filled with delicious options to explore. I can go months without struggling for recipe inspiration, but once in a while my source of culinary imagination goes on vacation and that's when I turn to requests.
I ask my friends if there's anything they've been craving or wish they had as a standby recipe. Their responses are almost always something I've never considered making before. They put things on my radar, then I get to do the fun work of bringing those ideas to life instead of stressing about being inventive. It makes the cooking process feel more like giving a gift or fulfilling a wish. It reminds me that cooking/baking is a fun and connective experience. More importantly, it helps push me out of my comfort zone in the kitchen.
Which leads me to this vegan chocolate mousse that is my new true love. I realized last week that I didn't have any recipe ideas sparking my interest, but should probably make something involving chocolate so I hopped on twitter and asked for help. Three of the responses to that call were about chocolate mousse. Mousse! I never make mousse! I don't know why cause it's incredible and airy and smooth and creamy and makes my eyes roll back in my head as I lick the spoon. I've been living a tragically mousse-less life and thanks to my readers on twitter everything has changed.
One of the votes for chocolate mousse also requested that the recipe be dairy free. It has absolutely been too long since I gave my vegan/non-dairy friends any recipe love, so this is fixing that too, and in such a good way. I wanted to make sure my vegan mouse wouldn't dare be lacking any of the flavor or textural qualities you'd find in cream and egg based mousse. Thanks to coconut cream and aquafaba, the liquid from canned garbanzo beans, this mousse in fact does it better. The aquafaba whips up just like egg whites, adding the airy fluffy lightness every good mousse needs. The coconut cream brings luscious silkiness to the party. Then of course, there's the chocolate. Use the best vegan chocolate you can find. Queer life is hard and you deserve it. This is the time to go to the fancy grocery store or artisan chocolate shop and splurge on something bougie with deep flavorful bittersweet cocoa that will shine in this cloud like state. Chocolate mousse is of course all about the chocolate so you've simply gotta use the best here. I used my very last Dandelion Chocolate bars from a box I was gifted by yet another angel A-Camper that deserves a shout out full of sweetness to, Christine! (I truly have the best readers ever! I could cry thinking about it – let's be real I sometimes do. I am so incredibly thankful to you all for being here, reading my words, making my desserts, and unexpectedly gifting me with artisan food items!) I could not possibly love you all more, and if my love for you had a taste, it'd be this mousse.
Ingredients:
2 ounces vegan chocolate
1/2 cup plus 2 tablespoons coconut cream
pinch of instant espresso powder (optional)
1/2 teaspoon vanilla extract
Aquafaba from one 16oz can garbanzo beans (3/4 cup if you wanna be precise)
1 tablespoon granulated sugar
Note that you want coconut CREAM for this recipe:
As in, the thick solid stuff that rises to the top of a can of good quality coconut milk. Aroy-D and Wild Harvest Organic are canned coconut milk brands that really kill the coconut cream game.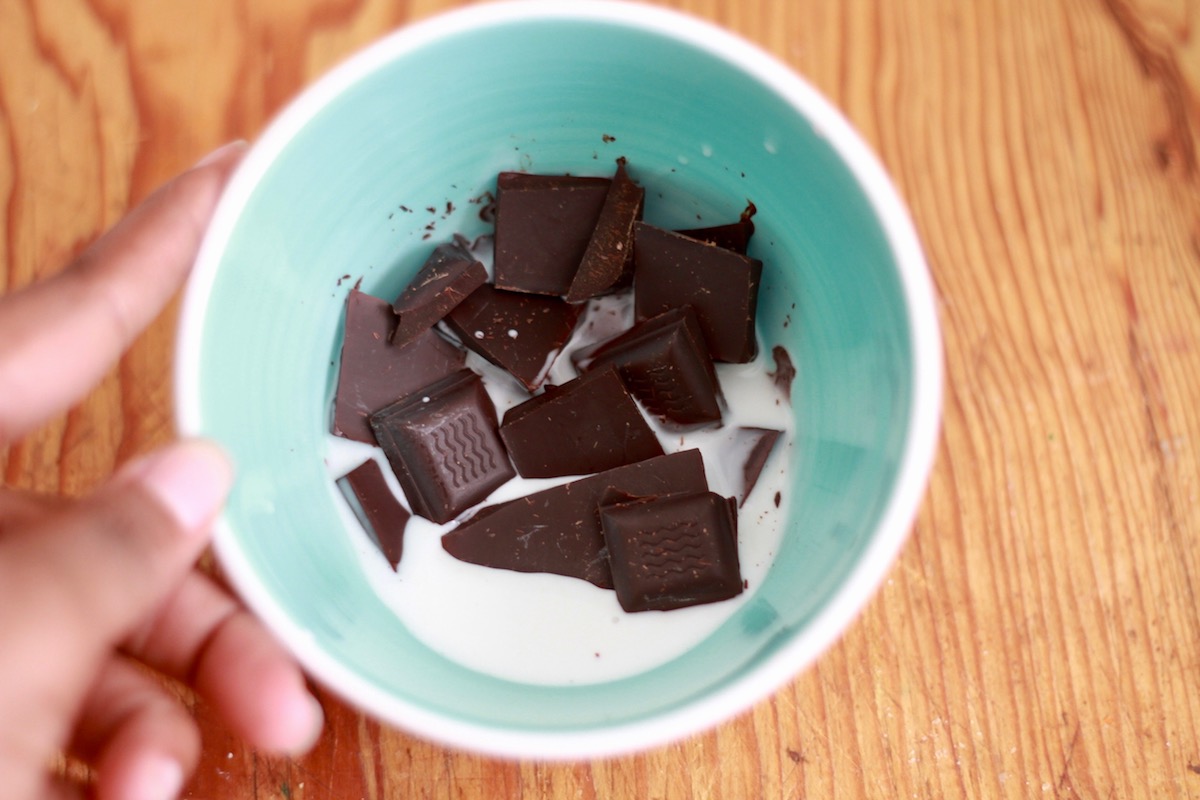 1. Place 2 tablespoons of the coconut cream in a small microwave safe bowl. Microwave for 15 seconds. Break the chocolate into pieces. Add it to the hot cream along with the espresso powder (if using) and vanilla extract. Let sit for about 30 seconds to allow the chocolate to melt.
2. Once the chocolate looks soft and melty, start stirring until it's smooth and glossy. You may need to microwave it again to get the chocolate to melt fully. If so, work in 5 second intervals and be careful not to scald the chocolate. Set aside.
3. Place the remaining coconut cream in a large bowl. Whip on medium high speed with a hand mixer, or stand mixer with the whisk attachment, until it's fluffy but still thick enough to stick to a spoon, about 5 minutes. Scoop cream into the melted chocolate. Stir and set aside.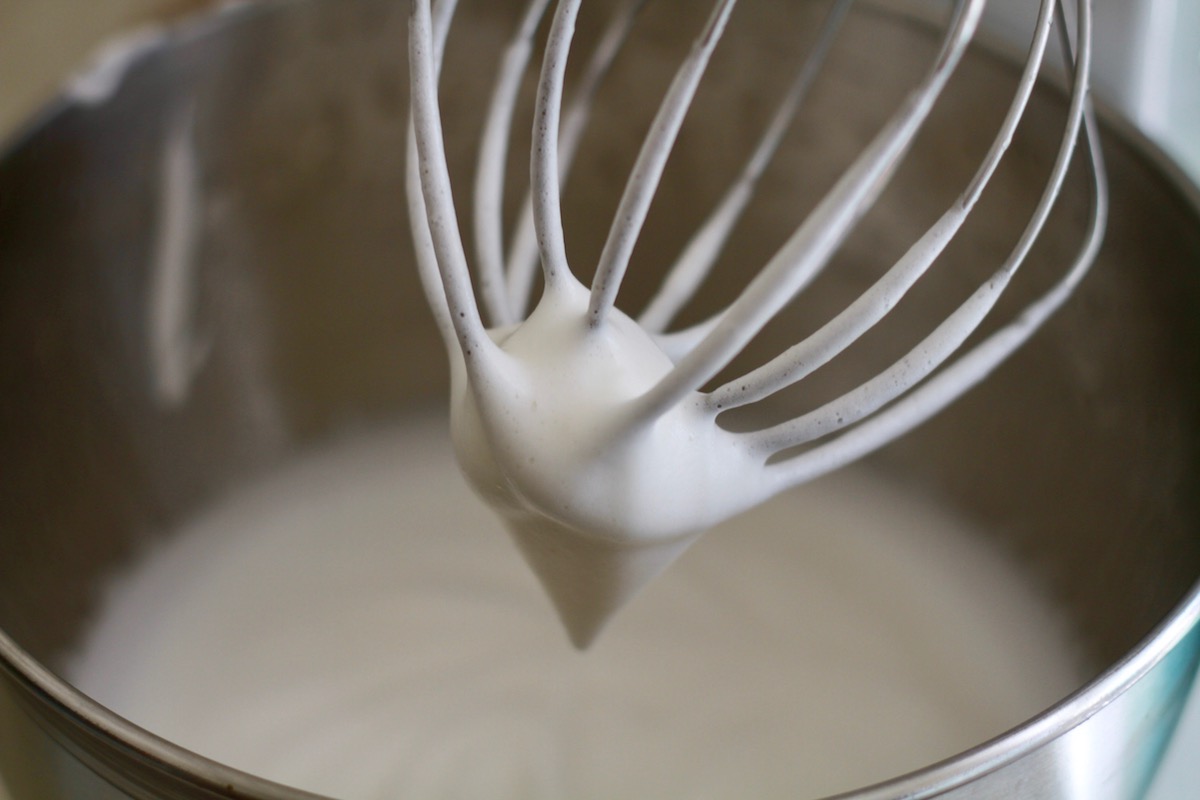 4. Now add the aquafaba and granulated sugar to your large bowl. Whisk the ingredients together until it resembles whipped egg whites. It should be airy, foamy, and just stiff enough to cling lightly to the whisk. This can take anywhere from 5-10 minutes depending on the brand of aquafaba you use so be patient! Once it's ready, fold the whipped aquafaba into the chocolate mixture. Place in the fridge to chill for at least 4 hours but overnight is best.
5. When you're ready for that smooth chocolate love, take the chilled mousse out of the fridge and layer it up! Of course you can eat it plain straight from the bowl, but layering it with berries and your favorite vegan whipped cream cream feels the perfect amount of fancy.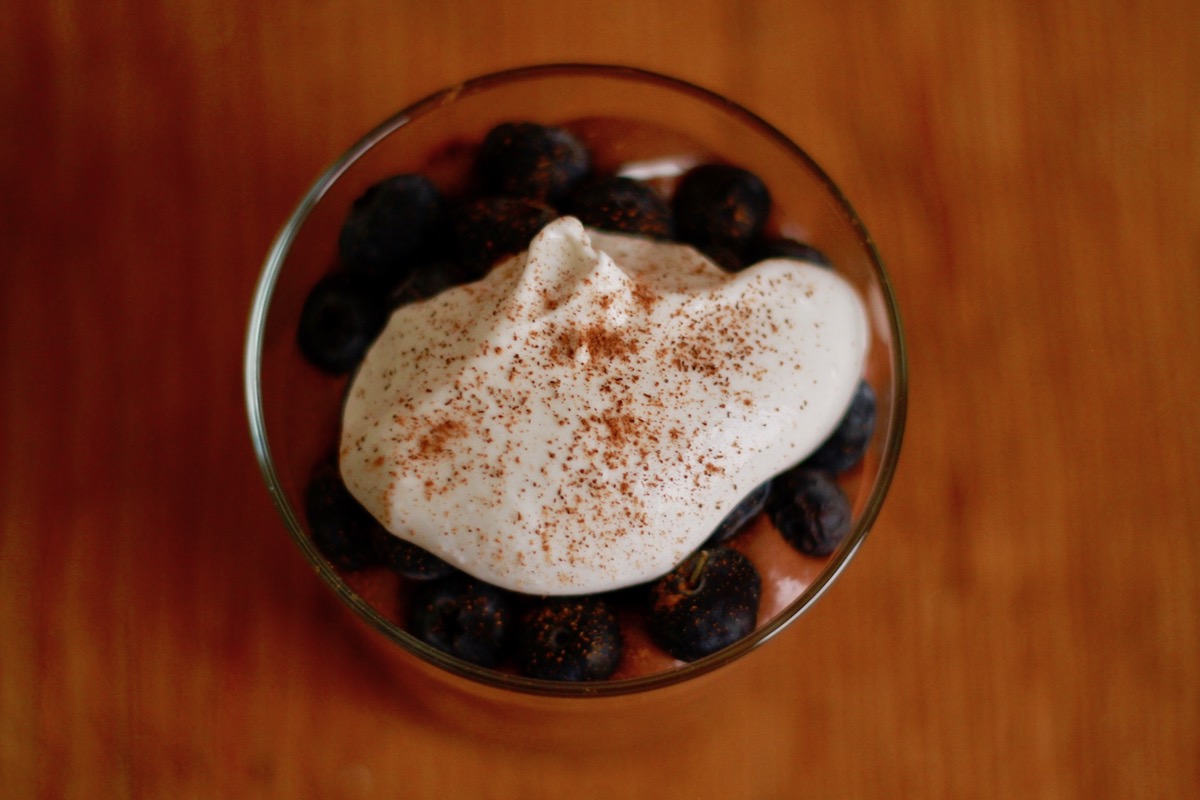 Especially with a little cinnamon on top.