WE DID IT! WE MADE IT THROUGH JANUARY! How is everyone feeling? I'm so glad you're here! I don't know about you but last month really kicked my ass. I could not possibly be more excited that it's over, especially because now that it's February and Valentine's Day is approaching I get to introduce you to my favorite cupcakes in the world. I first made these a few years ago for a friend's birthday party. I brought a dozen thinking that would be more than enough since there was also cake, ice cream, and pie, but I was wrong. They were gone within five minutes of my arrival, and I was scolded by the birthday queen for not bringing more. The next year I brought three dozen in a cupcake carrier I bought specially for the occasion. When I walked in the door someone shouted "OMG THE GIRL WITH THE CHAMPAGNE CUPCAKES IS HERE" and everyone stopped what they were doing and rushed the counter. I barely got out alive.
From that point on every party I went to, these were requested. I made them for a Galentine's day themed episode shoot, then again for the wrap party of that show, for so many birthdays and summer picnics I lost count, and eventually I got so tired of making them that I flat out refused. There were other things I was good for! I let them fall off the radar and pretended not to hear comments from friends about missing them. Flash forward to me plotting out my pre-Valentine's day post and not feeling like chocolate for once, I found this recipe in my collection and literally giggled in excitement. It'd been years since I introduced and just as quickly banned these cupcakes from my life, and that time apart reminded me just how much I missed them because they are damn good. Like cuff your new lesbian lover good. The bubbly in the batter makes the cupcakes moist yet delightfully light, and the more concentrated champagne flavor in the frosting is out of this world. They're also adorable and everyone loves an instagrammable cupcake. If you make these this month I promise they will bring love into your life, whether it's self-love for making a dozen of them all for you, or the love and adoration of others that you feed them to. Either way, turn that oven on cause we've got cupcakes to make.
Ingredients:
For the cupcakes:
1 1/2 cups (180g) all purpose flour
1 teaspoon baking powder
1/2 teaspoon baking soda
1/4 teaspoon salt
1 cup raspberries ( I use frozen)
1 cup granulated sugar
1/2 cup coconut milk (any milk dairy or non-dairy will work though!)
1/2 cup champagne
1/3 cup coconut oil, melted
1/2 teaspoon lemon zest
1/2 teaspoon vanilla extract
For the frosting:
1/2 cup champagne
1 cup (2 sticks/226g) UNSALTED butter, room temperature
3 1/2 cups powdered sugar
3 tablespoons raspberry puree
Notes:
*This recipe can easily be made vegan by using non-dairy milk and a vegan butter substitute for the frosting. I almost always make it vegan and just don't tell people, shhhh. Just make sure you are using UNSALTED VEGAN BUTTER or something with a very low salt content, otherwise your frosting will be gross. Learn from my accidents, that might be the motto of this column.
*You can absolutely sub strawberries for raspberries if that's more your thing. I make it both ways and it's equally delicious. I just think raspberries don't get enough love.
*This can also be made with non-alcoholic champagne (but not sparkling juice) it's about the flavor not the booze!
1. Preheat the oven to 350° F. Line a muffin pan with paper muffin cups, or coat with oil.
2. In a large bowl whisk together the flour, baking powder, baking soda, and salt, set aside.  
3. Puree the raspberries. I use an immersion blender and giggle uncontrollably the entire time because it looks like a giant sex toy, but a blender or even a potato masher will get the job done. Reserve 3 tablespoons of puree for the frosting. 
4. Whisk together the raspberry puree and sugar until the sugar dissolves, then add coconut milk, champagne, coconut oil, lemon zest, and vanilla extract and whisk until combined. 
5. Pour the wet ingredients into the dry ingredients and mix just until incorporated.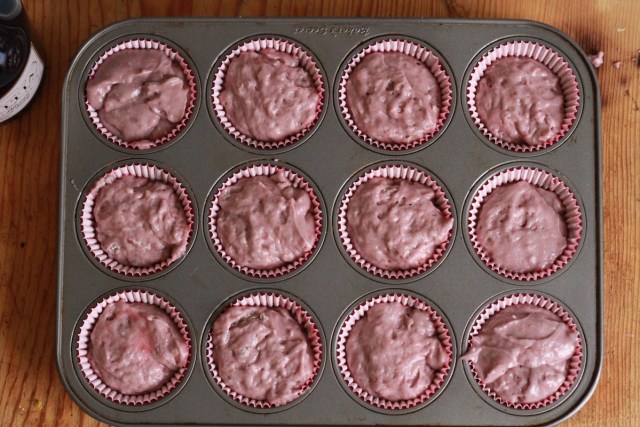 6. Scoop the batter into the prepared muffin tin, each cup should be almost full, then bake for 20-25 minutes or until a cake tester ( I use a wooden chopstick) comes out with no batter clinging to it when you poke the cupcakes.
7. Let them cool for ten minutes in the pan, then transfer to a wire rack to cool completely. They will be a deep red/purple color when they come out if you use raspberries, or a blush pink with strawberries. 
8. Frosting time! Take the 1/2 cup of champagne and pour it into a small sauce pan over medium heat to reduce. You want it to reduce until theres only a tablespoon left which will take about ten minutes. Allow to cool once it's done. If it's too hot it will melt the butter and your frosting will be a runny mess which could be sexy on you but not so much on a cupcake.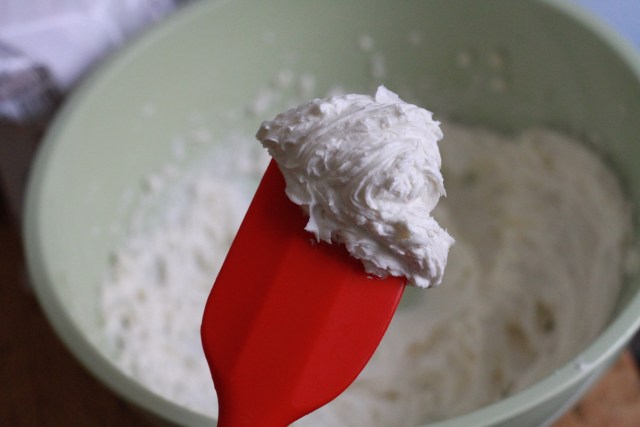 9. While the champagne is cooling, drop your soft butter into a large bowl, and whip it up with a hand mixer until it's light and fluffy, 2-3 minutes. It should look like the picture above when it's ready.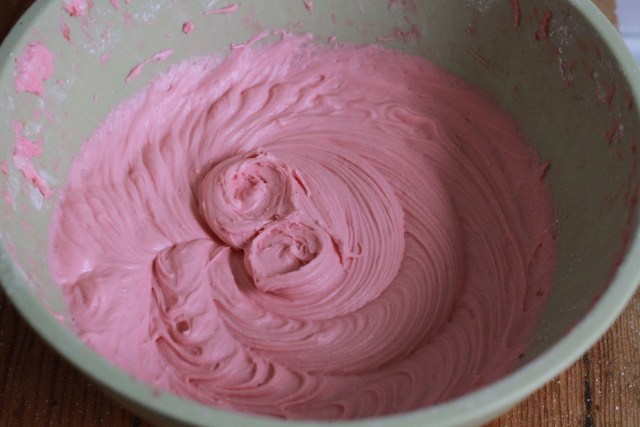 10. Add one cup of powdered sugar and whip until combined. Next, add the raspberry puree, then another cup of powdered sugar and again, whip until combined. Lastly add the reduced champagne, and the remaining powdered sugar and whip it all up. It will be cute and pink and delicious!
11. Frost your cupcakes! This is a very cute thing to do with the help of a crush/girlfriend/partner/spouse/friend/roommate/pet/whoever. You can use your fingers or a knife or spoon or a flat spatula. You could also put the frosting into a ziplock, snip off the corner and pipe it out. A friend of mine bought me a frosting gun that is amazing so that's what I used. Then pour some champagne and share it and a cupcake with a cutie. That cutie can of course be yourself.