Since October 1 I've been on an 11-day road trip from Los Angeles and Seattle and back for a friend's wedding. Given how hectic things have been in my life and the world this year I was looking forward to having this trip to disconnect and relax, and was doing a great job at that until it was time for this post. The Airbnb I booked that I thought would be perfect to bake in was adorable ended up not having an oven or stove at all.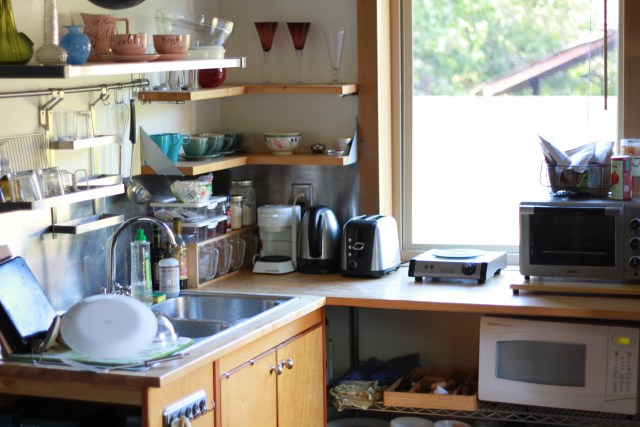 Whoops!
I panicked and considered trying to find somewhere else to stay for about a day, and then decided to accept the challenge. There was a toaster oven, that would work and I'd just have to pull something together with what was available in the tiny kitchen and my road-trip supplies. I had some bananas in the trunk that were starting to make my whole car smell so was thinking banana bread but there was no loaf or muffin pan. What WAS in the kitchen that lead to a stroke of genius were these little cuties:
Habañero honey sticks. I'd never seen or heard of these before but after I tasted one I suddenly couldn't stop. The next thing I knew there were seven empty sticks on the counter and I was waking up from a surprise post-crash nap. Once I pulled myself back together I decided that what I needed to do was make banana nut scones and top them with drizzles of habañero honey. Scones would totally fit in the toaster oven, are super easy to make, don't require any special pans, and are the perfect breakfast for camping/driving. Portable, delicious, and simple. The addition of a spicy honey drizzle on top of these sweet nutty scones really puts them over the edge. If you can get your hands on some Habañero honey I seriously recommend it and I hope you invite me over to help you eat it. Of course regular honey or maple syrup will be delicious as well if spicy isn't your thing. If you're a reader that's constantly on the go or lives in a tiny house or apartment with an adorably small but mighty kitchen like this one and are always left out of the baking party, this one's for you!
Banana Bread Scones with Habañero Honey Drizzle
1 cup raw walnuts
2 cups flour
1 tablespoon baking powder
½ tablespoon cinnamon
¼ teaspoon ground nutmeg
½ teaspoon salt
4 tablespoons cold butter, cubed
1 cup mashed ripe banana (about 2 large or 3 small bananas)
½ cup heavy cream
½ teaspoon vanilla extract
¼ cup habañero honey, plain honey, or maple syrup for drizzling
*note: these can easily be made vegan by subbing oil for butter, non-dairy milk for cream, and maple syrup for honey.
1. Preheat oven to 400º F. Pour the walnuts onto a baking sheet and toast them in the oven for 2-3 minutes to let the oils release. They can burn pretty quickly, so keep an eye on them. You'll know they're ready when they start to smell delicious and nutty but not burnt. After toasting pull them out and chop them into pieces then set aside. Reduce the oven temperature to 350º.
2. In a medium bowl mash the bananas with the heavy cream and vanilla extract. Next, whisk together the flour, baking powder, cinnamon, nutmeg, and salt in a large bowl. Honestly you can use whatever spices you want and it will be amazing. I'm just really into cinnamon and nutmeg lately and think ginger steals all the attention sometimes, plus given that I'm a youngest child I don't like competition. Once you've got your spices handled add the cold cubed butter and cut the butter into the flour mixture until the butter breaks down to the size of peas. Once it's ready pour the banana mixture into the dry ingredients and stir. Lastly fold in the walnuts then chill the dough in the fridge for 10 minutes.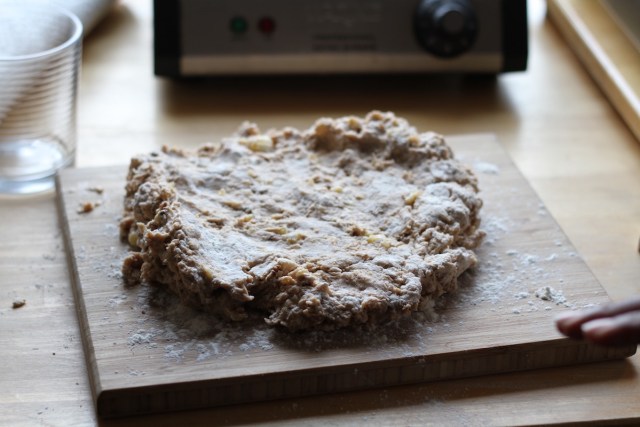 3. Flour a cutting board or the counter and your hands very generously then dump the dough out and pat it into a circle about 1/2 an inch thick. This dough is very sticky so you might need to flour your hands a few times as you go. I end up with flour pretty much everywhere, which is fine at home but stressful in an Airbnb that involves being reviewed after leaving.
4. Cut the dough into eight slices with a floured knife or pizza cutter.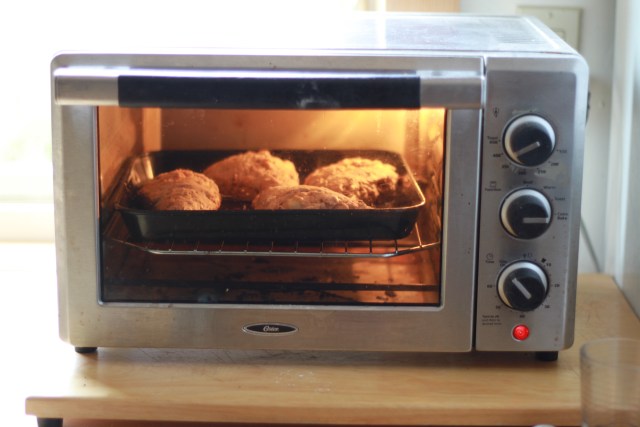 5. Bake the scones for 12-15 minutes. I had to do them in two batches in the toaster oven and was too hungry and impatient to wait for the rest to finish to drizzle the honey on and eat them which is why there's only four in all the pictures that follow.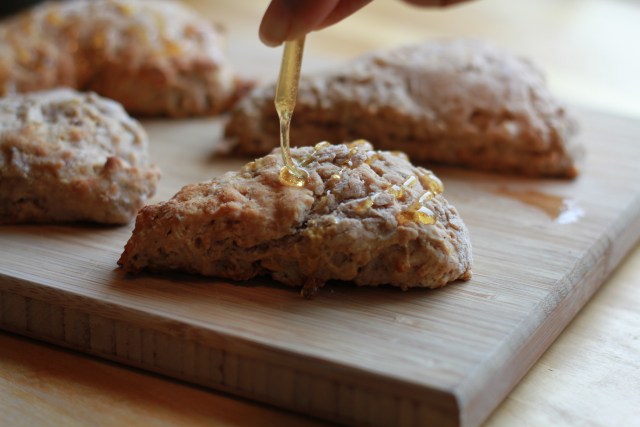 6. Drizzle! Pour that honey on top. Don't stop till you get enough. This is the best part. Seriously. Now grab a warm beverage and be super proud of yourself for baking against the odds.