Lately I've been learning hard-earned lessons about patience. For some reason, I thought I'd be able to jump straight back into my life in LA, completely seamlessly, after being away for almost three months. To the point that I had plans to do something every single day including the same night I arrived. I'd floated around to so many time zones by that point that I really thought coming back would be simple, and it was everything but.
I was jet lagged like I've never been jet lagged before, had an incredibly intense emotional hangover from the trip, and as always all the feelings my Sagittarius sun was running from were right here waiting for me when I got back. Instead of taking a break when I realized I could use one I stubbornly decided to try to power through and keep all the commitments I'd made then rest later. Unsurprisingly, my mind and body had other ideas and the minute I let my anxiety and exhaustion levels approach the red zone, they shut me down. That's why there was no Femme Brûlée the week before last (about which I am very sad cause I missed you all so much) and it's also why I took the cue and shifted my mindset last week to focus on doing things simply, with intention moving forward, and being patient with myself and my process, whatever it may be.
Fortunately for me, the kitchen is a really great place to apply life lessons and my focus on patience and simplicity in other parts of my life has filtered into my recent cooking preferences  as well. I've been making things that are very simple and use only a few ingredients, but have one step that requires time and the ability to be still and wait. This week's recipe is the perfect example of what I mean. It's just a breakfast toast.
Only six ingredients, including the bread and it take less than five minutes to assemble. It's one of the quickest most delicious breakfasts in my arsenal save for the fact that the almond butter is homemade.
Making almond butter is overwhelmingly easy in terms of the process. You just pour toasted almonds into a blender or food processor, turn it on, and wait. If you struggle not to stand around and watch for pasta water to boil, making this almond butter might just be excruciating for you, but the end product is so much better than anything I've ever bought pre-made. For one, you can flavor it exactly how you want. I go with a good amount of salt and maple syrup, but you can also cinnamon, nutmeg and a pinch of cayenne. blend in dates or honey instead of maple syrup, and even add a splash of vanilla extract. If you can make it through twenty minutes of noise and anticipation for something hard and hefty to transform into a smooth roasted almond spread ready to be slathered on every piece of bread in site for weeks, you can make this almond butter.
My specific suggestion for said piece of bread slathered in almond butter is to follow it with fresh, crisp, juicy apple slices, sprinkle on some wonderfully crunchy chia seeds for texture and their complimentary nutty flavor, then joined by a generous heap of pomegranate seeds bursting with tartness.  I'm a sucker for a drizzle, so a little maple syrup gets poured on top, and possibly my favorite thing about this toast, the bottom is spread with a thin layer of butter, preferably straight from the toaster while it's still hot enough to melt the butter, and a pinch of cinnamon. You get the cinnamon buttered toast flavors first, then the maple and fresh fruit juices run into your mouth when you bite down and it's all held together with the decadent almond butter. I stan this toast. Join me in that endeavor and add it to your rotation this week!
Ingredients:
For the Almond Butter:
1lb (450g) Raw whole almonds
2 tablespoons maple syrup
1/2 teaspoon kosher salt
For the toast:
One slice of bread
1 teaspoon butter
pinch of ground cinnamon
3 tablespoons almond butter
1/2 an apple, sliced
2 tablespoons pomegranate seeds
1 teaspoon chia seeds
1 teaspoon maple syrup
If you're opting out of making the almond butter, skip down to number 11, if you're down for this journey preheat your oven to 350° F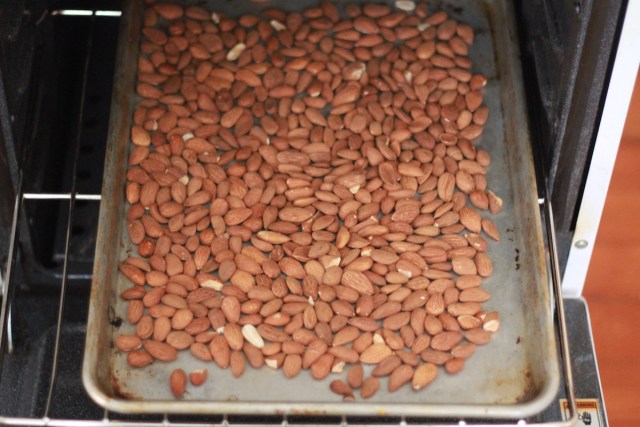 Place the almonds on a baking sheet in a single layer, and once the oven is preheated bake for 10 minutes.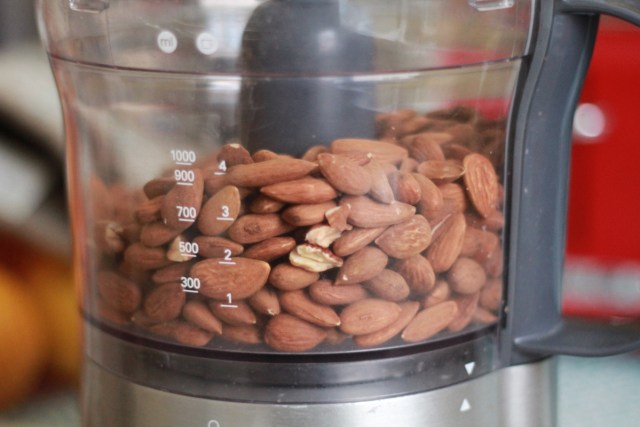 Allow the almonds to cool for five minutes, then pour into your blender or food processor.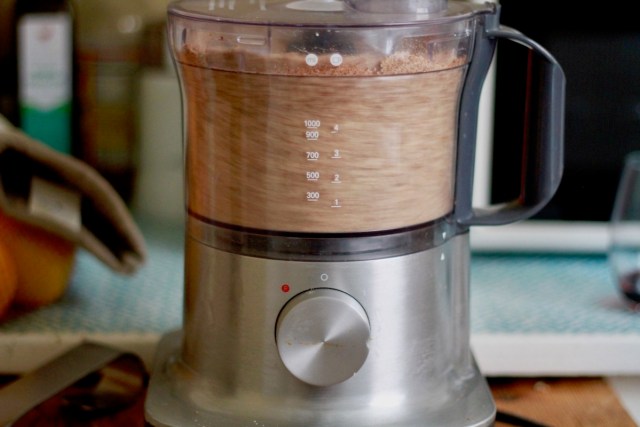 Process on the highest setting–or the one suggested in your machine's user manual if available–and tap into your patience! At first It'll be like a sandstorm in the machine.
Then after a few minutes it will start to stick together and resemble graham cracker crust. In my machine this took 4 minutes. You may be convinced at this point that nothing is happening and the almonds aren't even moving in there but I promise they are. Hold steady.
Another few minutes (about 5 for me) and it should form a giant lump that gets stuck on the side of the processor. You might now be convincing yourself the ball is too large and couldn't possibly be unstuck by your machine, and while you could interfere and break up the ball, it will just form again immediately. This is however a great time to scrape down the sides of your container before continuing to process. It's also a good time to put on an upbeat playlist you love and maybe even roll your hips in a circle just like the blades in your food processor to really get in the spirit of butter making. I did this to Call Your Girlfriend.
Another 3-5  minutes and things should finally come together, even out, and be closer to the consistency of almond butter.
Allow to process until smooth. We're Almost. There.
Finally, add the salt and maple syrup and any spices you may be using and continue blending until the mixture smoothes out again, likely around 5 minutes. Your almond butter is done!
It should be thick enough to cling firmly to a spoon, and will be warm which I like but if you don't, allow the butter to cool before assembling your toast.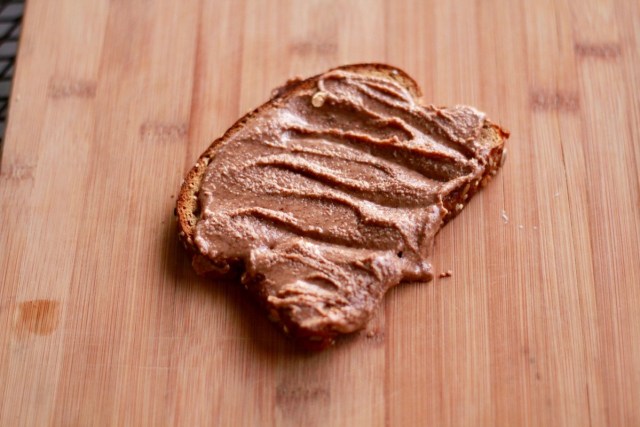 Grab your toast and spread the butter on one side. This will be the bottom of your toast. Once the butter is spread and melted in, sprinkle on the pinch of cinnamon, then turn the toast over to the other side and spread on your almond butter. Again, be generous but feel free to use more or less than 3 tbs. This is just the amount I suggest based on the almond butter recipe above.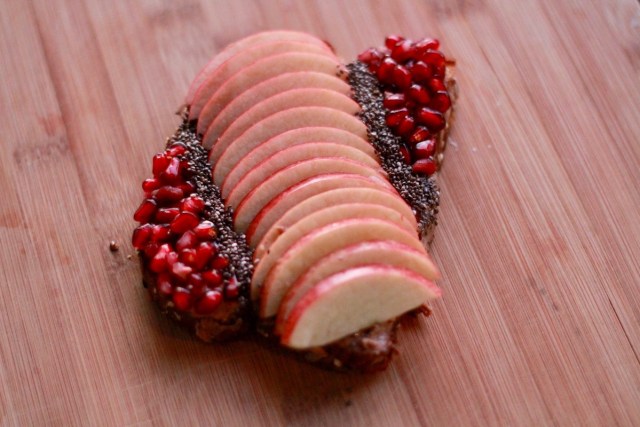 Next arrange the apple slices, chia seeds, and pomegranate seeds on your toast as neatly or haphazardly as you'd like .
Drizzle with maple syrup to finish.
Now dive into the incredible seasonal toast moment you just curated for yourself!