When I was in high school* we never had a pen pal set up with people in other foreign-language countries. I thought those things only happened in books and American Pie (or what was that movie about the German exchange student?). What we did do, however, was write each other little notes. And thinking about it now, those little notes were the most amazing things.
Anytime there was some sort of holiday (Halloween, "Valentine's Day," school dance), there was a table set up in the main hallway where if you gave 50¢ or $1 to some sort of cause (I really can't think of any), you would also get to write a note to somebody and then someone else would deliver it to them during class. Kind of like Mean Girls! Because I've kept every scrap of paper ever given to me in my entire life, I have an entire box full of these notes. None of them make any sense, really, one of them says "bobbing." Also you guys I can't believe I just opened this box.
But on ordinary days, we used to pass each other notes for free. These were sometimes folded in the most complex and (and creative, looking back) ways, which made it more fun to open. I remember the girl who helped me realize that I was bisexual and I used to pass each other secret notes in between classes, sticking them in each other's lockers. They said pretty much anything; what had happened in first period, what we dreamt about last night, what we were doing that exact moment before writing. It didn't really matter. What mattered was that we were thinking about each other when we weren't together.
We did it with friends too. It's just what we did when we were bored in class. We doodled, scribbled a note, folded it up and stuck it in somebody's locker. Sometimes we wrote notes at night and delivered them in the morning. There were whole conversations happening on paper that weren't even being spoken aloud.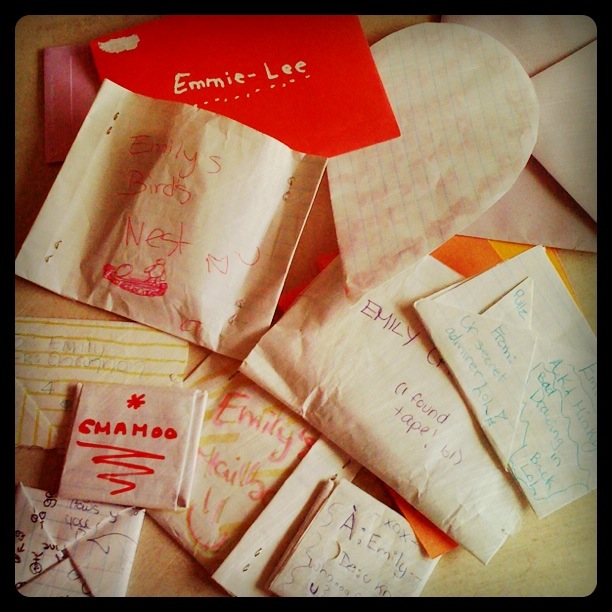 As we grew older and got cell phones, the notes became less and less. It was all about texting during class, and, well, it was lame to buy Halloween-o-Grams. Our dollars were better spent on food instead of paper, unless it was rolling paper. This is kind of what our lives are now, aren't they? I'm not saying it's a bad thing, because I don't think it is, I'm just saying that this is where we are. For long-distance friends and lovers, emailing is fast, free, and you can access it on your phone which makes it instant (I mean this in a different way than "fast").
I was in a long-distance relationship once, and our primary contact was email. Both of us having intelligent phones, we could email each other as if it were text messaging. This is really special you guys! I don't want you to think that because this is a post about writing on paper that email is like super non-personal and formal and without emotions. I think that you, Autostraddlers, know what email means more than a lot of people out there!
But some of the most special, exciting parts about being in a long-distance relationship, besides actually getting to be in the same city, is getting stuff in the mail. Thinking now, what I learned most from my high school pen pals and from being in a long-distance relationship, is that communication is special. Writing words on paper is a lot different from typing an email. Both are wonderful, but now, because of how fast emailing is, we understand what getting real letters in the mail means. A hand written letter means that someone took the time to sit down and find a pen, and write the words and then fold it into an envelope and go to the post office and buy a stamp and send it away, maybe never to see it again. It's a labour of love. You can't have 15 tabs open at the same time. And it's like you put a little bit of your heart into it too, you know? Instead of just the same font and the automatic signature at the bottom. It's scary because there's only one copy and you can't ever have the exact same copy. And you send it away, you just give it away, and hope that someone else delivers.
*In Quebec, Canada, high school includes middle school, ie, ages 13-17.
++
HOW TO DO A REALLY COOL PAPER FOLD
Now I'm going to show you how to fold a note like I used to in high school ("middle school") which I think will be really really special for putting notes in pigeonholes at the next A-Camp.
Just remember that it's symmetrical, so when I said "fold X", I also mean fold the other side as well.
1. Fold paper in half vertically.
2. Do it again.
3. Imagine that there is a square at the end of your paper. Fold the square diagonally.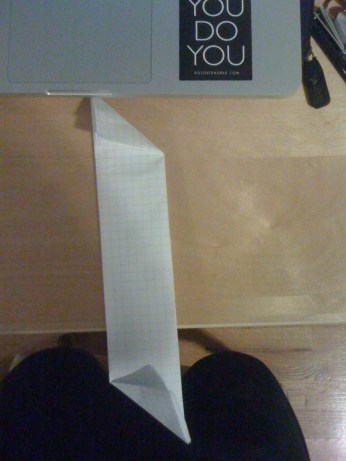 4. Okay, now it's starting to get a bit tricky…to describe. Imagine again that there is a square after the square you just made. that's a terrible description, so I made you a diagram so you can see inside my brain.
Fold along the imaginary diagonal line.
5.  Fold directly upwards along the horizontal "center" line. I only folded one side here.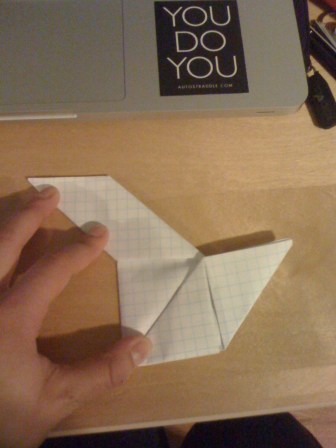 6. Now I'm sure you can start to see where to this fold is going… Take the end that is sticking out and fold it over onto the center. Fold the other half of the paper over so it covers the part you just put in the center (following?). You should then be able to stick the last end inside and everything should stay in place.
I found this a bit hard to describe so I'm really sorry if these are the worst descriptions/pictures ever. But I'm not sorry about the product placement.


Next: Tales of a serial pen pal and instructions for a tiny letter
Pages: 1 2See entire article on one page