Slut. Makes me think of glitter. I think slut is a really pretty word. Probably because I've heard it being used to describe a lot of really pretty people. Makes me think of city light constellations and perfectly glossed lips with white white smiles, atop a careless laugh. Peach champagne.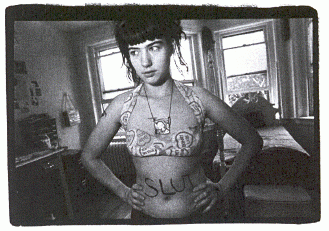 It's a bit mechanical, too, in that beautiful way — the way you gotta slide your tongue across the roof of your mouth as your jaw juts out for a split second and closes, complete, maybe taking time to enunciate the t.
Pussy is a journey all in itself. It squiggles from the air in your lungs to your lips, a push of the tongue, then back to your lips, closed shut. It squiggles like the double 's' it contains. It's hard not to move your entire face while saying it, for any emphasis you'd want to add to it: sexual, cold, flirtatious, angry. It's quite versatile, can fit any situation, often the first-pick by both sexes for what it describes, perhaps equal to 'dick' in its popularity, but more along the lines of 'cock' in its pheromone-misted connotations.
Clit is quite quick. Tiny. Suck my clit, suck my dick. Like most queers I find the words to be interchangeable. And like most Margaret Cho fans, I can't say the word 'clitoris' without thinking of the the horse named Galloping Clitoris for a magnificent evening as lesbians watched from their cruise ship.
Bitch isn't as heavy, you get duck lips for a quick second and then you can playfully tccchh if you're up to it, unless it's used quickly. Bitch is the most popular. It's weakened, normalized. It's like diet-cunt, because cunt is the Queen Bitch.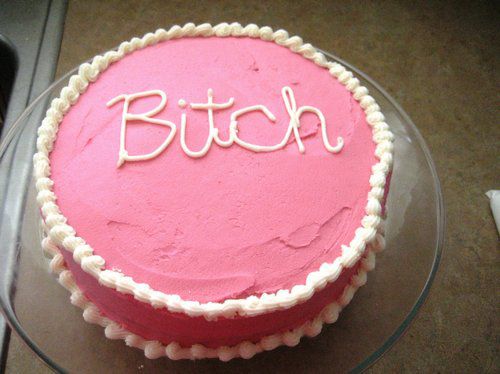 Oh, cunt. Crush it hard, take your time to have your fun with it, to play with the word that is unsurpassed in its ability to make people nervous, then play innocent because it's only anatomy, Daddy! It's such a clear, crisp word, with the verbal placement like a crescent moon on the top of your mouth to the edge in your throat. Pointing downward. The way your chin moves, the way the word triggers the mechanics of your mouth–and you know you're serious, it's serious. It's a weapon the wielder is immune to.
The thing about the word 'cunt' is that people rarely drag it out — the only place they could, really, being the 'un' part, but no one does that. It's swift, pulled out when necessary. No one drunkenly yells cunt, takes their time to say it. It's dangerous to have even the word 'cunt' in your mouth. Let alone the delicious real thing. It's a quick one-syllable slur; something with a more satisfying drag aptly being whore. Whhoooooore.
No one says whore like Courtney Love and I know this because I've listened to her 1991 album Pretty on the Inside song 'Teenage Whore' over hundreds of times and she said it herself in an interview, confessing her talent to the apropos talk show host.
It's a brilliant word, starts breathy yet instantly in the deepest part of your throat, instant viciousness. You can drag it out, like a mountain or a landscape, vast, just on and on when you truly want to explore it. Long and drawn out, like a beautiful song, but deeper, with meaning, versatile with warm resonance, or cold and clean as a frozen knife, sanitized.
Lizzie performed A Guide to Words at our very first A-Camp Talent Show!