Karmy's Kastle: Amy and Karma are gushing about how cool it is to be roomies! They're brushing their teeth together and they don't have to go home at night!
Plus, they can have late-night dance parties to stock music played through iPhone speakers! The only problem with that last thing is that when Karma busts into Amy's room ready to do the Tango Maureen to Eclectic Afternoon, Amy's crying on her bed.
"How could I not see through her lies?" Amy sobs. She says that she really felt like she was falling for someone who loved her back and could give her what Karma couldn't, and laments that she was crazy to think anything that good would ever happen to her. In this moment, the friend-type love between these two kiddos is radiant as a summer's day, even in its ultimate sadness.
Except for the part where Karma kinda knows that Sabrina actually meant it, but isn't saying so, because everybody on this show is a liar!
---
New Year's Eve Bash Party Wild Party Time: The lovely ladies remark upon the giant crowd gathered for this stupendous ball! Everybody in the whole school must be here! Karma prods Amy regarding whether or not she's really READY for Felix considering her deep lingering feelings for Sabrina. Amy explains that Felix likes her and Sabrina was a liar, so she owes it to MTV to see where it can go. I MEAN she owes it to herself. Karma's clearly upset about this 'cause she wants to dip Felix's nacho in her guacamole bowl.
Lauren and Liam show up just in time to see that Old Lisbeth is the evening's special guest, apparently she was discovered at a Ren Fair and has her own reality show now. What does this have to do with a shiny glitter New Years Eve ball? I don't know. Liam thought Lauren killed Old Lisbeth. Lauren loves the idea of people thinking she is a murderess! She'd be the first intersex murderess on MTV!
"You know, this was probably not the best idea for a date considering I'm an alcoholic and we both hate dancing," says Felix, that joker! Amy tells him to keep it in his pants 'til midnight, and ensuing conversation and facial expressions convey the following message to the audience: Amy doesn't wanna kiss Felix at midnight.
Lauren feels jealous of Old Lisbeth's success so she gloats about her boyfriend Liam Booker until Old Lisbeth melts into a little pool of caramel and dies. Just kidding, she gets jealous.
Karma makes Liam feel like a total douchebag for pretending to be in a relationship with Lauren. Boy bye.
Meanwhile, Shane has stolen a jacket from a Contempo Casuals sale rack circa the '90s. Pretty sure Claire Danes wore that in blue on the cover of Seveteen in 1995.
Noah's saying he should probably leave the band when Noah is distracted because HEY-O, look who's here!
It's Noah's Brother, straight out of Homophobic Relative Central Casting! Noah's brother is an asshole. He calls Noah by his given name, calls Noah his little sister, and says Mom and Dad will take Noah back if he just drops "all this." Noah says he cannot drop WHO HE IS. Noah's brother remains an asshole. Then Shane shows up!
Shane: His name is Noah!
Noah: Shane don't—
Noah's Brother: Who the hell are you? This is between me and her.
Shane: My name's Shane and I like butting into* other people's business, that's who I am. And he's Noah, he's a dude, and he always has been and you know how I know? Because I am super fucking gay and I couldn't be more gay for your brother!
*at first I thought he was gonna say something about buttsex and I was so excited! But he didn't. :-(
SO TAKE THAT, ASSHOLE. "You two freaks deserve each other," says Noah's brother. I think he's talking about Shane's jacket! Noah says he needs some air. Shane looks sad! He just did a good thing for once! Too bad Noah's brother came all the way out here just to get dissed by somebody wearing that jacket.
---
LOOK LAUREN, I CAN'T DO THIS ANYMORE. MY NAME IS LIAM AND I DON'T TELL LIES. THIS ISN'T ME. BUT LIAM I NEED THIS BECAUSE IT'S ALL I HAVE ON OLD LISBETH.
OK FINE LIAM WE CAN BREAK UP JUST LEMME FRESHEN UP BRB JK NEVER COMING BACK
---
Karma's outside texting somebody and that somebody turns out to be SABRINA! She's eaten, she's sleepen, probably somebody took that bitch to Red Lobster. So Karma marches back into the party with her hot friend Sabrina, who thanks Karma for "doing this" for her. Karma says she's not doing it for Sabrina, she's doing it for Amy. (And also obviously for herself, come on Karma!)
Amy spots Sabrina and Karma and Sabrina says "AMY. LISTEN TO ME. PLEASE," like she's a child actress playing Oliver Twist (her root). Amy explains that she is on a date with Felix, and nobody is allowed to ruin her date with Felix! This is a lot of pressure on poor Felix. No seriously guys. Poor Felix. This guy, right? He's going to refuse to make friends with lesbians in college at this rate.
Lauren's dodging Liam when Old Lisbeth shows up to say a series of terrible things, concluding with "A girl like you dating Liam Booker? What's more inspirational than that!" I wish I'd been serious about her melting into a puddle of caramel and dying.
Shane and his jacket find Noah outside being sad. Is their band ever playing or what? "Hearing him misgender you like that, I lost it," says Shane. Also! He meant what he said about liking Noah a whole bunch in a gay way and is sorry for seeming like he didn't see Noah for who he really is. Noah forgives him. Shane asks what happens if he says something wrong again and Noah tells him "you're Shane Harvey, it's pretty much a guarantee." Also this show got cancelled, so, SAVED BY THE CLOSING BELL, HARVEY.
AMY'S READY. Put her in, coach! She's ready, she's got her breath mints and her lip gloss and she's ready for that midnight kiss! Felix isn't sure that Amy's ready. Amy is SO READY FELIX. Yeah, no, Felix isn't convinced. Neither am I. (She's not ready.)
Luckily, neither of us have to wait another minute because you guys YOU GUYS. Karma gets up on the microphone and says she needs Amy's attention, please! Karma tells literally everybody that even though she, Karma, "hates Sabrina's guts," she wants Amy to be happy.
Everybody is totally entertained by this. What A New Year's Treat For Us All. Well, it's Sabrina's turn:
Sabrina: Amy, I am so so sorry. I was pretending to be questioning to get closer to you, to beat Karma, really. But then I realized why I really did it. Amy Raudenfield, I'm in love with you, and I think I have been since camp, and all the lying, the possessiveness has been about that. And I know it sounds weird but lying about my sexuality made me see the truth. But I know what I want now, I want you. Is there any way you could find it in your heart to give me a second chance?"
AWWW. See! I knew it. I knew from all those camp videos that Sabrina was really a lesbian who just needed to see Amy in her donut shirt and then come out. Also though she obviously is still a bitch, I hope she works on that.
Good news, everybody: Amy CAN forgive her!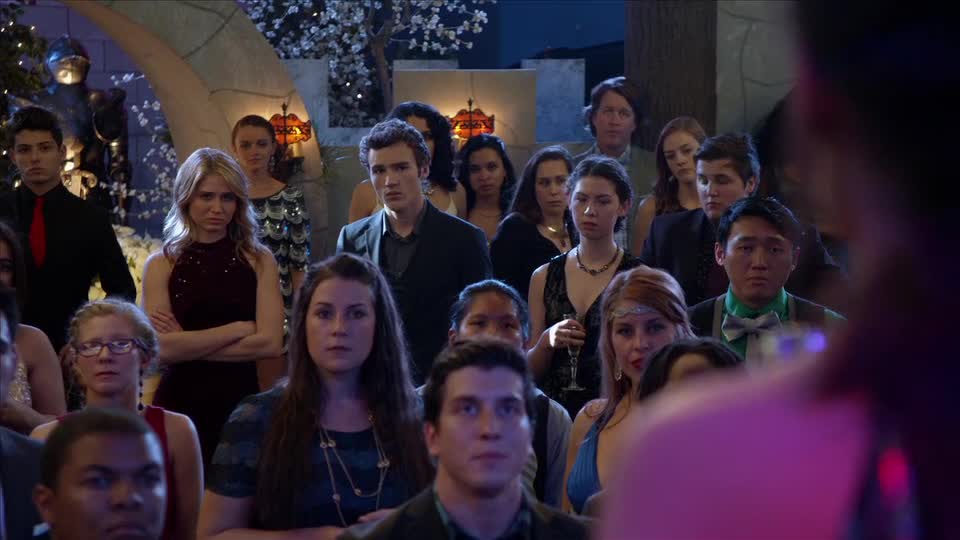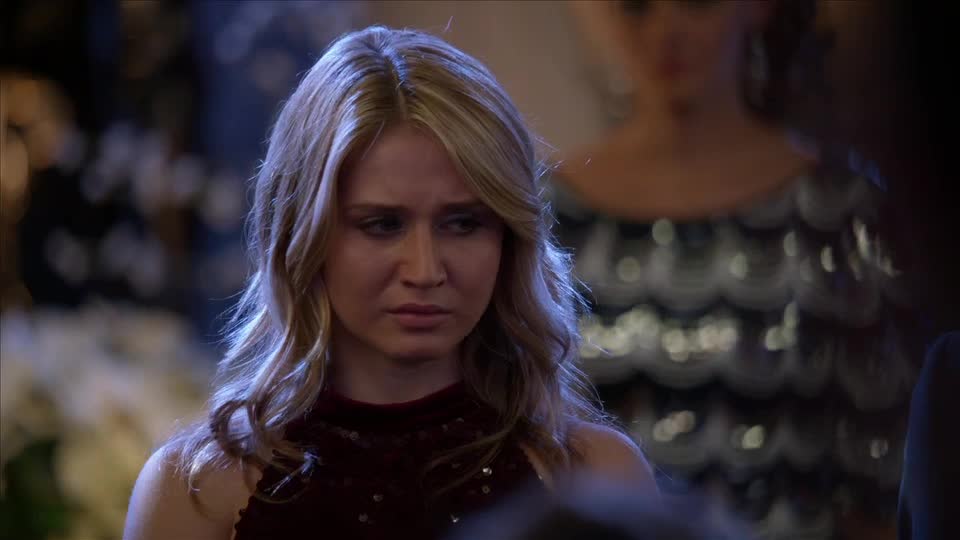 I cry, WHAT NO I'M NOT CRYING, everybody cheers, they kiss! Karma looks sad, and Felix ducks out.
---
After an invigorating commercial break, we return to the weirdest New Year's Eve Party ever, where Old Lisbeth is reminding everybody that it's almost midnight and she still has an Israeli bodyguard.
Everybody counts down together because they love math. Lauren and Liam kiss and it turns out that they liked it and so their whole world flips upside-down.
Sabrina and Amy are the happiest clams at the cookout!
Karma and Shane and Noah sing "Auld Lang Syne" while casting various meaningful glances around the room.
Karma apologizes to Felix for ruining his date with Amy, she just really wanted Amy to be happy. Felix says that's okay, even though him and Amy do have a lot in common, like that they both wanted to kiss somebody besides each other at midnight. He kisses Karma, and then Karma kisses him right back! Everybody loves somebody!
And that, my friends, is all she wrote. That's it! That's the end of this story. AMY FINALLY GETS A GIRLFRIEND WHO GOES TO HER SCHOOL AND NOW THE SHOW IS OVER FOREVER. Well, at least nobody died.
---
Asked if he felt the finale offered closure, Carter Covington told The Hollywood Reporter, "That will always be my sole regret: that I never got to explore Karma and Amy together. I never got to look inward at Karma and have her question her friendship and why it's so intense and her affection for Amy. I'm sad that I won't get chance to do that. I felt like fans really deserved that and I'm sad they won't get that."
Pages: 1 2See entire article on one page