Gums and teeth-plates blazing, the two label-free ladies say "So" back and forth to each other for about 45 seconds before realizing they've been set up. That's like four episodes earlier than Aria Montgomery has ever noticed that she's being set up, so good job ladies! Karma tells Shane it's pointless, they're never ever ever getting back together. Shane calls her bluff, though: IF THEY'RE NEVER GETTING BACK TOGETHER, THEN WHY DOES KARMA HAVE AMY'S EPI-PEN IN HER PURSE, HUH???
Karma: Like she's the only one here with a severe nut allergy.
Meanwhile the guests are slipping cash to Liam McGooglemoney and offering him bacon-wrapped scallops while he grows increasingly frustrated with Intern Baked Zita's misguided attempt to prove she "gets it" by playing techno remixes of Hava Nagila, hanging a neon Star of David and also paying somebody to make this happen:
Liam: You realize this isn't an actual Bar Mitzvah, right?
Zita: Sure it is! I grew up in Scarsdale, I went to tons of them. And all my friends wished they could skip the boring Hebrew classes and get to the fun part, and you get to!
Liam: The "boring part" is why I'm doing this. I want to connect to my Dad and to my heritage. How can you say you "get it' if you don't "get that"?
Bla bla bla heterosexual relationship. Okay, moving on: Shane's next big idea is to poison Amy with a nut-donut so that Karma will have to rescue her. Luckily for Amy, Lauren's got her eyeballs right there on her head and her brain right there under that hair and she does not let those tiny nut morsels crawl through Amy's lips.
Amy excuses herself to rid her nubile gay hands of nut dust and betrayal, while Lauren and Shane bicker over Shane's investment in not having to pick between Karma and Amy and Lauren's seeming investment in being Amy's new #1 Gal. Yup, that's right: Lauren's heart has softened like butter in the microwave for this new thing she's experiencing with Amy called "sisterhood" and "friendship." She insists she's just not a fan of seeing Amy get her heart trampled all over by somebody with such a mediocre personality. Anyhow, there's a hella long line for the ladies so Amy pulls an Indigo Girls concert and slips into the men's.
Guess who else is in there warming the porcelain?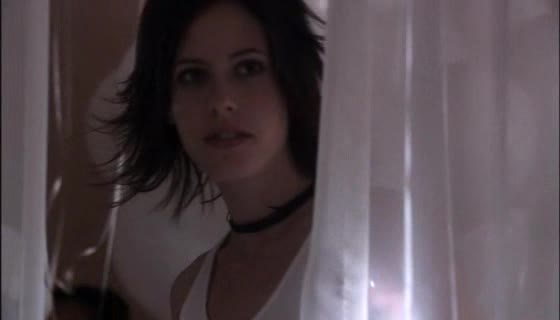 HAHAHAAHA NOPE.
That's right, it's Karma Ashcroft. Amy jokes that this party is "all Bar and no Mitzvah," which's the joke Karma tried to make earlier to Dylan but he didn't think it was funny. JUST SCISSOR ALREADY, GENTILES!
So they're in the bathroom feeling awkward in their white dresses, not making out or making up, but you can tell that they want to. I wonder how many times we'll go through this plot before we get to the plot where Karma admits she's bisexual and wants to buff Amy's muffin.
Out on the dance floor, Liam tries venting to Karma about this strange party and how off-the-mark Zita was to plan it. But Karma's so swept up in emotions after staring longingly in the mirror towards Amy staring longingly at her in the mirror that she actually tells Liam that he shouldn't be annoyed with Zita. Why not? Well, Karma explains, because fighting only pushes you apart and it's better to be together than apart. So basically, she defined "fighting." He agrees with her definition, feels like an idiot, and goes to apologize to Intern Baked Zita.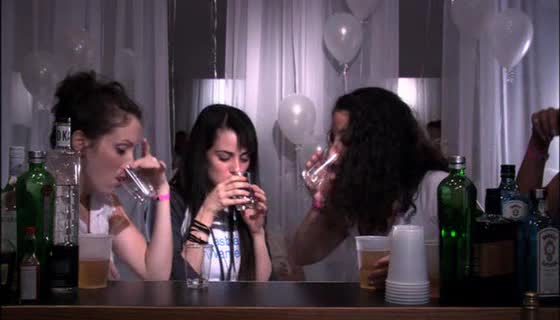 Giving this "advice" to Liam enables Karma to realize that she's ready to put all this Amy shit behind her and make up. "I don't wanna keep fighting," she tells Shane. "I just want her friendship back."
Liam heads over to Sbarro to find his dearest Intern Baked Zita, and he finds her! She tells him that even though she realizes now that this is not the kind of Bar Mitzvah G-d would like Liam to have, that everybody's still expecting him to sit on a chair and be lifted towards the sky and jostled around. Pretty sure that's a Jewish Wedding thing, not a Bar Mitzvah thing, but obviously they didn't consult with any Jewish lesbians for this scene. They could've called my Mom! Not my Dad. He's dead. Just kidding. Not about my Dad being dead, because he is, but about him being Jewish. He was Quaker. Like the oatmeal!
Liam tells Intern Baked Zita that "a friend" helped him realize he was focusing on everything she was doing wrong instead of what she was doing right. Zita should just accept his apology but instead Zita's like, A FRIEND? WHO IS THIS FRIEND? So we all know where this is gonna go.
Meanwhile, Amy's high on life / Karma's sex vibes.
Amy: What are the chances that we'd both go into the mens restroom at the same time? The universe is telling us to make up!
Lauren: No, the universe is telling you to stop using the men's restroom.
Lauren straight up now tells Amy that Karma plays with her heart like a Dyke Rubber Duck in a bubble bath, and even though Lauren's insistence that Karma's not worth Amy's while is partially motivated by Lauren kinda wanting to keep Amy to herself, she's also right. Karma allegedly doesn't wanna be with Amy… but she doesn't want Amy to be with anybody else, either. Also, Karma is STILL HUNG UP ON DRUNK HEARTBROKEN AMY AND LIAM HOOKING UP. But, if there was any hesitation in Amy's heart, it flies right out the window into the sky when their song, "Straight Up," starts playing. Amy thinks it's fate, and I agree. I think when Karma asked the DJ to play "Straight Up," the DJ was fated to play "Straight Up."
Karma, lost in the white woods searching for Amy, stops by Liam/Zita to ask if they've perchance spotted Amy wandering in their vicinity.
Unfortunately, she's interrupted a fight at a very crucial moment: Zita was yelling about how she flew him to Jerusalem but none of that matters 'cause Karma "gets him" and how maybe he's only with her because he can't be with Karma! So when Karma shows up, Zita grabs Karma's face and kisses her?
I mean we know what happens next, right? This is television, so when somebody is kissed against their will by another person, the specific person who will misinterpret the meaning of said kiss and take action based on that misinterpretation will see it happen, and then not see the part immediately afterwards where the kiss-attack recipient is like "no thanks!" You know, this part:
"Jealous?" asks Zita, releasing herself from her Karmic liplock. She tells Karma that she can have Liam all to herself if she wants and then flees the scene.
Amy storms out, telling Lauren it's time to leak the video. I hope the video has a cute puppy in it!
Oh good news though — DYLAN LOVES THIS SONG!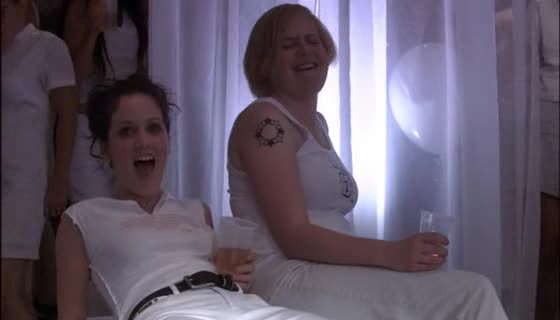 ---
Next week on Faking It, we'll finally get to see that mysterious video, and Karma will avenge its release:
Pages: 1 2See entire article on one page