Welcome to the second recap of the third season of Faking It, a show about people who always order a savory breakfast item along with a sweet breakfast item, from the same network that brought you Rod Drydeck's Fantasy Factory. 
---
We open in the resplendent parking lot of Hester Hippie High School for Hash and The Humans Who Smoke It, where Intern Baked Zita is dropping Liam off for his first day of school… but not without a little exposition first!
Here's the scoop for the 2-3 people who give a shit: Liam crashed with Zita all summer, Zita thinks Liam should go to private school and/or the Maldives, Liam gives Zita multiple "pleasures," Liam's taking Bar Mitzvah classes to feel closer to his Dead Dad.
---
It's a brand new year at Hester How High School, and everything's gonna be extra sustainable, like the children will grow arugula in their bellybuttons and adopt baby harp seals and then release them into the wild or whatever.
Also, Lauren and Amy are glued at the hip.
Karma walks into the cafeteria wearing a failed art project from Spartacus 101 and Amy spots her sad demeanor cross-caf and blames herself for it. Lauren thinks Amy should leak "that tape" of Karma, thus ensuring Karma will flee Hester in favor of home-schooling. What tape, you may ask? Probably a Hulk Hogan Sex Tape, but I'm sure time will tell. Also, Lauren reminds Amy that she owes Karma zero apologies.
Elsewhere in this small room, Karma's stupid boyfriend has noticed that Karma's exuding "intense energy" and no longer feels like the "chill girl" he met that summer. Ugh, Danny Zuko dealt with this same exact problem!
Much to nobody's surprise, Karma lies to Dylan and tells him everything is "all good." Meanwhile, it seems Liam has rescued some palettes from the Kroger parking lot, smeared some paint all over them, and attached them to the wall. Karma is impressed!
Karma: Liam Brooker, what can't you do with a paintbrush?
Liam: Bring my dead Dad back to life.
Okay, somebody's being a total Deb, and Laneia should probably give him the speech she gave me about how it makes people uncomfortable when I make jokes about my dead Dad and I need to stop. I mean, Liam isn't joking. But he should be, 'cause it works much better as a joke! Just saying. LAUGH THROUGH THE PAIN, GRASSHOPPERS.
Liam accidentally butt-dials Zita as he's mooning to Karma about his Bar Mitzvah classes and Karma's mooning about how Judaism is her fave religion of all the pan-spiritual religions she has worshipped/studied at the Old Country Buffet of Demi-Gods and Liam's just so happy to talk to somebody who "gets it"!  This statement makes Zita want to barf. But also… she's like sitting in a lawn chair in the Maldives or something so whatever, if she barfs I'm sure a dolphin will eat it.
---
Intern Baked Zita, despite the stains and spills implied by her name, is hosting a white party this weekend! Lauren wants to go, 'cause there's gonna be tigers.
Shane really wants Amy and Karma to rekindle their friendship and watch the premiere of Dance Moms together so he won't have another awkard moment in the cafeteria where he can't decide if he wants to sit with Karma, Amy, or one of the five extras hired to fill out the scene. Sometimes the extras are really hot, and these decisions can be very hard to make.
What will Shane do to meet his goal of getting Karmy and Amy back together (as friends)??? He'll lie, of course! While Karma is giving him a haphazard holistic Hester High foot rub, Shane waxes poetic about Amy's deep desire to apologize and for them to make up at Zita's White Party. Also if you're drinking along at home, Karma  somehow manages to work Amy sleeping with Liam back into the conversation again.
Amy, initially hesitant to attend a party dedicated to clothes that do not hold up when spilled upon, is eager to let loose and shake her caboose as soon as she learns, via Shane's lying lies and the liar who tells them, that Karma's gonna be there and wants to apologize.
---
Cut to: The White Party!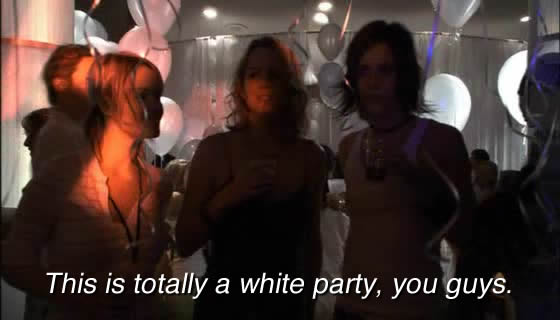 Oh whoops, WRONG WHITE PARTY! That's from a white party that had actual lesbian action at it. Here's our snoozefest hetero white party:
("i'm just assuming you're going to want a few screencaps from the L Word white party episode, so i'm downloading that right now" – Grace, in the email containing the Faking It screencaps for this episode)
Due to Shane's manipulation and Lauren's commitment to living her Best Life on Instagram, brand-new Bosom Buddies Lauren and Amy have come to the white party, which Amy notes is "a lot less racist" than she expected.
Dylan is really loving this party and its cool vibe, but Karma's too obsessed with casting gentle glances in Amy's direction to care about Dylan's cool vibes. But before we can talk too much about Dylan reminding me of that guy Ian who lived above John Cusack in High Fidelity, Zita grabs the mike to announce that this white party isn't just a marketing opportunity for Tide To-Go pens… it's also LIAM BOOKER'S SURPRISE BAR MITZVAH WHITE PARTY!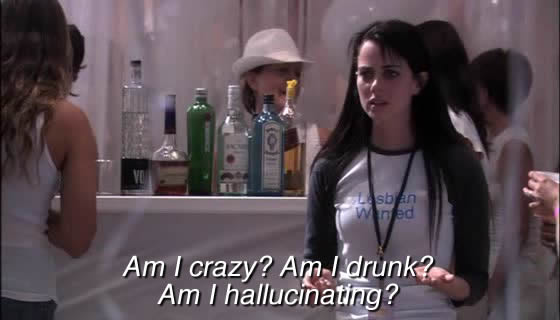 SORRY WRONG WHITE PARTY AGAIN. It's Liam Booker's Surprise Bar Mitzvah White Party!
The thing is though… you can't actually have a "surprise Bar Mitzvah"? That's like having a surprise beauty pageant, it's not like everybody showed up with evening-wear, tap shoes and a baton. You know who has "Surprise Bar/Bat Mitzvahs"? 12-year-old Jews with upcoming Bar/Bat Mitzvahs, in their NIGHTMARES.
Anyhow, Zita just wants Liam to know that she "gets it," which's why she's totally disregarded the possibility of a Torah Portion in favor of plates piled high with gelt (a chocolate candy generally used only at Hanukkah by Dreidel-playing kids) and yamachas for the whole family!
But the real action at this white party is happening between Amy and Karma, who keep catching each other's eyes across the semi-crowded room, yearning to reach out and reconcile, eagerly awaiting the other's imminent surrender. At last, the two ladies find each other and stand, face-to-face in white.
Pages: 1 2See entire article on one page