Welcome to the eighth recap of the first season of Faking It, a police procedural from the network that brought you Trailer Fabulous and Hilary Duff: This Is Now. This is the first season finale, but never fear, there will be a season two!
---
We open in The House of Jars of Clay, where Karma has reduced Liam to his most essential elements: hydrous aluminum phyllosilicates, iron, magnesium, alkai metals, alkaline earths and vanilla pudding.
"It's harder than it looks," Karma says regarding today's art project.
"Here, lemme show you," says Liam. "First, you get a little wet, and then you get a little dirty."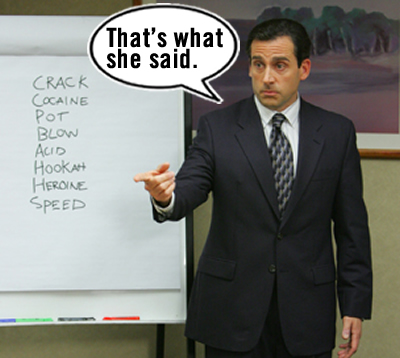 Then they stick their tongues down each other's throats and the truth begins to settle in to our tiny, sad guts: this is not a dream sequence, y'all. This is real life.
Then, to top off this magical moment, Karma mishandles the pottery wheel and a bunch of clay splurges in her face.
Liam tells Karma that she makes him happy, and Karma tells Liam that he makes her happy, and I tell Karma and Liam that neither of them make me happy, so SUCK IT. Liam wants to know when they can move this affair out of the dungeon and into the light, and Karma promises their moment of glory is quickly approaching — just as soon as Karma and Amy quietly tell everybody they've broken up and then observe a respectful mourning period. Like sitting shiva but for lesbians.
Karma: "Six months, tops!"
Liam: "Six months? That's forever!"
Karma: "I know, I'm sorry, but if people at school think I left Amy for you, they'll hate us more than oil companies."
Liam: "And Amy is okay with this?"
Karma: "A hundred percent!"
Liam: "I just I really don't like lying."
Karma: "Me neither, I hate it!"
Liam: "It's a good thing you're so damn sexy."
BARF. Liam wants to hang out this weekend but Karma can't 'cause Amy's Mom is going to the chapel and she's gonna get married. Liam doesn't know if he can handle the withdrawal. I'd like to suggest methadone.
---
Cut to Amy's Bedroom of Fun and Laughs, where Amy's practicing her toast in the mirror and Karma says it sucks and she needs to learn how to speak from her heart.
Amy: "What if my heart says something really stupid that it could never take back?"
Karma: "That's not possible."
You know, like if Amy said "I've got a big fat lesbian crush on you!" to Karma. What then?
Karma hugs Amy from around the back just as Farrah busts in:
Farrah: "Amy, we talked about this! Nanna is downstairs."
Amy: "Thank G-d she didn't bust in five minutes ago when we were 69'ing."
Farrah needs Karma and Amy to nanasit Nana so that she doesn't get trashed and start rambling about Obamacare and ABC Family.
While Amy and Farrah gab, Karma fields sexts from Liam about how much he misses her. Farrah departs, and Amy laments:
Amy: "I really hope i'm better at relationships than my mother."
Karma: "Think of it this way, it couldn't be worse."
Amy asks who Karma's texting and she lies and says it's her Mom and that her Mom wants her to give Amy a hug. I wish Karma's Mom wanted Karma to give Amy cunnilingus, but whatever.
"I'm so glad we're back to good, just the two of us," Amy says, tenderly resting her head on Karma's nubile shoulder. "Me too," says Karma, while obviously fantasizing about alkai metals.
---
Liam's sitting in his car probs listening to Sirius On Broadway when Karma texts to inquire about the status of his Karma withdrawal and he says it's torture.
Shane hops into Liam's sweet ride, announcing that Pablo's totes passive-aggressively seducing Shane by posting photos on facebook in yellow spandex, which's Shane's favorite color, and with a poodle of some sort, which's Shane's favorite sort. "I feel so terrible for this guy, pining away, hoping I'll see these and come running," Shane laments.
Liam grabs his phone to scroll all over Shane's pic of Pablo and Lauren at the wedding until he finds Karma in the background.
Liam, being the stand-up guy that he is, thinks the best course of action is for Liam and Shane to crash the wedding so Shane can tell Pablo to back off, which is actually a terrible idea!
---
Cut to the wedding, where Farrah's freaking out during her first dance that Nana suspects Amy is a muff-diver. Bruce says Nana couldn't pick out a lesbian at a Melissa Etheridge concert, which's true, because everybody at a Melissa Etheridge concert is a lesbian so how could you pick just one! HEY-O!
Meanwhile, Amy and Karma are nanasitting Nana, who says Farrah's first wedding was the best one and also that she needs her flask STAT.
Nana asks "Carmen" if she can run and grab her a ginger-ale chaser and Karma abides while the rest of us pour one out for Carmen De La Pica Morales.
Nana: "Oh she's darling. Now why doesn't she have a boyfriend? She got an extra toe or something?"
Amy: "It's complicated."
At the bar, Karma asks a server for some ginger ale and OMG IT'S NOT A SERVER IT'S LIAM BOOKER WHAT A NICE SURPRISE
Karma: "Liam! What are you doing here?"
Liam: "I just needed a fix."
[they kiss]
Karma: "You're not supposed to be here!"
Liam: "Yeah, that's what makes it hot."
Mmk whatever you say dude.
Elsewhere in this small venue, Lauren's dancing with her gay best friend Pablo and saying this is the most perfect night of all of the nights of Hannukah! In fact, Lauren says she's never been happier than she is RIGHT NOW, which means she probably doesn't know that Ellen Page came out on Valentine's Day this year.
Then, as Shane eavesdrops, Pablo and Lauren talk about how she dumped her sockless boyfriend, probs after she caught him doing body shots off Liam's toes. Pablo asks what happened to tear them apart and Lauren says she can't get into it but it was all Shane's fault.
Meanwhile between two ferns, Karma and Liam are getting in some super-secret Suck Some FaceTime when Karma hears the tender chords of Hey Paula's "Straight Up Now Tell Me" and exclaims "this is our song!" By "our" she means "mine and Amy's," obviously, and thus she must leave Liam in the lurch to go lip sync for her life partner.
It's very Romy & Michelle, and they easily clear the dance floor because lesbians.
Amy even pulls off a full lift but then, as Lauren looks on maliciously and Liam looks on bewildered, the girls collapse to the floor.
Farrah, however, is PISSED, and interrupts their little love bundle to request a chat… outside.
---
Pages: 1 2See entire article on one page