Today Orange is the New Black star and transgender activist Laverne Cox returned to Katie, the daytime talk show hosted by Katie Couric, for the first time since her infamous January appearance where she and transgender model and activist Carmen Carrera had to put up with a barrage of questions about what surgeries they had had and what their genitals were like. Cox and Carrera were able to turn the conversation around and the whole thing turned into a lesson on how to not interview trans women. This time, Couric had already been through a teachable moment about how to talk to trans women, but as we've seen before, not everyone learns their lesson.
I went into today's episode hoping that Couric had listened to Carrera and Cox and learned her lesson, but my hopes weren't very high based on how others have done. Both Cox and Carrera brought to light a really great conversation about how to respect trans people and treat them like human beings. It seemed like some good actually did come out if it as we had a real talk about what not to say and many news channels and websites did seem to alter the way they do things (although Wendy Williams didn't quite get the memo and asked Cox a few uncomfortable questions like, "You've got breast implants?"). Plus, Cox got to talk about the violence and absurdly high prison rates that trans women of color face on a daily basis.
It takes a woman of infinite grace and patience to constantly be turning problematic and even offensive appearances into positive things. Cox's Time cover story definitely has its problems but she is using it to make a difference. Even when people insist on asking her inappropriate questions during interviews, she turns it around and makes something good out of it. Not only is Cox a brilliant actress, able to create some of the funniest, saddest and most touching moments from each season of Orange is the New Black, but she's also a brilliant speaker and activist, able to be calm and understanding when she's asked invasive and offensive questions. Now, I'm not saying that she should have to be respectful or put up with these questions — Janet Mock's tweets after being disrespected by Piers Morgan were some of my favorite things ever. I'm just impressed with the ease that she seems to do it.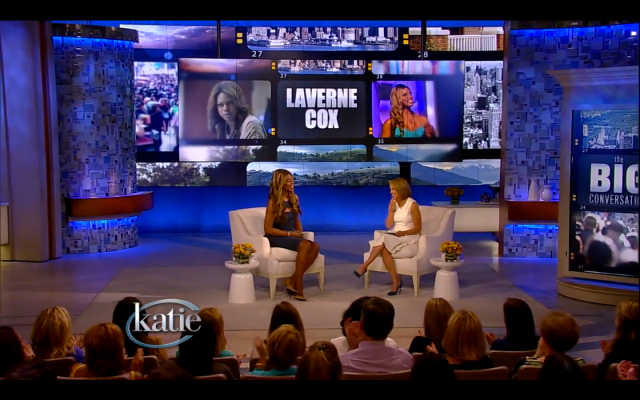 The conversation this time started with Couric sending some deserved praise Cox's way. She celebrated Cox's work on Orange is the New Black and talked about her recent Time cover. Cox said that being on the cover of Time brought her to tears and that she hopes the cover, like her character on Orange is the New Black will inspire trans people everywhere and help them see new possibilities for their lives.
Then Couric moved on to what a lot of us were waiting for. She told Cox, the "last time you were here, I got a lot of flack because I asked about the physical process" of being trans. She then admitted that the "flack" was appropriate, and she now understands that it's troubling for trans people to hear those kinds of questions, because too often it's the focus of all conversations they have with cis people and that for many trans people, the physical aspect isn't really that big a deal. She wanted to show that you can learn to do better and to allow Cox to highlight the trans issues that are actually important. Cox said that she appreciates Couric's "willingness to learn out in public," that "we have to allow ourselves to be vulnerable and not always right" in public. Couric agreed and said that she wants to use her last show with Cox as a teachable moment only for herself, but also for others. Then Couric really stepped up and instead of asking inappropriate questions, talked almost exclusively about important trans issues.
After spending some time talking about Cox's life and her journey towards self-acceptance, they announced that Cox would be coming back after the break to talk about CeCe McDonald. You heard that right. On ABC during a show that often gets millions of viewers, they were dedicating an entire segment to a trans woman of color talking about CeCe McDonald, a black trans woman who defended herself from racist and transmisogynistic attackers, was sent to prison for it, and now is an trans rights and prison abolition activist. They first showed a clip of footage from the upcoming documentary Free CeCe (which Cox said they hope to release at the end of 2015) and then had a real discussion about the harassment and violence that trans women (and especially black trans women and other trans women of color) face all the time. Cox hammered the point home by saying, "Walking down the street is a contested act for trans people" and "I don't think anyone's lives should be in danger because of who they are."
Then, to my very pleasant surprise, Couric announced that they would be back with Cox to talk even more about some important trans issues. When they did, they were joined by Tiq Milan, the GLAAD Senior Media Strategist and Chase Strangio, a lawyer with the ACLU, both trans men. Couric then basically served up a bunch of topics for them to talk about, with her only stepping in to move on to the next one. Literally half of the show was spent talking about trans issues, and I don't think I heard a single question that I rolled my eyes at. This was the kind of interview I love to see.
Cox was able to talk about the intersectionality that surrounds violence against trans women — she said that the reason trans women are so often the targets of violence isn't just that people are uncomfortable with the way they challenge ideas about gender and sex, but also because of racism, misogyny and classism. Instead of focusing on surface-level things like last time, this time she dove headfirst into talking about everything from CeCe McDonald, to homelessness, to transgender healthcare to Jane Doe, the trans youth who was thrown in jail even though she committed no crime.
Cox, Milan and Strangio were able to make so many great points about the issues trans people face, where those issues come from and some ways we can try to change things. Towards the end of the episode, Cox talked about her hopes for the future. She said that we need to have gender self-determination for all people, and that we need to make sure that we're not "stigmatizing, objectifying, sensationalizing or criminalizing" anyone for taking control of their own gender.
A part of me thought about making this article just be a list of Laverne Cox quotes from this interview because she says that many brilliant things. Where Cox was able to turn the conversation around and get in some great talking points last time, this time she was given free rein to talk about important issues for a full half hour. While the last episode of Katie featuring Cox was an example of what not to do, I feel like this one was an example in what to do. Couric let Cox, Milan and Strangio talk about important issues and say as much as they wanted to say, she didn't ask them invasive or insensitive questions, she admitted that in the past she made mistakes and that she's trying to learn from them and perhaps most importantly, Katie Couric listened to trans people and didn't make assumptions. For any other TV host looking to reinvite a trans guest they've disrespected in the past: this is how you learn and grow from a teachable moment.