Facebook has released an update that allows users to move beyond binary pronouns and the male/female gender options they've had since the social network launched a decade ago. Now, users can select from about 50 different gender identities and select the gender-neutral pronoun "they/them/their." The latter lets Facebook refer to you with your preferred pronouns across the site, i.e. "Write on Kaitlyn's wall for their birthday" versus "Write on Kaitlyn's wall for her birthday." (This option has been available on and off via various hacks and workarounds, but not as a native feature to Facebook.)
Facebook hasn't released a full list of the gender options, but Slate did some legwork and found 56 possibilities in addition to male and female. You can even select multiple identities or list yourself as cisgender, which I think is pretty cool. Users can also create different privacy settings for their gender identity, meaning that you could make your gender visible to only your friends or people you go to school with, but it won't show up in public searches. Curiously, new users will still be required to check "male" or "female" when they sign up, but as soon as their profiles are done, they can navigate to their profile and switch to something new.
A social network is supposed to be a portrait, however curated, of your actual life, and until today, people whose lives didn't fit Facebook's checkboxes were forced to list a gender they were uncomfortable with or use a hack to force Facebook code to refer to them as they/them/their. I've always used binary pronouns, so I can't speak to the experience of someone who doesn't identify with them, but I can't imagine it was pleasant being forced to hide, erase or lie about part of yourself. Though this is a relatively simple change, it's one that will undoubtedly improve the Facebook experience for a huge group of users. In an explanatory post on Facebook Diversity, the company says the new options are an invitation to be "your true, authentic self."
Want to change your gender or pronouns? Here's how:
1. Navigate to your about me by clicking "Edit Profile" under your name and photo in the top left corner of your News Feed.

2. Scroll down to Basic Information and click "Edit"

3. Open the drop-down menu under Gender and click "Custom"
4. Type your gender identity (or identities) into the box and select it from the list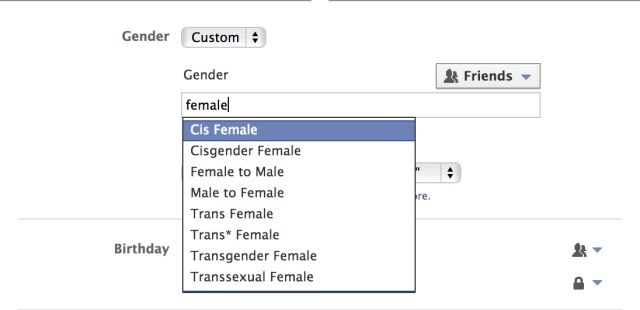 5. At the top right of the box, open the audience drop-down menu and select the group you want to see your gender. (The default seems to be set to "Friends".)

6. Scroll down to the bottom and hit "Save"