Ela Darling and Sovereign Syre might not be who you'd expected to be at the helm of the new, totally feminist, herstorical web series "Boss Bitches of History." But together, the two adult entertainers are ready to bring women's history to life – and redefine society's expectations and pre-determined narratives for women at the same time.
"Personally, the thing that mattered the most to me was telling the whole stories of women in history who tend to get relegated to supporting roles while telling the greater stories of men, which is bullshit," Darling told me. "Women in history have incredibly compelling narratives in their own right and my favorite part about writing this show was falling in love with the stories of strong, impassioned women through the ages."
The first two episodes of the show, which I can honestly best describe as Drunk History meets Rebel Girls,  both premiere today on Wisecrack's YouTube channel: One on Cleopatra, who used pussy power to literally dominate the world; the other on Marie-Josèph dite Angélique, a Portuguese slave who burned down half of Montreal to exact her revenge. After today, new episodes will air bi-monthly. The women featured will range from the well-known to the lesser-known, but each episode will come packed with the same humor, charm, and dry wit of the dynamic duo who birthed it into this world.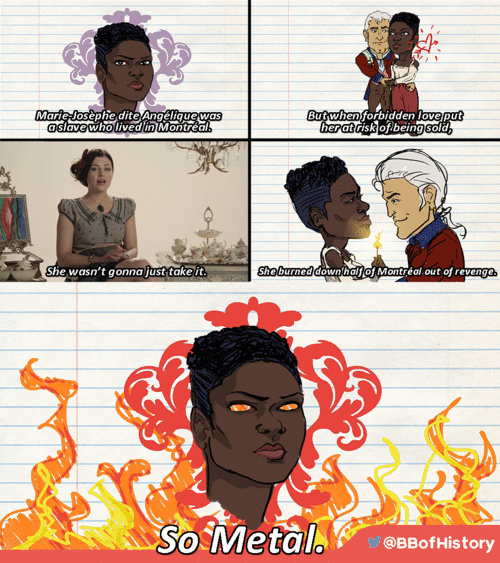 "I'm excited to see how people respond to the episodes about women they may not be familiar with," Darling told me. "That said, I'm most excited to watch the episode on Cleopatra, with whom most people are already familiar. I love her story and I think that Sovereign and I riffed off of each other really well for that one."
Darling and Syre, long-time friends, came recommended to the Wisecrack team, who have produced web series including Earthling Cinema and 8-Bit Philosophy. They stuck around when they realized they were working with folks in their element.
"It was really great to be working with people who respected mine and Sovereign's academic backgrounds and vision," Darling said. "It's very common, when working with porn stars, for collaborators to pigeon hole us into a sex role across all media. These guys were very receptive to the idea that we wanted to create something that acknowledged sex but wasn't focused on it. They were open and eager to hear what we had to say and how we wanted to say it. I appreciate that they make an effort to elevate our voices instead of speaking for us. They gave us creative control and allowed us to research, write, and host the show which made the whole project incredibly precious to me."
"I knew this was going to be an awesome collaboration," Syre echoed in the press materials for the series. "I've always wanted to do something with history, and the show is the perfect outlet. Working with Wisecrack is awesome. These guys get it."
The team ultimately embraced Darling and Syre as unconventional but totally perfect feminist leaders and teachers for the modern age – two intelligent, multi-dimensional, kick-ass chicks on a mission who live their own damn lives, judgements be damned.
"This project, for me, was a grand opportunity to show that women in the adult industry are much more complex, capable, and knowledgeable than most people give us credit for," Darling told me at the end of our interview.
"But mostly it's about pussy power."