Edith Windsor kept a thank you note from a 9-year-old named Grace, who'd written to thank her for making it possible for her parents to marry. She showed it to a reporter from Time Magazine who came to interview her in 2013, and also on her wall she had a framed picture from Alison Bechdel, also expressing thanks for "paving the way." They called her an "unlikely activist," Edie Windsor, who radiated with magnetic charm, and who died today, in Manhattan, at the age of 88. Her second wife, Judith Kasen-Windsor, who she married in 2016, has not specified a cause of death.
Edith Windsor, whose parents came to the U.S from Russia when she was a little girl, read voraciously, and kept forever the 19-volume dictionary her father used to learn English. When Edith Windsor was 13, she was elected vice president of her eighth-grade class. Edith Windsor's mother told her that if anybody at school called her a "dirty Jew," she should pull their hair.
She told the reporter from Time Magazine that once upon a time she'd seen a lesbian couple dancing at a gay bar and thought to herself, "I hope I have that when I'm old."
Edith Windsor met the love of her life, Thea Spyer, at a restaurant named Portofino, in Greenwich Village. She'd asked her friend, "if you know where the lesbians are, please take me," and so her friend took her. Thea was a psychologist. Edith was a computer programmer. Maybe you know this already, maybe you've seen the documentary.
When Edith and Thea were engaged, Thea wore a circular diamond pin instead of a ring, so people wouldn't ask too many questions and expose them. They couldn't be out, not then. There were some places where they could be out, certain homes and bars and vacation towns. But nothing like it is today.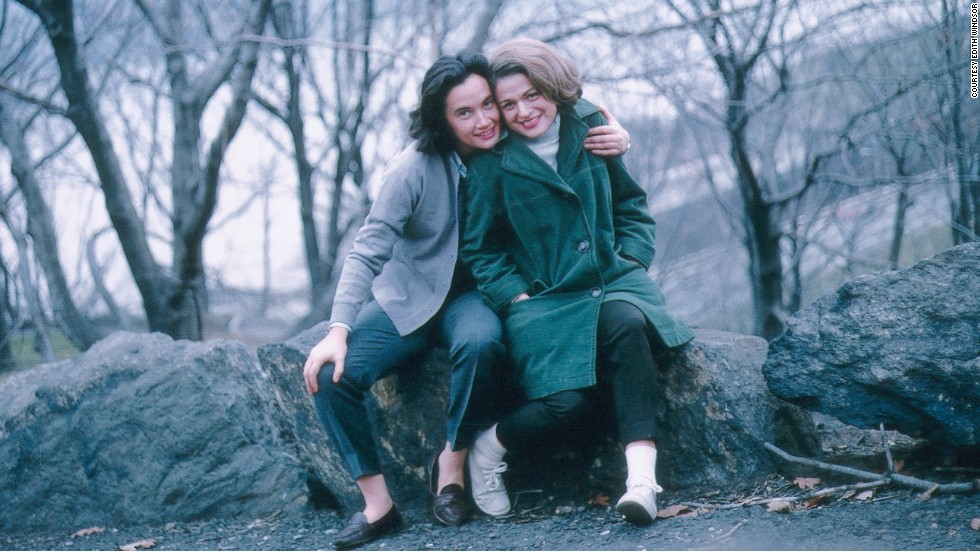 Women like Edie Windsor and quite notably Edie Windsor herself created change, fighting for things many young gays take for granted, that later generations won't really understand how we ever lived without. She lived a double life; she had to. Nothing like it is today — like could she have ever imagined that on the day of her death, a social media application called Twitter would turn into a virtual collage of selfies various LGBTQ people had taken with Edie Windsor, and their memories of her?
In 2012, Edith Windsor went to court, challenging the federal Defense of Marriage Act, protesting that she was asked to pay $363,000 in estate taxes when Thea died because the federal government did not recognize their marriage. They'd been together for 44 years. "It's just a terrible injustice, and I don't expect that from my country. I think it's a mistake that has to get corrected," Edie told NPR.
In 2012, a judge in Windsor's case ruled that Section 3 of DOMA was unconstitutional, and the case then went on to the Supreme Court. In 2013, the Supreme Court issued a 5-4 decision also declaring Section 3 of DOMA to be unconstitutional and enshrining that fact as federal law. Same-sex married couples were granted federal recognition and earned access to myriad federal benefits. State laws banning same-sex marriage around the nation remained in place until another Supreme Court decision in 2015.
Thea Spyer, Edith's wife, had been kicked out of Sarah Lawrence for kissing a woman — which is funny to imagine, I mean, it's Sarah Lawrence. Thea was intentionally "playing the field" when she met Edie at the restaurant but life comes at you fast, doesn't it?
After dinner, Edith and Thea went to a party. At the party, they danced all night.