All through college I thought I didn't like beer. I drank whiskey on ice like a champ, but beer made me gassy and I thought it tasted bad. Occasionally I'd drink whatever pisswater the party hosts put in the keg, but if given a choice I stuck with cider or liquor. When I moved to Nicaragua last year, I was constantly bombarded with Toña and Victoria, the two national beers. Over the course of a few weeks, I found myself fond of their tastes, the fairly minor hangover they produced, and their mega low price — they cost about $1 each at pretty much any bar in Managua. Imagine if the only beers you could buy were Pabst Blue Ribbon and Miller High Life, but they were always only a dollar. That's my beer life, and I can't say I mind it. But on a recent trip home to Dallas-Fort Worth and Austin, Texas, I decided to take advantage of the chance to try as many new beers as possible. It seems only fair to mention that I don't actually know anything about beer. I can't tell you about the head, what it has "notes" of or the tannins (wait, are tannins only in wine?). But I can tell you about some beers I really enjoyed, a few I didn't, and the things that happened along the way.
Shiner Bock
When I landed in Dallas, my friend Lewis picked me up from the airport, and we pretty much drove straight to the Beyoncé and Jay Z concert, because #america. The concert made for an intense dose of reverse culture shock, but perhaps just as jarring was our stop at Whole Foods on the way. Y'all, do you know how many choices they give you for your sandwiches there? So many. And then there was the beer fridge: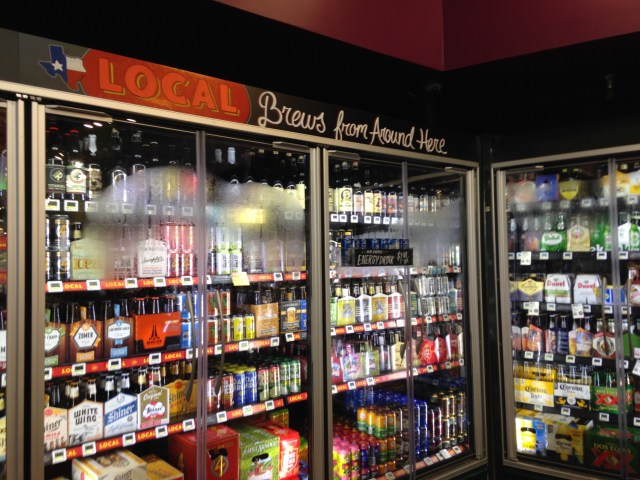 Instead of panicking, I just bought a six-pack of Shiner Bock. As they state on the bottle, every drop of Shiner is made in Shiner, Texas, but it's now distributed in 48 states. The Bock is the brand's signature beer, and it is damn tasty. It's an amber lager with a rich but not overwhelming flavor. It is super filling, but that did not stop me from finishing my 10-ingredient sandwich and corn chowder. I tried to drink a second one in the car on the way before I remembered the stark reality of open container laws. AND THEN I SAW BEYONCÉ. And 95 percent of Beyoncé's bare ass. And Jay Z. It was ***Flawless.
Jeremiah Red
Like many kids who grew up in the suburbs of Dallas (and probably anywhere), going out to eat with family meant deciding between Friday's, Olive Garden and that one sort-of-local Tex-Mex restaurant. My area didn't get a BJ's until after I left for college, so it still feels exciting and different as far as chain restaurants go. And they make their own beer (kind of)! My parents and I headed into the suburbs of Dallas from Celina, the small town past the end of the world where they now live. We met my brothers for dinner, and the waiter wooed me with the idea of special magical restaurant beer. I ordered the Jeremiah Red because they had a big sign in the back advertising it. They wouldn't have that sign if it weren't great! It was really just ok. There was a lot of fruitiness and a lot of maltyness, but I couldn't figure out what it was supposed to actually taste like so all I took away was bitterness.
Modelo
Here is a baseless opinion: Modelo is the best Mexican beer. I don't mean that it has the best taste (how many people could distinguish between Modelo, Corona, and Dos Equis in a taste test? Not this girl). I like Modelo because it's the oft-forgotten but perfectly lovely outsider of the trio. It does what it does, and it does it well. I met Steven, my best friend from high school, at his apartment, which I had subletted from his roommate in the summer of 2012. The places we've called home live forever in our nostrils, I think, and the smell of that apartment about knocked me down. So, too, did the smell of Tex Mex when we got to Blue Goose. It's a powerful mix of queso, beef grease, tortillas and jalapeños — the aroma of a slow and joyful death. The Modelo — with lime, obviously, it's barbaric any other way — complimented my enchiladas perfectly. Steven and I ate too much cheese and talked about the role of marriage as a political tool for gay and queer movements, because some things never change.
Lone Star
I started going to The Hole In The Wall in Austin, Texas when I was 19. I would sneak in with my over-21 friends from The Daily Texan to sit on the back patio and feel like a badass. It was across the street from the Texan office, and it was our go to spot for celebrations and sorrow drownings. When I got to Austin, I went there first and sat with my best friend Dana and let myself sink back into the place. The overwhelming sense of being reunited with everything I gave up 14 months ago gave me a head rush. So I did the sensible thing and got another drink. Lone Star is the self-proclaimed National Beer of Texas, basically the state's equivalent of a PBR. It tastes like 1 a.m. at college backyard parties, sneaking alcohol into dorm rooms, and kissing to Ke$ha — that is to say, it doesn't taste like much of anything, but it guarantees a good story later. I got a tall boy because they were on special. I drank my 16 ounces and the buzzing in my head and the nausea in my gut dissipated. A tasteless beer is a blank slate. When I needed it to, it tasted just like home.
Live Oak Hefeweizen
Austin is full of people who pronounce Hefeweizen correctly, and I don't suppose I should judge anyone's personal priorities. I just asked for the Live Oak Heff, and the bartender seemed to know what I wanted. This is a kickass wheat beer that tastes like if a banana milkshake were beer. If you don't think that sounds delicious I don't know what to tell you.
The Day I Drank Five Beers Before 3 p.m.
Kelsey and I met at The Daily Texan and became friends when we realized we have all the same friends and hate the word unique together. I had the distinct honor of attending her wedding to her boyfriend of 5+ years, and it was the coolest day in history. They got married in a bar, Austin's Easy Tiger, and had a first ping pong game instead of a first dance. I wore a vest+short suit and looked cuter than all the groom's friends. Her parents informed all the young folk that their payment at the bar covered six drinks per person, including kids, and requested that we try to drink at least six. Because my momma raised me to always respect my friends' parents, I took their instructions to heart. After a glass of champagne upon arrival and a mimosa during the ceremony (did I mention this was the coolest wedding ever?), I got started on beer. The bartendresses Cecily and Leandra gave me recommendations for the five beers I drank (2 + 5 = 7, you are welcome, Kelsey's parents). To account for my inevitable forgetfulness, I took notes on a paper copy of the menu (transcribed below).
Fireman's 4:
Delicious! Austin-based. Gotta start simple so I don't die. <3 A little hoppy for someone who wants to pretend to like hops.
Victory Headwaters Pale Ale:
Kinda bitter, but good because that meant I didn't drink it so fast.
Brooklyn Lager:
Me: This beer tastes like what beer tastes like.
Sarah-Grace (who is beautiful and also gluten intolerant): Like liquid bread?
Me: I need a pen.
Bethany: If angels made a beirgarten on my tastebuds, that's what it would taste like.
Seison Six:
I wouldn't have liked this but I am already drunk.
Live Oak Hefe:
I <3 this, just had to drink something I could drink quickly b/c my ride wanted to leave and I promised to drink 7 b/c 6+1 for the team = ~7~. I am now hit-on-the-waitress drunk.
I only kind of hit on the waitress. I think my line was "If I lived in this country I would get your number," then we shook hands and I ran away. What a day for love!
Alaskan Wheat and 512 Porter
I write poetry, but I doubt I'll ever be a poet. I don't think I have the discipline and sheer force of spirit it takes to create poetry full time, at least not in the present moment. But I love to hang out with poets because they are sure to fuck up how I see the world in new and wonderful ways. I met up with my pal Derrick Brown, the head of Write Bloody Poetry, and Adele, one of my best friends from college and with whom I have written many poems, to drink beer and talk about our lives. We played this game, Derrick's idea, where you go through the alphabet asking each other questions in a circle. A is for "What makes you absent minded?" B is for "when's the last time you went batshit?" O is for "What would you say to an orca whale?" The game would probably work just fine sober, but it was extra nice sitting around with drinks. The Alaskan White was light, refreshing, and a little spicy. The bartender's recommendation to drink it with an orange was spot on. Plus, its tap is a polar bear. Counter to all good advice ever, I upped the ABV in my second beer. The 512 Pecan Porter went straight to my head — but not before rocking my tongue with awesomeness. The flavor is rich and malty, heavy with chocolate flavor and just a hint of pecan sweetness. It was under the influence of these two that I came up with that admittedly terrible orca whale question, for which I am not sorry.
Revolver Blood and Honey
Blood oranges, honey and just a touch of hops create a truly delightful beer. It's a great choice for someone transitioning to beer from cider. If I had not been doing this article I probably would have drank it almost exclusively during this trip. Granbury, Texas-based brewery Revolver is only two years old, and it has made a big splash, especially with Blood and Honey. I drank it at a supremely rad pizza place called Eno's with two amazing ladies from my Daily Texan days and we talked about how depressing the newspaper industry is. I was a vegetarian for all of undergrad, a fact that Lena always forgot when she very sweetly offered me fried chicken on a twice weekly basis in the office. So she and Claire were sort of alarmed when I suggested we get the pizza with three kinds of pork on it. But y'all, it also had honey on it, which turned an already good beer into the most perfect liquid I have ever consumed.
Rahr Blonde
I drank this beer in Fort Worth, its hometown, while eating perfectly spicy tacos and catching up with friends from church camp and wearing my boots. If that isn't nice, I don't know what is.
Magic Hat #9
Magic Hat #9 "Not Quite Pale Ale" is equal parts bitter and sweet, so it was the right choice for my last beer as I sat with my parents and brother before heading to the airport. We were back at BJ's — choices are limited when your family lives in a suburb of the suburbs. My brother and I split a pazookie, this triple chocolate monstrosity that clashed, but not unpleasantly, with the beer. It's a little dry, and the fruitiness and hoppiness compete for your attention to make you feel important. Magic Hat is deliberately secretive about this brew (#9 will "ask more than it answers" says the website). It's weird to sit with your family and not know when you'll see them again, so we just talked about normal stuff — my brother's plan to see Paramore and Fall Out Boy that night, my upcoming projects at work, my parents' hopes to repair the back fence. It was the latest of countless conversations in chain restaurants, intimately familiar, pleasantly banal and vaguely perpetual, in that it always ends with the promise of next time. I sipped my #9 to make the moment last — and so I wouldn't be buzzed while dealing with airport security. I dedicated it to my people, the joy of making choices and all the places I call home.