I am never warm in Chicago. Like, ever. As a native desert-dweller, I am forever defrosting in this strange land of polar vortexes and "summer" days that barely break 60 degrees. And as I lust for the sauna of Arizona, shivering away in FUCKING BOOTS AND LONG SLEEVED SHIRTS IN AUGUST, I know that many of you are schvitzing away in other parts of the country, looking all cute in your tank tops and teeny shorts, aching for something cool and refreshing to remind you that you are not, in fact, living on the sun. The grass is always greener? (Please send sweaters.)
Regardless of geography or threshold for extreme temperatures, we all deserve to eat weather-appropriate food. Below are two recipes; the former reinvents a typically winter-time favorite and the latter puts summer time in your mouth, even if the much-anticipated peaches are all mealy and not-worth-it-tasting.
Swiss Oats: Eat Oatmeal in August/September Without Sweating Directly Into it!
Cold oatmeal, guys. I'm not joking. I didn't think it would be so awesome either, but turns out, this is actually even tastier than the hot gloppy stuff. And it's more versatile too. And you can make it the night before and be ecstatic when you have such a delicious breakfast to eat in the morning without even trying. I'm telling you, it's delicious. Like an oatmeal smoothie. Here is what you need:
A mason jar or some other type of container with a lid
Oats of some kind. They can be old-fashioned rolled oats, steel cut oats, or even gluten-free oats. Each offers a different texture, and each is delicious.
Milk of some kind. Cow, goat, coconut, soy, almond, rice, yo mama (ok, that was gross, sorry). Point is, it doesn't matter what kind of milk or milk-like-product you use here because Swiss Oats are super flex that way.
Sweetener of your choice. Sugar, honey, agave, your choice!
Salt. That's all. Just salt.
Optional: Dried fruit, nuts, dried coconut, fresh fruit, or seeds for texture, cinnamon or other spices. I won't tell if you throw in chocolate chips. Being an adult rules.
1. Put some oats in the jar. I usually do about a cup, which doesn't sound like much, but they will expand eventually, and also it's surprisingly filling.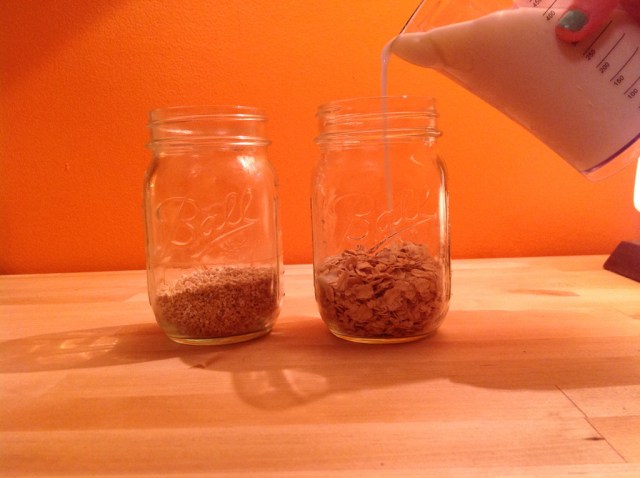 2. Cover the oats with your milk and then add about half as much more. You want at least and inch of milk above the oats if you want a thick oatmeal, and a little more milk if you want more thin. Stir. No measuring cup needed here. I promise it works.
3. Put that shit in the refrigerator and leave it alone over night or for at least 6 hours.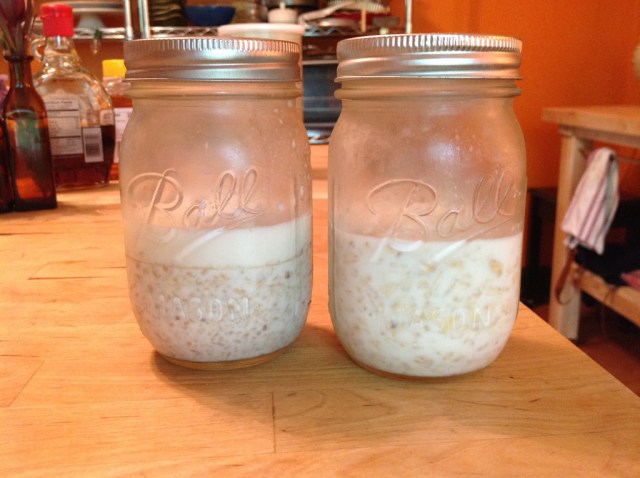 4. Come back in the morning and be amazed at how thick it got! Add a pinch of salt, a squeeze or pinch of sweetener, and a handful of dried nuts, fruit, seeds, or spices to taste. Stir it up and enjoy now or at your office in front of your curious and jealous co-workers.
---
2. Chile Salt: Eat the Sun, Pretend it's Summer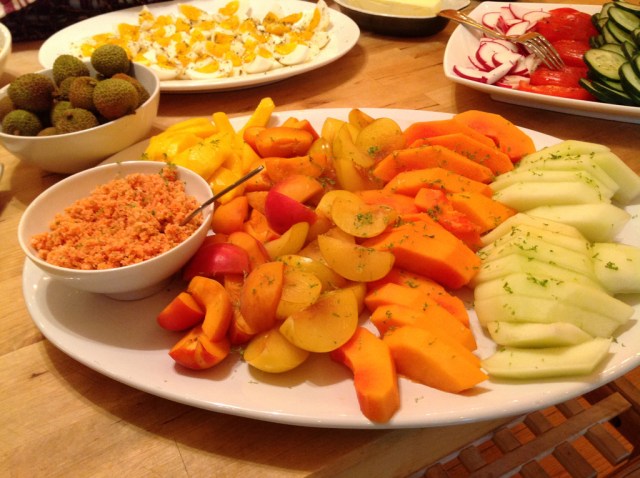 Summer is both the best and the most challenging time of year to cook. Everything is in season and readily available (yay!) but it's all so beautiful and ripe that the idea of futzing with it in any way seems sinful (boo!). For real, when there are ripe tomatoes and technicolor peppers, and fruit so sweet its basically crystalizing on your countertop, who needs recipes, or ovens, mixing bowls, or skillets? Cut open a mango and spoon it directly into your mouth. Boom. Dinner. Done.
But if you miss being in the kitchen and absolutely need to get your little chef-y paws on the gorgeous produce you bring home, here is a way to enhance it without screwing up a good thing. Because salt and spice make fruit taste even fruitier.
Here is my recipe for chile and lime salt. It's pretty basic, but you can also add things like fresh herbs and even a little sugar to balance things out a bit. All you need is some perfectly ripe fruit to sprinkle it on and you will be the hit of the party/summer/your own personal summer oasis in front of the air conditioner. Best part is that you can make a big batch and put it in the fridge for up to a month. It also makes a really cute host gift if you package it in a mason jar with a festive ribbon.

2 red chiles (I like Fresno, but red jalapenos work well too)
2 limes
2 cups kosher salt
A bunch of cut up fruit (I cannot think of a fruit that wouldn't be delicious with this salt on it, but my favorites are pineapple, melon, and papaya)
Optional: a bunch of fresh herbs (cilantro, mint, tarragon, basil, etc), and sugar (in case you would like to balance out the salty/spicy with some sweet)
Slice the chiles. It doesn't really matter how big or small your slices are because they are about to be pulverized in the food processor, but if you aren't so much into super spiciness, this is a good time to remove the ribs and seeds.
Use a vegetable peeler to remove the zest from both of the limes. Be careful and take your time. This recipe does not call for human skin.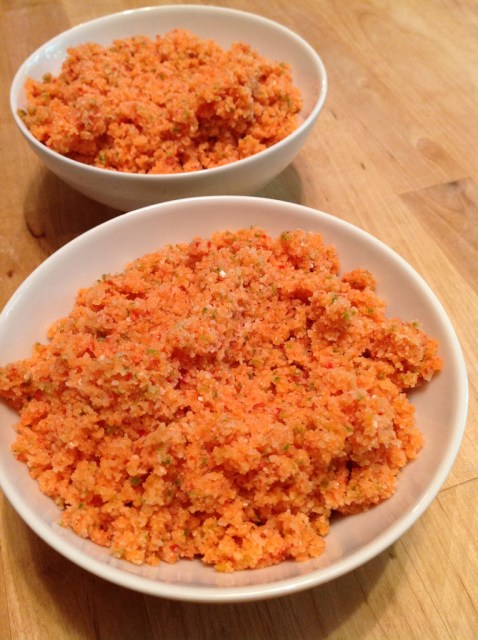 Throw the chiles, lime peels and salt into a food processor and blitz until everything comes together in a beautiful, red sand. If you are using fresh herbs, throw some of those in too (about half a cup). Typically, I would tell you to dip a finger into anything you are processing and taste it for seasoning, but this shit is spicy and you might want to use a cut piece of fruit instead. Feel free to add more of any of the ingredients to balance the flavor as you see fit.
---
What other end of summer treats have you got up your short sleeves?