You might already know Valerie Halla from when she won the Autostraddle Comic and Sequential Art Award for Favorite Colorist last year for her work on Octopus Pie or from her other work, but if you don't, I'm really happy to introduce you to her work today. Her current webcomic Goodbye To Halos is just the kind of queernormative cute fantasy comic that's right up my alley. There's magic, there's trans and queer characters, there's romance and there's mystery. It's got it all.
Goodbye to Halos is a queer fantasy webcomic about a young trans woman named Fenic and her friends Leo (a gay lion kid), Louis (a rabbit guy) and Fran (a raccoon or cat girl). When Fenic was young, her father sent her through a portal from her home in Skyworld to a different world where everyone has animal ears and tails. Now, Fenic's far from home and trying to build a new family with Leo, Louis and the other citizens of Lionsbridge while trying to learn to control her magical powers and figure out what's going on with the portals back to her home world. If all this talk of portals and different worlds confuses you, don't worry; Halla explains it at the beginning of Part One of the comic.
I love the main character, Fenic. She's a lesbian trans girl, and the comic — written by Halla, a trans woman — gets her right. I love the detail that even in this fantasy setting, she still takes "girl pills" to help her transition. She's so painfully cute the first time we see her get called "lady" in public and she decides to take her mother's name as her own. She's a total nerd, but also kind of a local hero, using her magic to help people in need. She's totally cute when she's trying to be brave and help people and really, just doing anything. Especially when she's trying to flirt with the cute baker Elly.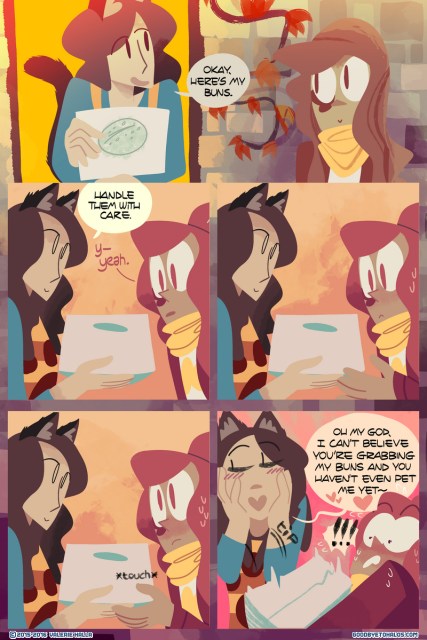 This is one really queer comic. None of it plays into the cis straight gaze, none of it is heteronormative or cisnormative. It's a breath of fresh air. Even when Halla has her trans lesbian character kissing her femme gay guy bff, it's still really dang queer. These are just queer characters being queer in everything they do, and this is largely due to how good Halla is at writing queerness into her characters and story. The prologue shows Fenic before she came out as a trans girl, and still in those scenes she doesn't seem like a cis het character because Halla has done such a good job of writing and illustrating her as queer.
One of my other favorite things about promoting this comic is that it's about a trans girl and written by a trans woman. This is the kind of trans representation I desperately wish we had much more of. I trust Halla to treat Fenic well, not that I don't expect her to have some troubles or be in danger, but I just feel like she's safe in her hands in a way that I don't feel safe in media created by cis people that stars trans girls. I'm genuinely happy to read this comic. Usually when I read webcomics or books or comics by cis people about trans characters I'm always worried about what will happen to them or that they'll be mistreated by the writer, but that's not happening here.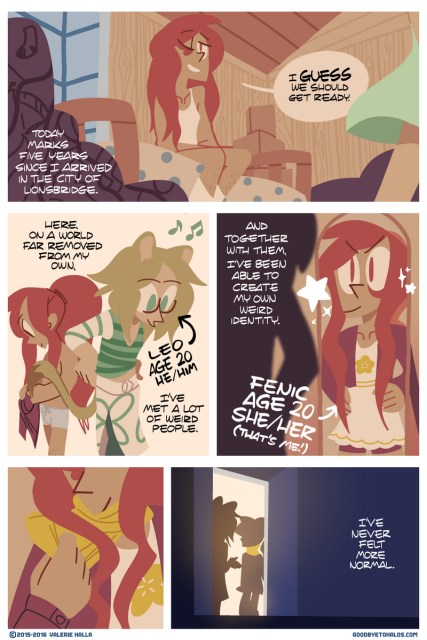 Halla's art is on a higher plane. I've already mentioned her amazing coloring work, but here in this fantasy world it stands out even more. Each panel seems like it's straight out of a magical world. You have no trouble suspending any disbelief about what's happening because it all looks so much like a beautiful new world where anything can happen. Even more than that, the character designs are just adorable, and her style of using colors and shapes without linework works extremely well for this type of character. From the facial expressions and body language to the really terrific outfits they wear, to the absolutely stunning background and setting that all of these characters live in, this comic is a visual treat.
There are a lot of interesting plotlines developing, and I can't wait to see where they end up. There's Fenic and Elly's flirtation, Leo and Louis, Fenic's thing with her parents, the mystery of the portals, Fenic's magic and even more. It's all really interesting and fun and it's all just ramping up more and more as the comic goes on.
I honestly can't believe she tricked me into falling this in love with this gay furry comic. But also, I really can. She's a super talented artist and is really great at crafting lovable and adorable tender gay characters who you just want to see happy. I was already a huge fan of her coloring work on Octopus Pie and her previous webcomic, and so it makes sense that I'd still be a fan, but still. If you're a fan of this comic or you're about to become one, you can follow Halla on twitter, on tumblr and support her on Patreon.
New Releases (April 13)
Harley Quinn and Her Gang of Harleys #1
Wynonna Earp Strange Inheritance TP
---
Welcome to Drawn to Comics! From diary comics to superheroes, from webcomics to graphic novels – this is where we'll be taking a look at comics by, featuring and for queer ladies. So whether you love to look at detailed personal accounts of other people's lives, explore new and creative worlds, or you just love to see hot ladies in spandex, we've got something for you.
If you have a comic that you'd like to see me review, you can email me at mey [at] autostraddle [dot] com.