Lynda Barry is one of the greatest American cartoonists of all time. Her place is comics history is monumental and inarguable. I mentioned her in my article about the brilliant and beautiful The Complete Wimmin's Comix (which any lover of women's comics or comics history should check out), but I'm glad that I get to talk more about her now. This year she was awarded a much-deserved place in the Eisner Hall of Fame. Now, Drawn & Quarterly is releasing a collection of her earlier work in The Greatest of Marlys, an absolutely stunning 248-page hardcover book. I know it's my job to write words about this book, but I want to say that it left me speechless. It's just so wonderful and scratchy and full of history and life and wonderment. I'm obsessed with it.
If you're unfamiliar with Marlys, she's a freckled, glasses and pigtail-wearing eight-year-old girl who appeared in Barry's long running comic strip Ernie Pook's Comeek. She's unabashedly rude and selfish, she's unpopular, she's ridiculous, but she's also tender, sweet and sometimes thoughtful. She's well-rounded, but also is full of extremes, just like a real preteen girl. There's no pretense or sophistication in the way she talks or acts, she's just proudly herself, even when she's not quite who she wants to be. She explores what it's like being in elementary school with show and tell, lunch and mean teachers. She explores what it's like being a girl like having sleepovers, crushes and cousins. She explores what it's like being weird, like being into dogs, bugs and superstitions. This book is full of comics, and they create a full picture of a preteen girl's life. It's remarkable that Barry was able to do this one four panel comic at a time.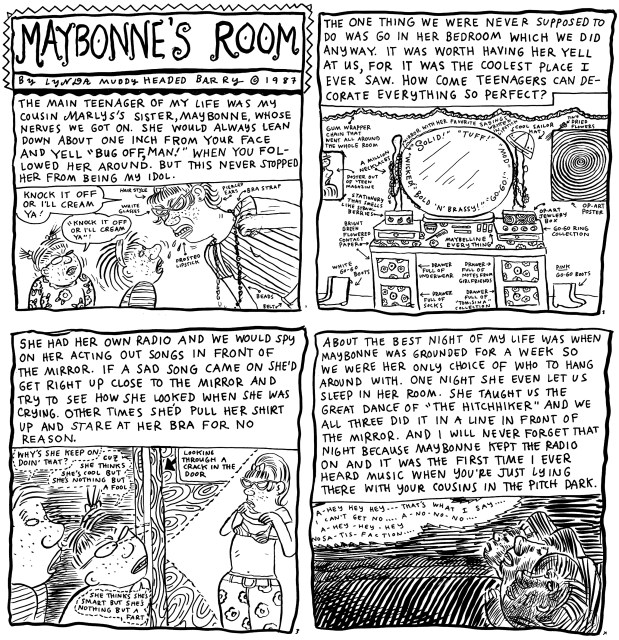 Raina Telgemeier — author of Smile, Sisters, Drama and Ghosts, the queen of YA comics and the best selling cartoonist in America today — said that "Lynda Barry's comics were my YA, before YA really even existed. She's been writing teen stories with an incredibly clear voice since the early '80s. [The Greatest of Marlys] is raw, ugly, hilarious and poignant." You guys, if Raina Telgemeier says you should read a comic, especially a YA comic, you need to listen; no one today knows YA comics better than she does. Telgemeier saying "Barry's comics were my YA before YA existed" is like if Beyoncé were to say that an artist's surprise visual albums were her surprise visual albums before surprise visual albums existed. And it's true; these comics seem so far ahead of their time, or maybe they just seem timeless? Barry is able to so perfectly flesh out Marlys and the people in her world, that this book will always be a classic.
Barry captures the voice of a young person so stunningly brilliantly. She talks about how she basically dreamed up Marlys and let the pen guide her hand, and that is beyond clear here. It seems like she's channeling her younger self or just writing down the thoughts of some weird kid who showed up in her house one day and started telling stories until Barry told her stop (apparently only after months and months). These comics are weird, often rude, sometimes crude, sometimes beautiful and poignant, sometimes really quite sad, other times hilarious, sometimes quirky and strange, but always terrific. Just like life itself, and especially childhood, The Greatest of Marlys is a complete roller coaster of emotions and experiences that takes you all over the place in unexpected ways.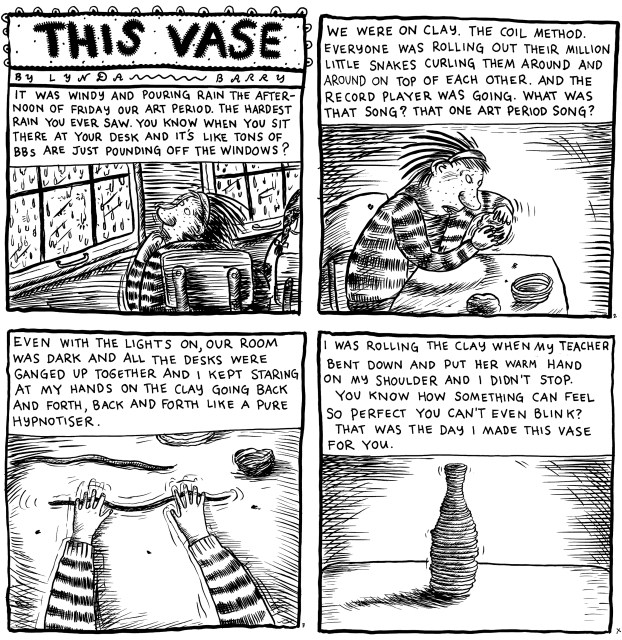 I'm so head-over-heels in love with this book. I love it so much. I love it so much. The first few times I tried to start reading it I just opened to the first page and started crying. Reading this book is reading classic art, like when you look at a painting by someone like Caspar David Friedrich or any other Romantic painter, really, and you're overwhelmed by the beauty and awe of nature and the world, and you can't help but cry. The Greatest of Marlys is like that, but with childhood and girlhood. When you're reading it and you're seeing this beautifully ugly and raw (to borrow words from Telgemeier) rendition of a girl being a girl and all that encompasses, you can't help but well up with awe and something like nostalgia, but without all the wistfulness. The Greatest of Marlys is a stunning collection, really a monument of comics, and I honestly wouldn't be surprised if it wins Barry yet another Eisner. If it does, it would be well deserved. This book is in stores next week, on August 16th, which has fittingly been declared International Marlys Day.
New Releases (August 10)
Supergirl Vol 2: Breaking the Chain TP
All-New All-Different Avengers #13
All-New All-Different Avengers Annual #1
---
Welcome to Drawn to Comics! From diary comics to superheroes, from webcomics to graphic novels – this is where we'll be taking a look at comics by, featuring and for queer ladies. So whether you love to look at detailed personal accounts of other people's lives, explore new and creative worlds, or you just love to see hot ladies in spandex, we've got something for you.
If you have a comic that you'd like to see me review, you can email me at mey [at] autostraddle [dot] com.