When I was six, my mother let me choose the color I wanted my bedroom walls to be. I chose bright pink and she did not say no and I lived in a room that resembled a gumball machine for the next ten years.
Now I live in a city where the most oft-worn color, even in the summer, is black. Everyone looks so cool and sleek all the time, like very very stylish seals. But I've also found that people across a variety of presentations incorporate typically "genderedwp_postscolors, like pink and purple, into their outfits on a regular basis. While working on on this very article I sat on the train next to a dude wearing a pink fanny pack AND pink nail polish.
There's something particularly striking, for example, about a monochromatic outfit with one bright pink detail. It says, "I am chic and serious but also fun and clever. Here, watch me shotgun this La Croix."
In that spirit, here are 12 ways to (subtly) pink your ride.
---
1. Belt It
Belts are great: they hold your shit up, they have shiny hardware built-in, and they come in about a million colors and patterns and shapes and sizes. You can wear one on your hips or at your waist or on your head because one is ever going to question why you're wearing a belt. They're only going to question why their own belt is not as snazzy.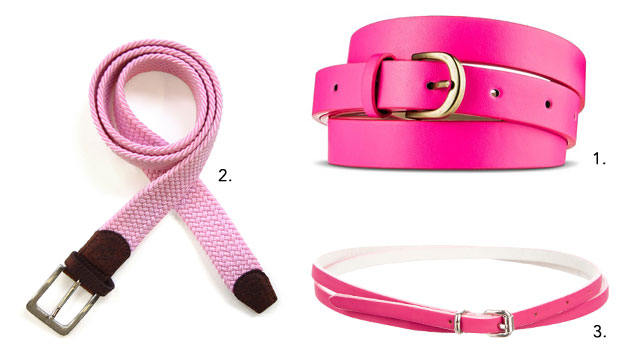 1. Skinny Solid Belt ($12), 2. Tyler & Tyler Woven Pink Belt ($50), 3. Skinny Waist Belt ($65)
---
2. Tie It
Whether it's a skinny tie, a bow tie, or a collar, your neck is an ideal place for pink. It draws attention toward your beaming sunray of a face, and away from the coffee stain you got on your shirt this morning. Win-win.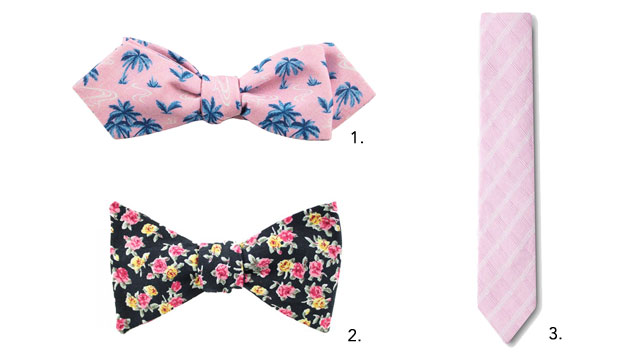 1. Bayside Tie ($19), 2. Lord Wallington Pink Floral Bow Tie ($40), 3. Yakima Skinny Tie ($20)
---
3. Suspend It
Suspenders are an unexpected accessory and give your outfit some oomph. Bonus points if you get yours from someone who was in a wedding party where the colors were Blush and/or Bashful. PS. Did you know they're called "braceswp_postsin the UK? So confusing for orthodontists, I imagine.
1. Tomboy Pink Striped Suspenders ($25), 2. Ledbury Braces ($40), 3. Pink Polka Dots on Black Suspenders ($14)
---
4. Reveal It
Know what's even better than sneaky pink? Peeking pink. And by that I mean a pink underthing peeking through/out from under something else. This is completely not a thing everyone feels comfortable with: I have lived on this earth for almost 30 rotations and I still feel weird when my bra straps are showing. But sometimes you have to let your pink flag fly.
1. Breathe T-Shirt Bra ($42), 2. b.tempt'd B.Active Sport Bra ($32), 3. Willa Bra ($26)
---
5. Paint It
The best thing about nail polish and/or lipstick is that most pink color names sound like the best drag queens you've never heard of. My favorite is called Candy Yum Yum.
1. MAC Lipstick Matte ($17), 2. NYX Megashine Lip Gloss ($5), 3. Essie Nail Color ($8)
---
6. Lace It Up
Anything from Converse Allstars to Doc Martens look smashing with brightly-colored laces flouncing about while you march around on your mission to crush the patriarchy.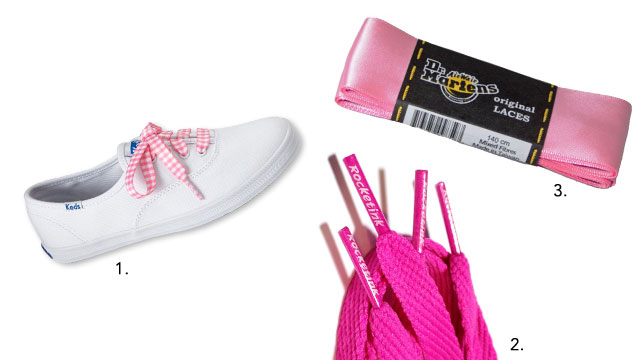 1. Keds Gingham Shoelaces ($5), 2. Magenta Oval Shoelaces ($4), 3. Doc Martens Pink Ribbon Lace ($5)
---
7. Wrap (or Fold) It
Bandanas are a textile with many practical applications, all of which I learned in Girl Scouts and promptly forgot. More importantly, a bandana looks positively SPIFFING as a pink triangle shape poking out of the pocket of your chambray button-down. SPIFFING, I SAY.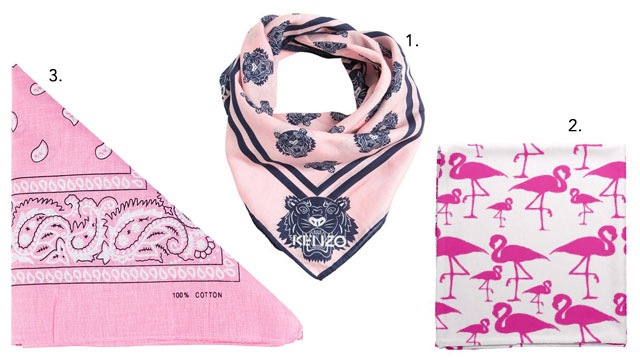 1. Tiger Printed Cotton and Silk Bandana ($105), 2. Pink Flamingo Bandana ($18), 3. Pink Bandana ($8)
---
8. Blaze It
Ever wondered why this particular kind of tailored jacket is called a blazer anyway? Because when you've got one on, you BLAZE into every room. That's a fact. Look it up.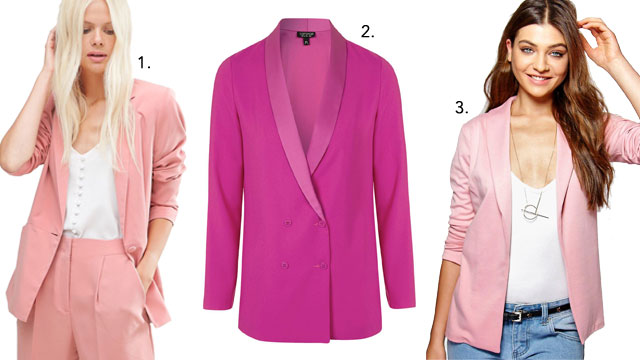 1. Soft Lux Longerline Occasion Blazer ($89), 2. Soft Tailored Blazer ($100), 3. Sophie Shawl Collar Ponte Blazer ($26)
---
9. Pin It
Pins are the new Put a Bird on It, as we have proved with the awesome selection available for your perusal in the AS store. They go great on everything from your backpack or your sleeveless denim vest to your collar to the lapel of your scorching-hot blazer.
1. Don't Need a Lapel Pin ($8), 2. Pink Unicorn Pin ($10) 3. Pink Burger Enamel Pin ($12)
---
10. Shield It
It is a truth universally acknowledged that everyone looks better in sunglasses, and pink sunglasses take your selfie aspirations to new heights. You go get your heights on, lemon tart. Just be careful and don't lean too far over the railing.
1. Halfmoon Magic Fandango Pink Mirrored Cat-Eye Sunglasses ($30), 2. Pink Metal Detail Mirrored Round Sunglasses ($15), 3. Warby Parker Raglan Sunglasses ($95)
---
11. (Fanny) Pack It
If you're already wearing a belt with a sack attached to it, it might as well be pink.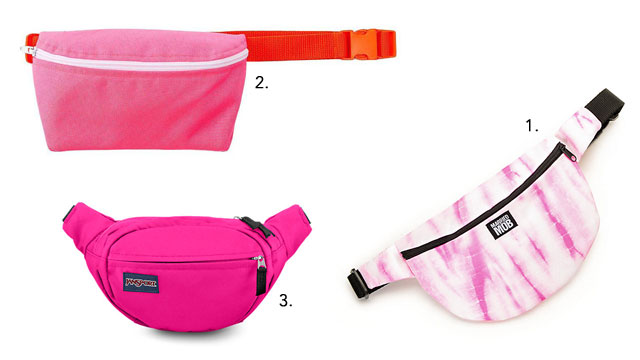 1. Married to the Mob Bugged Out Fanny Pack ($25), 2. Nylon Cordura Fanny Pack ($22), 3. Fifth Avenue Pack ($17)
---
12. Top It Off
A cool hat is actually just an invitation for your crush to snatch it off your head and wear it around for a little bit so you can engage in some elementary school-level flirting.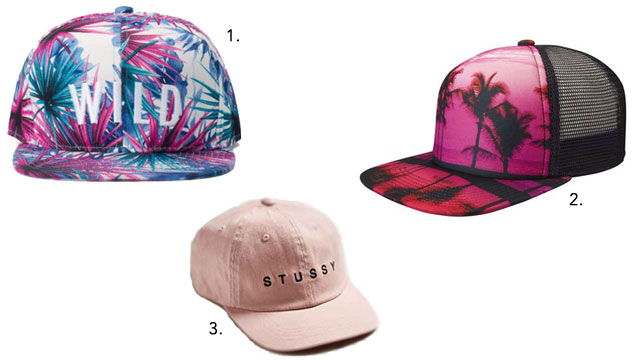 1. Wild Jurassic Snapback ($34), 2. Stussy Pink Strapback Baseball Hat ($39) 3. Dylan Snapback Cap ($59)