I've been a big fan of Kate Leth and her comics for a long time. I've talked about her terrific and often hilarious comics for Comics Alliance, her writing for the romance comics anthology Fresh Romance and I even included a couple issues of her run on Bravest Warriors on my list of Favorite Single Issues from last year. Now, even though her time writing Bravest Warriors is coming to an end, Leth is back writing with Boom! on the new original title Power Up (which is illustrated by Matt Cummings).
Power Up, which coming to online retailers and a local comic shop near you on July 22, is about three strangers and a goldfish who go from having the normal lives of a past-his-prime athlete named Kevin, a bespectacled mom named Sandy, an underachieving twentysomething named Amie and Silas, who is a goldfish, to the very much not normal lives of magical heroes. This series, for fans of everything from Sailor Moon to Scott Pilgrim, is perfect for readers of all ages and is sure to be one of the most fun and spirited comics of 2015. As soon as I first saw Leth's initial announcement, I was curious. After I cleared up some initial skepticism (more on that later) with Leth on Twitter, I was excited. Now that I've had the chance to interview Leth about it, I'm sitting on the edge of my seat waiting for each issue to come out.
Hi Kate! Okay, first of all, what are you most looking forward to about Power Up coming out?
COSPLAY! FAN ART! Ahaha. I'd like to say I'm joking, but this is the first original series for both Matt and I, and so I think we're both really jazzed about the possibility. I love doing all-ages books and am also excited about making some younger fans, seeing kids reading it. That's always the best feeling.
This comic obviously has a lot of Magical Girl elements, but the characters are much older than the usual protagonists of those kinds of books, so who is the target audience of this book? Is it all-ages? Do you need to be familiar with the Magical Girl genre?
It's absolutely an all-ages book! People tend to lump "all-ages" in with "just for kids," but that really contradicts the term. We're playing on different levels with the story. There are adult moments — job loss, relationship issues, etc — but there's also a whale who shoots lasers. Matt's art is so fun and vibrant, it really reads like a cartoon, so I think it'll appeal to a wide variety of readers. And no, you don't need to be familiar with any one thing. Of course we make reference to some of our favourites (Ed. note: Just a reminder, Kate's Canadian.) but that's just a treat for those who grew up with the same loves.
This first issue really focuses mainly on Amie, and she's been out in front of most of the promotional material I've seen. What's the group dynamic like in this book and will we see future issues focusing more on the other characters?
It's definitely a group title, but Amie is our main character. It also has to do with how promotion works – when a series is new, a lot of the time, cover artists will only have the initial sketches or first cover to work off of, and that featured Amie quite heavily. Future covers center on the other characters! Future issues do, too. We see how these characters interact and begin to blend into each others' lives.
This being a column for Autostraddle (and also because I'm curious myself), I have to ask, are we going to see any queer-lady content in this comic?
Ha! You know, there are things I'd like to explore if the series gets extended beyond six issues (which, who knows) but in this arc, there's not much! I had queer lady characters in Bravest Warriors and School Spirit, and wanted to focus my attention on other issues with Power Up. There is a gay couple introduced in issue 1 that you'll see more of towards the end of the arc. I love them.
I really, really love the art in this series. It's  cute and really dynamic and, like you said, it makes me feel like I'm watching a cartoon or anime (which was very appropriate for a take on magical girl stories) which makes all of it flow so wonderfully. Can you tell me how you and Matt Cummings came up with the style and look of the book, how much of that was Cummings and how the art informs the way you write it?
Matt's just THAT GOOD, always. If you've seen his art on Battle Dog, a long-running webcomic he's done with Andrew Duff, you'll see what I mean! We talked about the characters and what we wanted to do with the story, and then when he did the character designs, it influenced how I wrote each of them. There's a lot of back and forth. Matt comes up with so many amazing ideas. It really is collaborative comic, he just makes it beautiful.
I also love the character designs, especially for Amie (who is stylish, has great hair, is a woman of color and is fat), the alien that attacks the pet store, and Silas (which is saying a lot, because I have a pretty big fear of whales). What was the character design process like?
Matt and I talked back and forth a lot about what we wanted these characters to be, the types of protagonists we wanted to see in comics. I'd give him this vague outline, or sometimes sketches, and he'd bring them to life. At this point I just write the loosest outline into the scripts, including important bits of costume/appearance if they'll come up later, and he comes back with art that blows my mind. Amie's design changed more than anyone's, but we love her. She's so friggin' cute.
I know I already talked to you about this on twitter and you answered it on tumblr, but I feel like it's the kind of thing that would benefit from getting out there as much as possible. So, I want to talk about Kevin, who is described as "a washed up athlete" and appears to be a construction worker and has a pretty hefty beard, and generally, looks like a pretty "manly" man. The other thing we know about him from previews is that he has the most traditional Magical Girl costume, complete with a pink skirt. Obviously, a "manly man" with a beard wearing a skirt is almost always played as a joke in western media, and when it's not, it's usually supposed to be creepy. You've said that it's not going to be played as a joke or be done in a transmisogynistic way, can you tell me more about how you're going to do that and what some of your goals with Kevin's look and character are?
Yes! This is very important to Matt and I, and like you said, I did answer a question about it on tumblr. I completely understand that fear and hesitation, because of the way we always see men who adopt any kind of feminine traits being played for laughs or ending up hurt. I would be nervous, too! With Kevin, we didn't want to do that. I'll paraphrase what I said before: when we see women in armor, or in suits, we think of them as strong and powerful. When we see men in a dress, it's somehow demeaning. I don't agree with that or believe it at all. The costume Kevin gets was not meant for him, but it empowers him. It's tied to his strength and abilities, and having it allows him to become a hero.
I'm really excited about Power Up, but I also love your work on Bravest Warriors and would like to talk about that for a minute. Now, this is another all-ages book, and it also features a couple, Peach and Plum, who are two female characters who have a very unambiguously romantic relationship. They even share an in-panel kiss in Issue #33. Obviously, queer representation is important, but I feel like it's especially important for kids, who almost never get to see it but maybe need it the most. Can you talk a little about that and how you see Bravest Warriors playing a part in that?
Peach and Plum forever! Oh, I could've written 50 issues about them. I'm really passionate about representation in kids' comics, and I can't help having a bias towards queer women. It's something I never saw as a kid and wished for so hard. Now that I'm older and in a position to make that happen, I do it wherever I can! In the cartoon, Chris and Danny are both always swooning over Plum. When we started the series, I thought it would be fun to have Beth and Plum be flirtatious, but it didn't really work. We needed to go to another planet for the Kaiju arc, and that's where we came up with Peach. Ian and I both loved her and decided that this was who Plum should be with. When we found out the series was ending, I knew I wanted to make it very clear that they were together. Maybe I focused on it too much. I don't know! I just love them!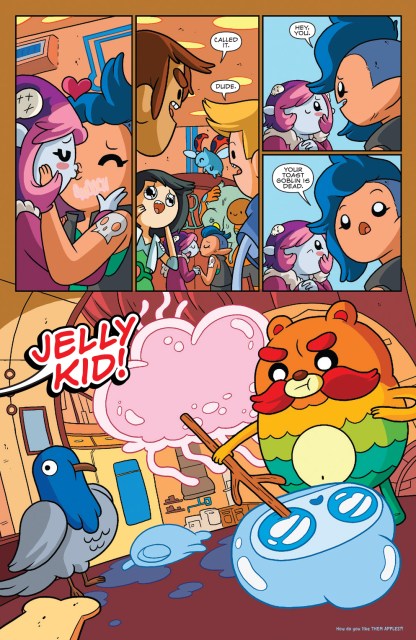 Series and books like Lumberjanes, The Legend of Bold Riley, Raina Telgemeier's Drama, Princeless, and especially Steven Universe being on TV, I think these changes are slowly being made, but we have to keep pushing for them. Marguerite Bennett said something at Special Edition that really stuck with me – that we can't accept change in the industry as an inevitability, we have to always be fighting for it. In small ways, with what I do, I always want to say something or show something I wished I'd had as a kid or know other kids might benefit from, like you say. I so strongly believe that LGBT+ characters shouldn't be relegated to adult media. I knew I was queer when I was 11. I can't even imagine what Lumberjanes would've meant to me.
Issue #1 of Power Up is one of the cutest, most delightful and colorful comics I've read in a long time and I absolutely cannot wait to read more. Like I said, it comes out on July 22, and you can either look for it at a comic shop (if you need help finding a local comic shop, you can find it here), pre-order it from the Boom! online store or if you'd rather read it on your computer, smartphone or tablet, new digital issues will be available from Comixology.
---
New Releases (July 8)
Princeless: Raven the Pirate Princess #1 (Action Lab)
Archie #1 (Archie Comics)
Betty and Veronica Friends Comics Double Digest #244 (Archie Comics)
Bravest Warriors #34 (Boom!)
Catwoman #42 (DC)
Gotham Academy #8 (DC)
Starfire #2 (DC)
Swords of Sorrow #3 (Dynamite)
X-Files Classics Season One Vol. 2 HC (IDW)
X-Files: Trust No One TPB (IDW)
Saga #30 (Image)
Shutter #13 (Image)
Shutter Vol. 2: Way of the World TPB (Image)
Runaways #2 (Marvel)
Spider-Verse #3 (Marvel)
Storm Vol. 2 Bring the Thunder TPB (Marvel)
Thor Vol. 2 Who Holds the Hammer HC (Marvel)
---
Welcome to Drawn to Comics! From diary comics to superheroes, from webcomics to graphic novels – this is where we'll be taking a look at comics by, featuring and for queer ladies. So whether you love to look at detailed personal accounts of other people's lives, explore new and creative worlds, or you just love to see hot ladies in spandex, we've got something for you.

If you have a comic that you'd like to see me review, you can email me at mey [at] autostraddle [dot] com