Just the other week I talked about Sulla from Blue Delliquanti's terrific queer sci-fi webcomic O Human Star, and how she's, in my opinion, one of the best trans women characters in comics ever. Now, all of you who read that and thought to yourself "yes! I love O Human Star!" or decided to start reading then and became a huge fan have an opportunity to support Delliquanti and her comic, and get gorgeous print versions of O Human Star as well as some other great rewards. Delliquanti is currently running a Kickstarter to print volume two of her comic and reprint volume one, and if you want to support it, you've got about two weeks left.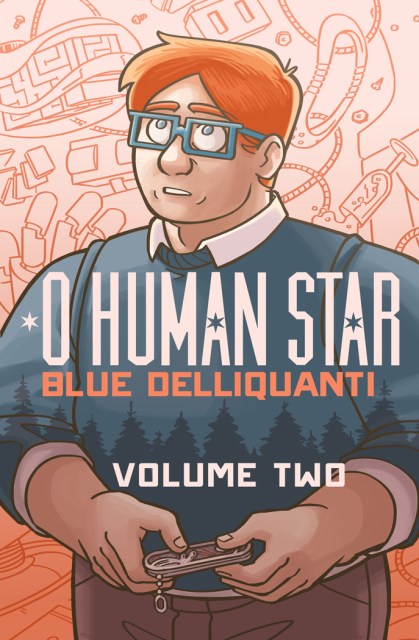 I'm not trying to guilt anyone into anything here, but genuinely the best way to make sure that we get more quality queer content is to support the quality content that already exists, and that means spending money on it. Making comics is work, it's a job, and we should respect our favorite creators by paying them for the good and hard work they do. One terrific way to do that is by supporting Kickstarter campaigns like this one. It's hard out here for queer comics creators, so why not help make it just a little bit easier? In case you need some more convincing though, here are some words from Delliquanti herself.
Mey: What's your favorite thing about O Human Star?
Blue: My favorite thing about making this comic is getting to continually explore these characters who have lived in my brain for the last 6 years. I honestly love them! I love how they've changed and developed over the course of the story, and I simultaneously want the best for them and enjoy putting them through trials and conflicts as the story requires. I'm glad my readers have gotten attached to them as well.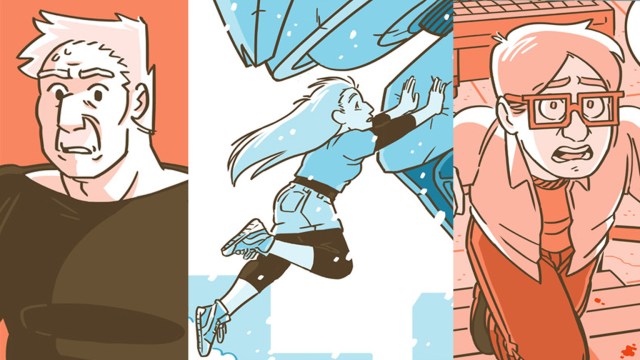 M: I really love the way you examine the intersection of gender and scifi, especially with Sulla, and her not only being a trans girl and an android, but also essentially a clone of a gay man. Can you please tell me a little about how you first started thinking about that idea?
B: I actually got the "elevator pitch" of O Human Star, as it were, from a dream I had 6 years ago, and that was the source of that image: a male inventor encountering a young female android whose mind began as a copy of his. I was intrigued by the concept and wanted to explore those characters beyond that starting point, so I started reading more stories and real-life accounts from LGBTQ people once I realized that both of these characters would identify as queer.

Prior to this research I wasn't really properly educated about queer identities, let alone my own, and as I worked on the comic I eventually came out as bisexual. I could really relate to the idea of these characters having public and private identities, and a sense of self that shifts over time as your capabilities grow and you learn more about all of the choices that are truly available to you.
M: What are some of your favorite Sulla moments in these books?
B: I enjoy writing Sulla interacting with just about anyone. Her relationships with Al and Brendan are so special to me — I adore the absolutely selfless love she has for both of them. I'm also really glad she gets to interact with Titus and other kids their age — let's just say I can relate to a young person who's used to interacting with adults and kind of trips over herself when it comes to dealing with other teens, even if they're just as nerdy and goofy as she is.
M: What do you hope new and returning readers will get out of seeing your comic in book form?
B: Readers have pointed out that with a physical book it's much easier to flip back to earlier sequences and track down the nuggets of information or foreshadowing I seeded throughout the comic — something that's harder to do within a website's archive! My readers are so sharp when it comes to tracking down those hints, so I hope that the print volumes reward their devotion to this story I'm writing — it's as much as they deserve.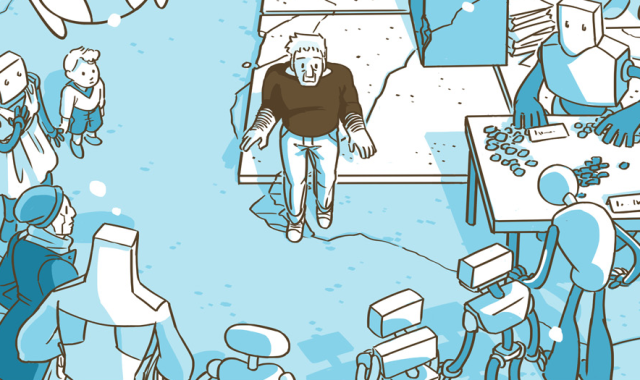 So, if you weren't already completely sold on this comic, I hope now after reading this interview with the perpetually delightful Blue Delliquanti, you'll head on over and support the Kickstarter campaign right now.
New Releases (October 19)
Bandette Vol 3 House of the Green Mask HC
Buffy High School Years: Glutton Punishment TP
Spell On Wheels #1 (pick this one up FOR SURE)
Girl Who Kicked the Hornet's Nest TP
Wynonna Earp Vol 1 Homecoming TP
All-New Wolverine Vol 2 Civil War II TP
Barbie Vol 1 GN
Shirley Jackson's The Lottery GN
---
Welcome to Drawn to Comics! From diary comics to superheroes, from webcomics to graphic novels – this is where we'll be taking a look at comics by, featuring and for queer ladies. So whether you love to look at detailed personal accounts of other people's lives, explore new and creative worlds, or you just love to see hot ladies in spandex, we've got something for you.
If you have a comic that you'd like to see me review, you can email me at mey [at] autostraddle [dot] com.